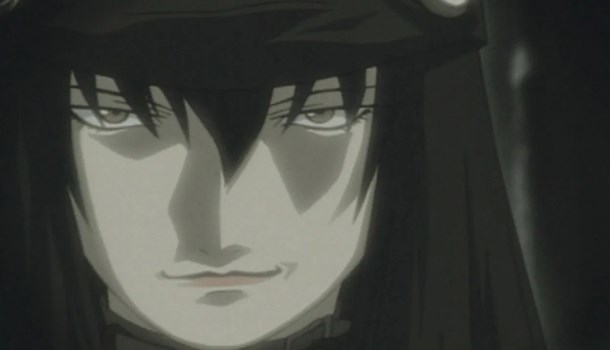 Boogiepop Phantom
Written by Steven White on 01 Jan 2004
Distributor ADV • Certificate PG • Price £19.99
---
This is a series I saw a small clip of about 6 months ago and have been waiting to get hold of ever since. The best way to describe Boogiepop Phantom itself is to say it is a Supernatural/Psychological Horror with Lain type mysteries - confusing eh??

The first thing you notice about this show is the weird colours they use in it. It's all done in sepia colours with lots of soft focus and shot at strange camera angles. There is also very good use of sound & music within both subbed and dubbed versions, which really lends itself to the creepy atmosphere of the show. Its very well animated too, but enough of that - what about the show itself?

Boogiepop Phantom is loosely translated as the figure of death, a being who walks in the shadows, who watches and protects the city from the dark forces that touch the lives of ordinary people. There are three stories in this volume, all about people who are doing their best to survive but have somehow lost their way. They've all been touched in someway by Boogiepop.

The story stems from two incidents, first the light in the sky and secondly the connection with the sudden disappearance of a serial killer from five years ago who had been preying on women.

The first story, Portraits from Memory is the story of Moto, a shy unhappy girl who keeps her love for a boy repressed. One night, out with friends, she meets him again. A strong episode, it hooks you as you listen to her story, she is a troubled girl whose inability to express her emotions has caused her great pain and has caused her to be withdrawn and uncomfortable around people. But her pain also attracts the darkness that lurks in the shadows, and when it comes to take her, she is ready to accept her death. You feel her pain and sorrow and also the honesty she has within her. A powerful episode, you meet Boogiepop for the first time.

I recommend both the dubbed and subbed version - they are both highly adequate and don't ruin the moody atmosphere of the show.

A warning about this show - it's not linear in any way, and various scenes and characters from certain episodes are seen again in future episodes in another story and it requires you follow events carefully. This show has been been put together very intricately. Buy it - this is a very original show, possibly this year's Lain and deserves a wider audience.
9
Perhaps a little biased, but I love psychological thrillers
---