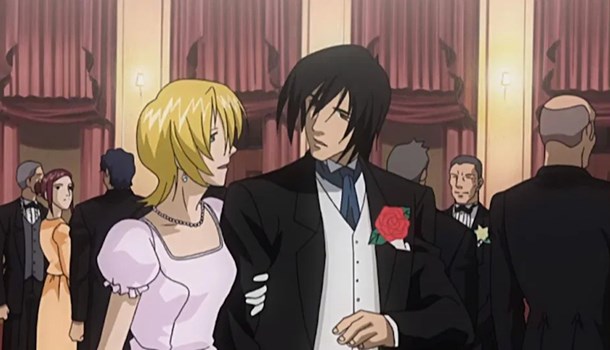 Gungrave Vol. 3
Written by Ross Locksley on 30 Aug 2005
Distributor MVM • Certificate TBC • Price £19.99
---
Gungrave Volume 3 contains a complete arc of the series, and as such has much to convey across its 4 episode span.

The first three episodes cover the "Blood War" arc, whereby Millenion is under attack from a new and relentless foe who goes by the far too macho monicker of Blood War. His partner is a man named Cannon Vulcan, and between them they've harnessed a new technology, Necrolysation. This process involves bringing the dead back to life in more powerful bodies (and for those that have been watching, this will have a familiar ring to it from episode 1!). It's up to Brandon and Harry to protect the organisation and find the traitor in their midst before Millenion is critically wounded.

This arc marks the last outing for the relatively young pair of friends, as post-onslaught they're both a good 10 years older, and at the very top of their games. We're shown how Brandon has created a group called True Grave, and between them and the Overkills, Millenion is once more a force to be reckoned with. But as Big Daddy makes a bold decision about the future of the organisation, Harry's lust for power is reaching worrying new levels...

Gungrave maintains it's quality storyline and continues to develop characters we've grown to care for. With the ever-present reminder of Harry's eventual betrayal of Brandon, it's fascinating to watch the two as they climb the crooked corporate ladder. The quality of the visuals, which is standard TV fare, become almost meaningless when the story is this gripping.

In terms of skillful character development, adult themes and all out gangster action, there's still nothing to touch Gungrave, which really does stand head and shoulders above other action-oriented anime. Forget Golgo 13, Gungrave has all the criminal underworld action you could ask for.
9
Gripping, thrilling and the head of its class.

About Ross Locksley
---
Ross founded the UK Anime Network waaay back in 1995 and works in and around the anime world in his spare time.
---