Based on the 1993 "Cute-Em-Up" Fantastic Night Dreams Cotton for the X68000 (ported to many other consoles, including the NEO GEO Pocket which I sold from my collection for an impressive £750!), Cotton Reboot! features not only a port of the original game, but also a Remixed "Arrange" version with modernised graphics and new enemy patterns devised by the masters from Cave and other studios.
The titular witch is enticed into a quest to save fairy land by the cute lil' fairy, Silk. Cotton's reward will be the tasty candies she calls "Willows". When all 7 levels are completed, the willows will combine into a super-snack on which our heroine can gorge herself stupid.
While the X680000 version is a faithful replication of the original, the meat of the game is the Arrange mode, with Cotton's massively overpowered magic going off like fireworks to take out what can best be described as an onslaught of cutey-pies! The game lacks subtlety, but makes up for it in sheer fun - infinite continues will prevent any real frustration creeping in, with the aim to chase hi-scores and get swept up in the pastel mayhem.
The graphics in this version are a real treat, with imaginative enemies crawling out of the woodwork, from evil dwarves to lava-girls throwing gobs of flaming fire in your general direction, it's almost a shame that the screen is so jammed that you can't focus on all the eye candy.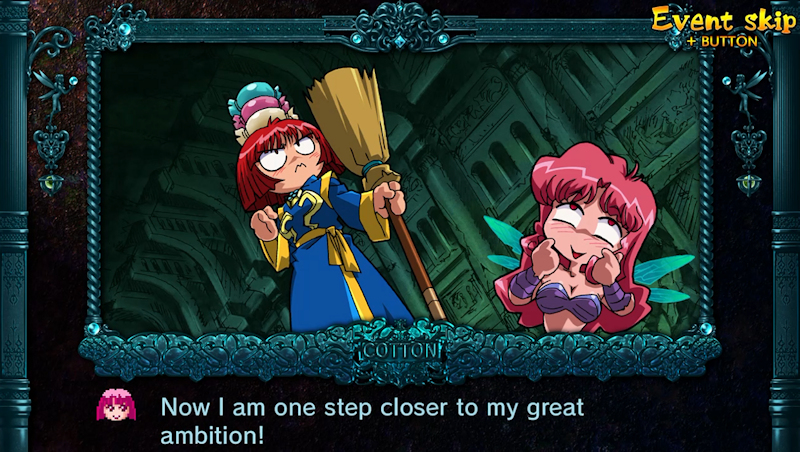 The cut-scene graphics are gloriously 90's!
Cotton has a number of magical attacks at her disposal which can be swapped at will - flaming dragons, electrical charges and power-grids dominating the screen make her a witch to be feared, and it's enormously satisfying to just throw so much deadly force around that it quickly becomes addictive.
The music has also been adjusted, with some of the best game composers in Japan jumping onboard to provide the rocking chip tunes our heroine needs in order to save the day:
Kimitaka Matsumae (Kill Me Baby)
Koichi Namiki (Galaxy Force, Super Hang-On)
Shinji Hosoe (Dragon Spirit, Ordyne, Ridge Racer)
Hiroyuki Kawada (The Legend of Valkyrie, Youkai Douchuuki)
Hisayoshi Ogura Soundscape Production Facility (Arkanoid, Darius series)
Daisuke Matsumoto (Gothic wa Mahou Shoujo)
Tetsuro Sato (Psyvariar, Psyvariar 2)
Kenichi Arakawa (Game Tengoku series, Suchie-Pai series)
Kenichi Hirata (Cotton series composer)
Quite the line-up!
If you're a fan of leaderboards, Cotton has you covered with 2 and 5 minute Score Attack Modes which will save your stats online. There's also plenty of unlockables to find, my favourite being getting to take control of Silk with Cotton providing support.
Cotton is all about classic gameplay, and most importantly having fun. It's a nostalgia trip for those of us who were there, a history lesson for those who weren't. You don't need a mega-powerful platform to have a blast, and it's great that those Fantastic Night Dreams are a reality once more. Cotton is a hit!