It's fair to say that Turtle fans have been positively drooling over Shredder's Revenge, with it's gorgeous pixel-art, generous character roster and cartoony palette. Every detail prior to release has been met with sheer glee - playing as Casey Jones, April and Splinter? Awesome! The original turtle voice cast returning? Outstanding! A $200 special edition? Cool but rude...
This isn't a review copy, I paid for the Switch digital pre-order and sat alongside everyone else on Thursday waiting for 2pm when the game would unlock itself. That was a painful morning, I can tell you! To have the title sat there and refuse to give up the goods fairly sucked, but when it came time to strap on a coloured bandana and go to town on some goons, I can tell you that the afternoon was a hell of a lot more fun than the morning!
The game gives you seven playable characters - the four turtles, their master Splinter, vigilante Casey Jones and reporter Apri O'Neil. Each of the characters has been given a lot of love, with distinct moves, animations, facial expressions and personality that are instantly endearing. Their speed, power and defense all vary too, so you'll have plenty to experiment with over time. Combo attacks are intuitive, you can taunt your enemies (lovely touch), help up fallen comrades and even high-five to increase your special metre. As a nod to older games, you have the ability to smack your enemies left and right, as well as throw them into the screen a-la Turtles in Time. The surfboard level makes a very welcome return and this mix of old and new is respectful and enjoyable. Everything regarding mechanics is beautifully thought through and grounds the game's wackiness with a very solid underlying engine. I can't think of any game in this genre to beat it.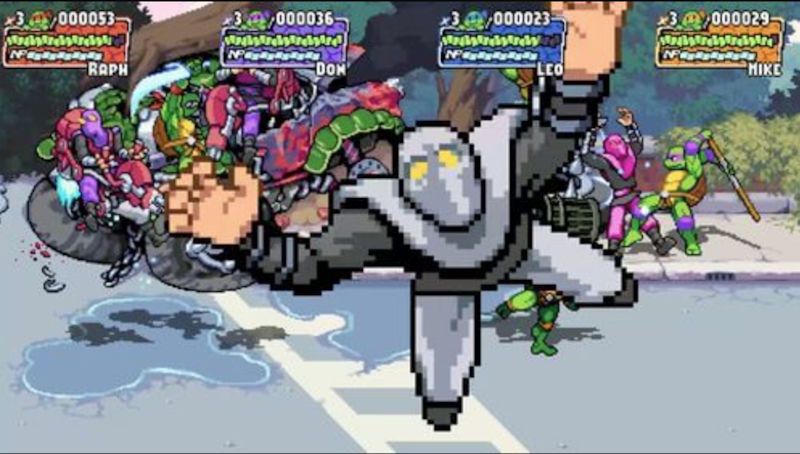 Everything you remember, but better
The enemies are just as vibrant, with an early level taking you through Channel 6 studios with Foot Soldiers acting out the parts on each set, attacking you with wooden spoons or other utensils/props, there's an air of tongue-in-cheek throughout, and it's all the better for it. In any scrolling beat-em-up, variety is very much the spice of life, and the studio has done as much as possible to keep things interesting.
When the big bads pop up, the sprites are massive. Bebop and Rocksteadey are early highlights, but giant mousers and other gargantuan pests will hinder your progress too.
All well and good, but how do you keep people coming back after the first play through, aside from changing your character? Firstly, the game has hidden characters like Channel 6 boss Verne and April's best-friend Irma, who can be found within specific levels and will task you with finding hidden objects (you can revisit levels as many times as you wish in story mode). On top of this, each level provides specific skill-based gameplay challenges (don't get injured, combo targets etc) that when complete will level-up your character. I found myself happy to replay levels to tick off the lists and "properly" complete each of them.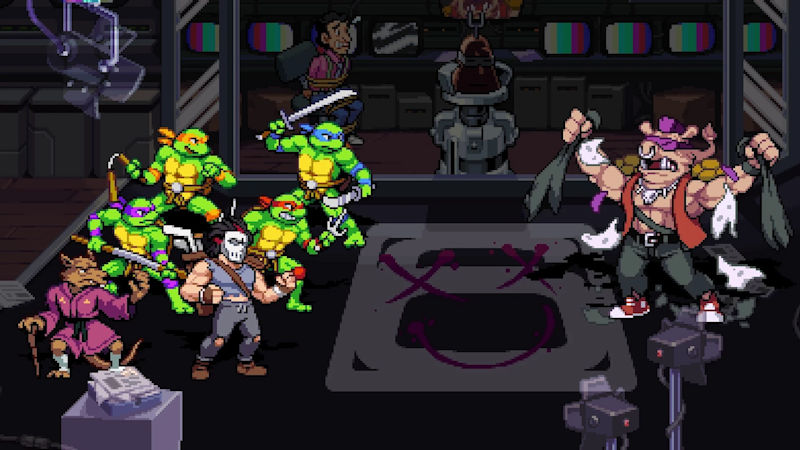 Multiplayer is awesome.
Accompanying the madcap gameplay is the soundtrack, a mix of driving action tunes and vocal tracks, including Mutants Over Broadway, Panic in the Sky and It's a Pizza Party by Tee Lopes and Jonny Atma, as well as a slamming tune courtesy of Raekwon & Ghostface Killah called We Ain't Came To Lose. It genuinely feels like every aspect of the game was treated with respect. It's absolutely no surprise that the soundtrack is coming to vinyl.
What's truly impressive is that Tribute Games has captured the experience you think you remember from the classic Arcade games, not just ported them with a facelift. Yes, it's a multi-player scrolling brawler, but the extra moves, imaginative add-ons, character missions and sheer breadth of imagination on display is genuinely delightful and a massive upgrade from the originals. More importantly, it's an incredibly fun title that encourages teamwork with clever mechanics and rewards playing with flare.