Some films bristle with cinematic brilliance from the first moments; rewatching Rashomon just a few days before my review copy of Adrift in Tokyo arrived reminded me what a visual feast it is right from the first moments of the credits. Adrift in Tokyo is not one of those films, it's a very different beast indeed, and like so many cinematic pleasures it is often easier to describe by what it is not. This is not damning through faint praise but because the film, and the other works of director Satoshi Miki that Third Window have released, fit into a very specific and personal groove. Like the films of Hal Hartley in late 80s and early 90s, Miki's work slots into a frame that could be considered quirky, and quirky, to own a cinematic quirk, is very hard to do because there is a fine line between a particular vision and cinematic tone, and bloody miserable failure. Miki, like Hartley halfway across the world a couple of decades before him, manages to create his own unique tone and feel.

Wastrel student Fumiya (Joe Odagiri) is in debt, with no way to pay the debt collector that enters his dingy apartment. Given three days to pay and no obvious way out except to 'peddle his ass to old men', he is instead given a way out by that very same debt collector, Fukuhara (Tomokazu Miura); for a million yen, walk with him through Tokyo until he says to stop.

Under the circumstances, it's an offer he cannot refuse. (No bloody horses head, mind you.)

As a premise it's arguably as flimsy as hell, and of course you have to ask the question why would a debt collector want to do this? Instead of allowing this narrative McGuffin to continue Miki lays it out plainly before us and in doing so, by putting many narrative expectations behind us, so allows the film to unfold, introducing themes of family, relationships, identity and experience.

What's immediately apparent is how the film flows by, in part this is because there is very little wasted in what might appear at first to be quite a gentle, ambling narrative, yet just witness the first scene, with Fukuhara's entry into Fumiya's room. Stuffing his sock into Fumiya's mouth there's a dry sense of the ridiculous that culminates with Fukuhara putting his sock back on then complaining it's damp from him having shoved it into Fumiya's mouth. It sets the tone perfectly, with a matter-of-fact absurdity to it that continues throughout. As Fumiya and Fukuhara walk and talk, as their lives begin to unfurl before us, Fumiya without a family, and Fukuhara with one that is lost, they are often observers, whether to a bizarre mother-son domestic in a small restaurant or the magical realism of the criminal activities of an aged cosplayer (which manages to fit in Fumiya's first kiss now grown-up and dressed up as Rei Ayanami from Evangelion). But our protagonists are not just witnesses to the peculiarities of modern Tokyo, they are also a part of it. If just observers then the film may well have needed to be damned by faint praise; instead as the film progresses, not only does the symbolically father-son relationship between Fumiya and Fukuhara almost unnoticeably deepen, but we subtly delve into their lives and those touching them or their families.

There is a consistency and gentle, often absurdist humour underscoring it all. Gentle humour again often feels like faint praise but like many films with their own quirk of tone, what sits beneath it is not riotous but a quiet humanity. One main sidebar narrative follows Fukuhara's wife's colleagues, concerned at her absence, yet who keep forgetting about her, so wrapped up as they are in their own adventures. Thematically this is quite ironic (for reasons I won't spoil) but the mischievous dynamic between the three, whether in the office with questions as to the dubious aroma of a man's hair or as they navigate Tokyo to find Fukuhara's apartment is a pleasure and why not, after all it's because it's not about the destination but the journey. The fun to be had along the way.

And as a film about a journey, especially with our two protagonists, what really stands out is how it could easily be just another film made up of a series of vignettes showing us this and that about Tokyo and this and that about life and so on. Instead, the narrative and our protagonist's narrative subtly come together in ways that are not always immediately apparent and it's never something on the surface. There's some lovely writing in here, so that as the film reaches its final act and we find ourselves in a curious faux family unit, everything is foreshadowed, it's narratively set up, not through crude devices but through a gentle build-up of character backstory and minor observations.

Don't come to Adrift in Tokyo expecting pyrotechnics. What you get is a subtly understated film that is a classic example of art getting under your skin. It's difficult to say what it does right, because this kind of drama is much easier to describe when it fails, because the line between success and a miserable 100-minutes is razor thin. Adrift in Tokyo is absolutely the right side of it, and almost imperceptibly investigates the slender threads that bind us together, which can just as easily be cut even though it hurts us. Third Window's blu-ray release is a welcome reason to watch the film again, and also to revisit Miki's previous work Instant Swamp and my particular favourite, Turtles are Surprisingly Fast Swimmers.

Oh, and another, and personal to me, reason to watch Adrift in Tokyo; I love cities. Concrete. Yes please. And I like how films like Adrift in Tokyo just as Third Window's previous release Tezuka's Barbara did, they step away from the popular images of cities and instead take us down what many might see as suburban nether-areas and I love that. I could walk cities all day.

And in another life perhaps Fumiya and Fukuhara may have lived lives that would have allowed them to keep walking together, too.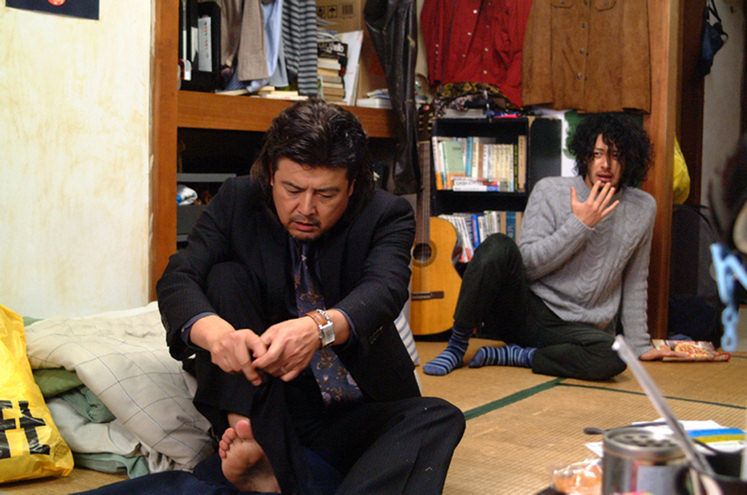 Beware the damp sock.