At last, ABYstyle has sent me a character I've had my eye on ever since they announced it - Sakura Haruno from Naruto. While I only followed Naruto for a season or two, I always loved her character design. Partly the colours, for their shades of pink hair/accessories and red top/hairband which mesh so well together, to the strikingly practical design of her ninja fashion. It certainly doesn't hurt that this is, as I recall, only the second female figure (of many) I've covered from ABYstyle Studio, and female statues do tend to be my personal preference. It's also, aptly, Sakura season - our two Sakura trees have blossomed in the driveway and I can't think of a better time to have a look at her!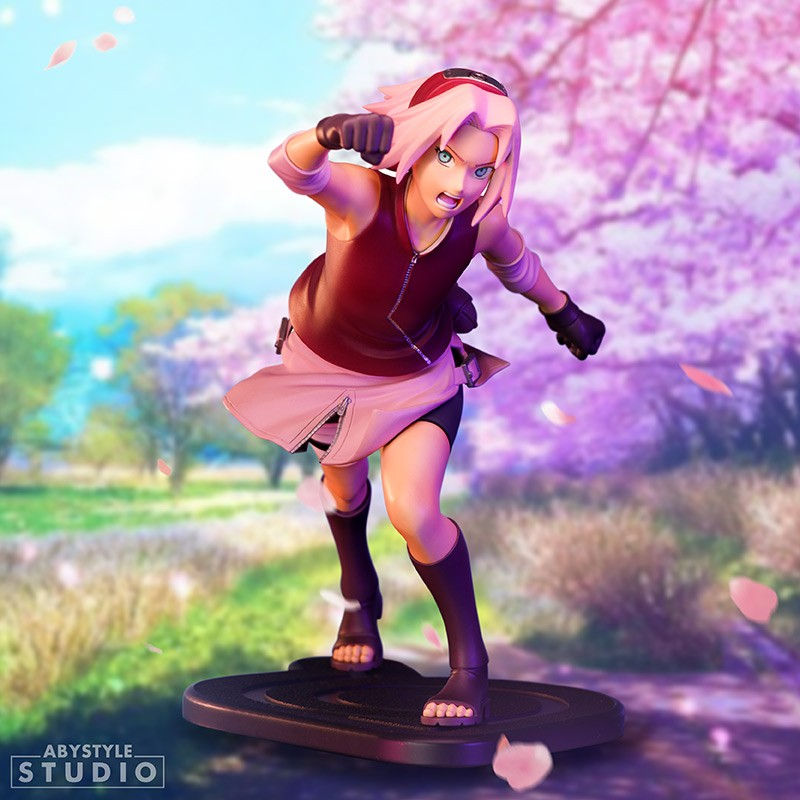 Let's start with the sculpt; Sakura is shown mid-attack, leaning heavily into the punch she's throwing. It's a great captured moment of movement, with her hair showing a puffed out even in the shorter style she's wearing in this latter-design incarnation. Likewise her pink skirt, complete with buckle and sculpted zip details, are flared to show Sakura's power and speed. It's very dynamic overall, though due to her leaning down, it's a figure that needs to be placed on a higher shelf, otherwise all you'll see is the top of her head. And that would be a shame, because the face sculpt is really rather nice too - any time a company creates an open-mouthed figure, you get the benefit of a lot of extra detail - teeth, tongue, the shape of the face and it's a great likeness which shows just enough grit and determination to keep the overall aesthetic attractive. There's always a danger when creating a more expressive piece that you can be "off" slightly and create something unintentionally comical or ugly.
Thankfully ABYstyle Studio's sculptors know what they're doing and the face looks great.

She looks fantastic with some pink lighting to accentuate the colours
Looking at the finer details, there's some nice paint wash in the hair to give it a yellow/pink variation, wash on her red top and boots, while the sculpted details in the white bandage on her leg, hairband and skirt create natural shadows of their own to keep things looking properly 3-dimensional. The signature Naruto ninja boots with open toes are also present, the sculpted detail here being surprisingly intricate showing with (unpainted) toenails a subtle, individual bend in each. The treads on the boots are nice and deep, and the pouch she carries on her belt has nicely sculpted ridges across the flap, and is the only area I might have liked some weathering or wash to add some leather-feel to this area. That's a real nitpick though, and something I might add myself anyway.
I'm very pleased that her skin-tone has a nice matte quality to it - there's really nothing worse than a figure that has shiny, plastic looking skin, and that's certainly not the case here. There's even a subtle wash around her thighs to add a blush of colour, and that's the sort of higher-end detail we like around here.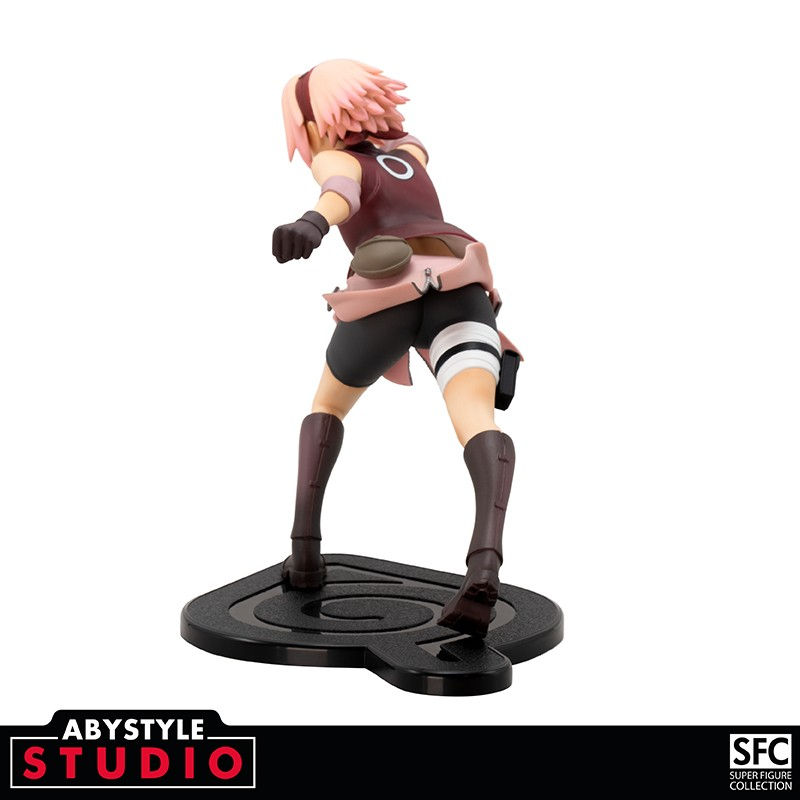 Once again we have our dual-textured black base, and thanks to Sakura's stance she uses the full length of it.
So while female figures are, naturally, smaller than their male counterparts, the amount of paint lavished on Sakura more than makes up for her smaller stature. The dynamic pose is terrific, certainly a nice change from the more sedate poses I've been used to lately, and if you're a fan of the character I can highly recommend her.