Though not an anime, it's hard to argue that Nickelodeon's Avatar: The Last Airbender wasn't heavily influenced by Japanese shonen. With supernaturally powered teens, slick animation and Eastern culture all thrown into the mix, it was no suprise that series co-creator Bryan Konietzko cited anime as a major influence in an interview with IGN:
"Mike and I were really interested in other epic 'Legends & Lore' properties, like Harry Potter and Lord of the Rings, but we knew that we wanted to take a different approach to that type of genre. Our love for Japanese anime, Hong Kong action and kung fu cinema, yoga, and Eastern philosophies led us to the initial inspiration for Avatar: The Last Airbender."
All of which is to say that I feel perfectly justified reviewing an Avatar figure on an anime website!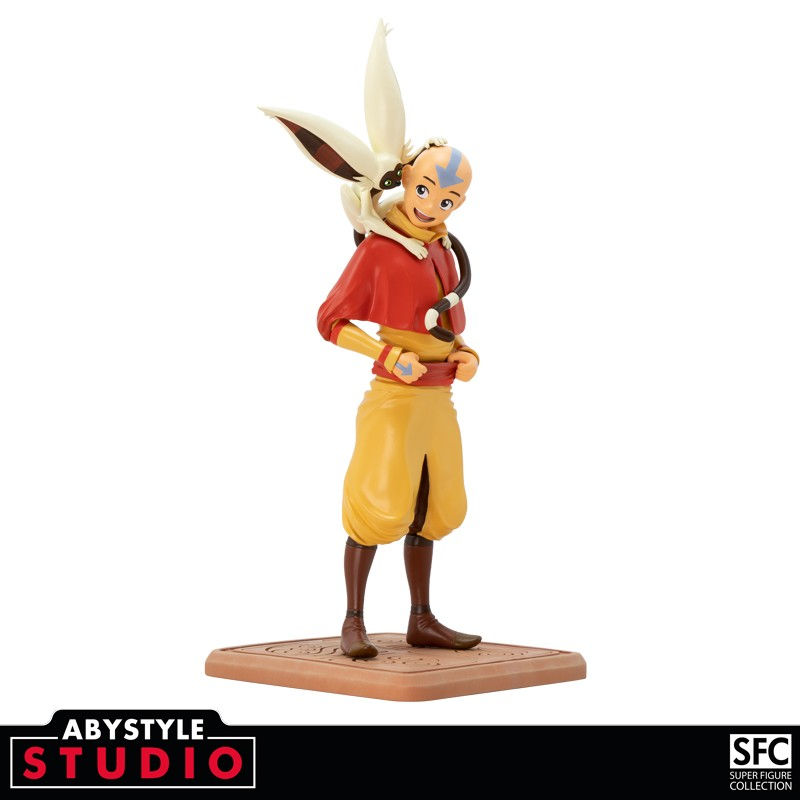 The first thing to strike me was just how nice the packaging for this figure is - the orange Nickelodeon logo on a black background and the Avatar logo in white looks really classy - the elements on the plastic window and the beautiful stone coloured bottom area with the Eastern stamps just set it off beautifully. It's actually a shame to open it!
But open it we must, for Aang resides within, Momo atop his shoulders sharing a moment with his master.
The expression on Aang's face is just lovely, full of cheer and a nice change from the stern and stoic action poses that ABYstyle Studio often excel at. It's nice to have some "happy" on the shelf, and this figure is definitely a great way to brighten up your day. Momo's inclusion really adds a lot of charm, and I love that they went as far as adding the striped colouring to the inner ear. The little round emerald eyes really stand out too.
The rest of the sculpt is as sharp as you'd expect - I was surprised that the arrow markings are sculpted and not just painted on, but they look great. Aang's outfit is a lovely mix of burned orange and french mustard yellow, the leather boots and trousers matching the cartoon perfectly. There's not much in the way of painted detail on the figure, with ABYstyle Studio opting to let the light cast the shadows to add depth. This works wonderfully on his shawl and around the knees where the folded detailing is at it's most pronounced.
The finishing touch is the base, which is a perfect tablet style square with rounded edges, the symbols of the various tribes inscribed to add detail.
In all this is a perfect little rendition of the hero of Avatar, and I'd be hard pushed to find anything better at this price.
ABYstyle Studio kindly supplied the figure for review.