With ABYstyle Studio's Ryuk having found an appreciative audience, it was only a matter of time before we were inevitably treated to more characters from the mega-franchise. This month we have series protagonist (though some might argue antagonist) Light Yagami, the brilliant student-turned avenging murderer.
The studio have decided to recreate the iconic first volume cover by releasing Light with a huge scythe (not an item he needs in the series of course, his Death Note is more than enough). This grim reaper visage is of course entirely fitting for the character seeing as he cuts a swathe of death through those he deems either too evil for society or those misguided enough to try and stop him.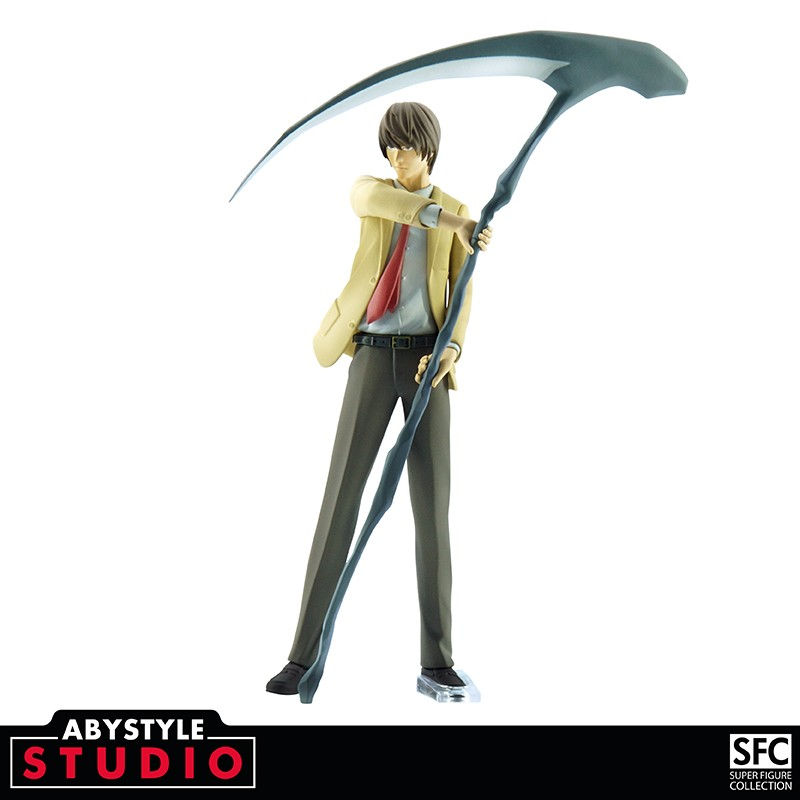 It's notable that the studio chose to recreate Light's original visage and not update it to look more like he does in the manga proper, where his face is more pointed and the details sharper. To that end it's actually quite unique, almost look like a prequel or first draft Light Yagami which I find quite appealing.
Wearing his preppy college ensemble, Light comes with his beige jacket, red tie, white shirt and brown slacks. Of course the leather on his shoes and belt are matching shades of brown (he's a sharply-dressed killer) and as such looks dapper without being flamboyant. The earthy tones and scholarly dress are in sharp contrast to his supernatural overseer Ryuk, and as such I can highly recommend picking that figure up too to get the full effect on display.
In terms of overall sculpt, there's lots of nice details in the folds of the shirt, the buttons and the hint of movement in the flared jacket and tie that provides the figure with some life. There isn't much in the way of paint wash on the figure, which might have been nice to add a little depth, but more importantly than that (for me) is the use of a nice flat skin tone for the hands and face - there's nothing that make a figure look cheaper than shiny plastic used for skin, and happily they've kept the budget laser-focused on the sculpt and kept the paint applications for where they're most needed.
The scythe is nicely painted, with two tones of flat grey and a generally uneven look to it, making it appear both threatening and supernatural in nature. You might think such a big accessory would require a fairly large base for balance, but unusually for ABYstyle Studio, they've opted for a clear piece that attaches to the left shoe for a clean look.
Proving themselves to once again be masters of budget figures, Light here looks more than his money, with a sculpt that's spot-on to the legendary cover. With Misa on the way next month, ABYstyle Studio is rolling out a highly desirable collection of Death Note figures at a great price.