Having already invested in both Morrigan and Felicia, it was really a given that we'd have to complete the trio with Lilith. Created when Morrigan's father, Belial, split her energy in a bid to keep her inherent power under control, this fraction of Morrigan's power became sentient and took form, creating what is essentially a younger sibling for the alluring succubus.
All of this of course means that she looks absolutely stunning next to Morrigan, going so far as to share the same base and basic design elements of her older sister. Though much more petite, she wears a red leotard with feathering across the shoulders, the same bat-emblazoned tights and a red pair of matching boots. Wings on her head and back complete the vampiric look, and like Morrigan she wears fingerless sleeves to match her tights. All in, the look is just as striking as Morrigan, though with a far younger and more innocent appearance, which is fitting for the character.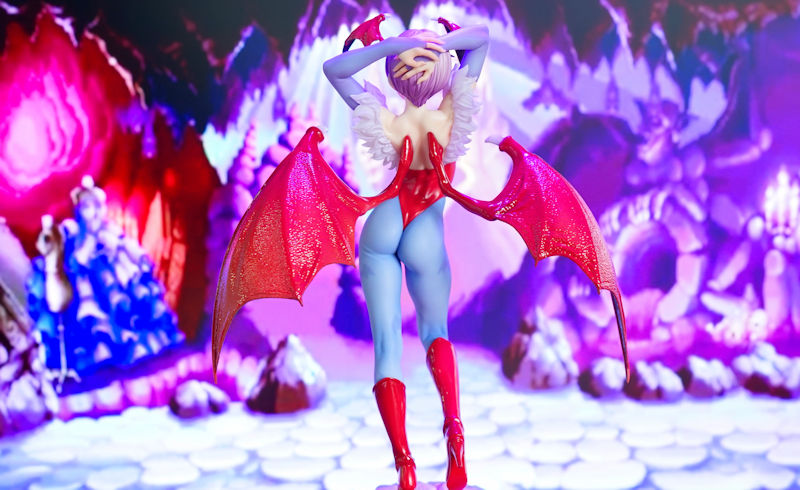 It wouldn't be Darkstalkers without some cheesecake elements now would it?
As is now standard with Kotobukiya's offerings, quality is in abundance here. The sculpt is gorgeous, Lilith's innocent look belied by her sexy pose, the details on her lips, eyes and demonic wings all precise and sharply cast. Paint is everything you could want, with the matte texture of her tights and sleeves offset by her glossy leotard and leather boots. The purple pastel hues are very attractive and compliment the pink and green of Morrigan's palette perfectly. The base is painted to match her stage in the game and all in, she's very pleasing to the eye no matter where you put her.
As with her line-mates, there's an element of sex appeal to Lilith's character, though in her case it's mainly to the rear of the figure. I prefer the less lusty expression and posture, and honestly without the buxom build of her sister, the outfit could be considered pretty conservative, especially when compared to Felicia.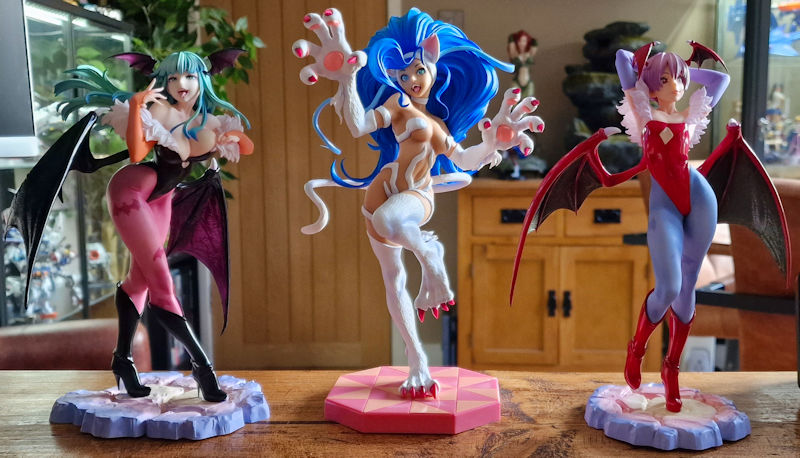 The trio look fantastic posed next to each other, the pinnacle of classic Capcom character design!
While Lilith works just fine as a standalone piece, there's no denying the impact having all three femme fatales together creates. While BB Hood and Hsien Ko would complete the female line-up, they feel somehow less essential than the three characters Kotobukiya has thus far chosen to create. There's been no word on any further characters making the jump from screen to plastic, which given the speed of the character releases so far may signal an end to the line for now, but if so I'm really very satisfied with what we've been given.
I think Felicia remains my favourite standalone figure of the line, but Morrigan paired with Lilith on display is just sublime, so my advice would be to throw caution to the wind and just buy all three if you like the series. No doubt the Darkstalkers have me in their thrall!