Kotobukiya's Bishoujo line of figures has become something an IP darling, bringing stylised life to a number of franchises over the last few years - everything from GI Joe to Marvel stalwarts, Transformers to Street Fighter. If the line is popular, they'll create a beautiful statue for it.
I have to admit to being something of a slightly reluctant fan of the line - the sculpts are almost always phenomenal, with great poses bringing plenty of character to each one, and sharp detailing supplemented by top-notch paint. So why reluctant? Well, they can be a tad... spicy.
Just occasionally they'll cross the line a bit and place - Juri, one of my favourite Street Fighter designs, was so over-sexualised to almost look like a parody. Sure, she's a bad-girl, but the under-boob was off-brand and distracting.
However, in some cases, like Morrigan here, it's entirely warranted.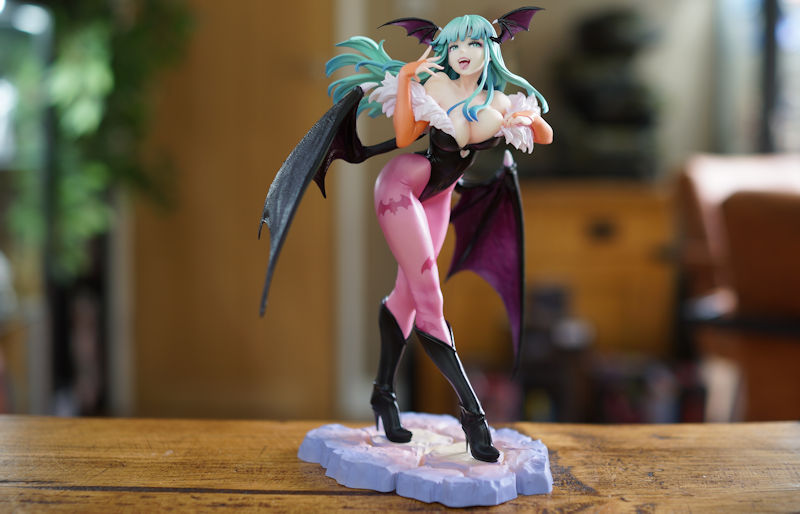 The poster-girl of the Darkstalkers fighting game franchise, Morrigan is a sultry and shameless succubus who uses her feminine wiles to prey on meals with glee. For this reason, the ample bosom, sexy pose and enhanced curves all feel very much "in-character" and subsequently gets a pass. I can't think of any figure of Morrigan where sex-appeal wasn't front-and-centre, and Kotobukiya's effort is no exception. That it's helped by some incredible attention to detail and possibly the best paint I've seen on this line doesn't hurt either.
Every detail on this figure just sings - the creases in the stockings, sharpness in sculpting on the tongue, teeth and demonic wings are all first class, especially at this scale. The wings have a leathery texture on both sides, a twisted and demonic twist on an otherwise perfect human frame. The paint wash is superb , in particular the lighter elements of her green hair across the fringe are mesmerising, the wash around the knees and thighs, not to mention the subtle skin tones that bring life to this undead scream-queen.
There are elements that mark this as probably not that safe for work - the sculpting around her rear is particularly rounded and shows off perhaps a little too much anatomical detail due to the bent-over nature of her pose, while her breasts are practically falling out of her top. It's about as lewd as you can get without going into being full-on erotic.
But then, that's Morrigan.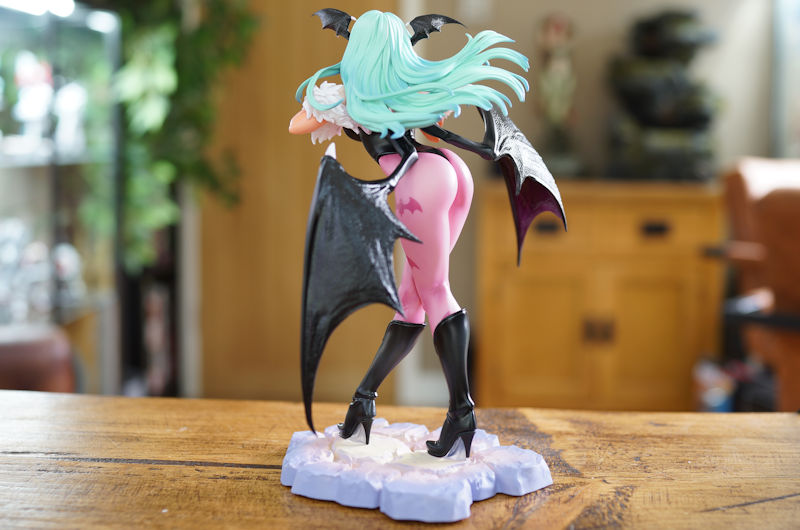 If you're unaware of the character and her history, this is a simple sexy vampire girl in the bishoujo style. However, those who have a deeper understanding of Morrigan's status in gaming lore, you're unlikely to find a better depiction of her than this statue, especially at this price.
I've noticed Bishoujo prices varying wildly, from £89 plus shipping from Japanese stores like AmiAmi and HLJ, to £169.00 from UK retailers. This is really one of those instances where importing seems the only sane choice, as value for money varies wildly here - I'd say anything around £100 is a steal for a figure that looks this good, anything over £130 and it becomes harder to recommend, especially with the incredible work that Pop Up Parade and ABYstyle have been doing for the £30 price-point.
I really can't see how Darkstalkers fans can pass this up though - the Queen of Darkness has arrived!