One of the key factors to the success of LEGO is that once you've built something you can take it to pieces and make something else. But what if you didn't have to? What if the wizards behind the simple brick figured out a way to turn your creation into something different without unclipping a single piece? Enter Optimus Prime, the stalwart leader of the Autobots, famed for his ability to swap between robot and truck modes at will. Believe it or not, in LEGO form he can do this as well!
I never had an Optimus Prime as a kid (I had to make do with the white version that came as part of Ultra Magnus), so a chance to pick up a version in LEGO that looked like a pretty great copy of the original toy was something I couldn't resist. The kit is a little pricey at the £150 mark but then it's in line with most of the adult-targeted kits in a similar vein and there are more than enough pieces in the box (1,508 in fact) to make up for it.
The build is a satisfying affair with plenty of steps and a reassuring solidness to it all that makes things all the more satisfying. No hollow boxes here, everything is fully built inside and out with an intricate build that's complex enough to keep the most devoted LEGO fan happy.
As well as Prime himself you'll put together a variety of accessories including his trusty blaster and a giant energy axe, so there's plenty to build before you're done and display options to please even the most ardent G1 fan.


Some great accessories to build alongside the main event
Once you've finished you're left with a pleasingly huge Autobot who stands at 14" which, as promised, transforms between robot and truck without a single piece needing to be removed (unless you've attached any of the optional accessories). And he looks perfect. In both forms he has the fantastic solid chunkiness of the original G1 design making for a piece fit to be displayed on a shelf alongside any other robots you might want to display him with.
There are a couple of niggles however. The transformation sequence is a little more delicate than you might wish as the hinged parts are after all, only made using LEGO connections and whilst easy to repair, they will snap off if you aren't careful. This is a display piece, not a toy for kids and it certainly deserves its 18 rating. As well as this, whilst the accessories are nice, apart from Prime's gun none of them are really the ones you would want. It would have been much more satisfying if you could build a simple version of his trailer instead and a minifig of Spike or perhaps a little version of Bumblebee to build wouldn't have gone amiss either. But who's to say what's around the corner, and already Youtube has basic trailer builds and mods to make to optimise your Optimus.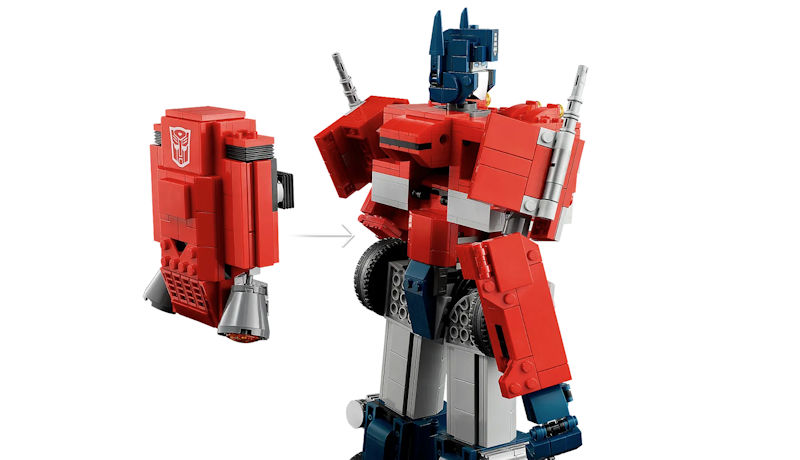 The backpack is a terrific callback to the original cartoon
On the whole though these are minor issues. This is a brilliant LEGO piece that will look amazing on the shelf and has a great party trick unique to this set - a transforming LEGO set really is something new and special.