The Gundam Barbatos is the hero mecha of the Mobile Suit Gundam: Iron Blooded Orphans storyline, set within it's own universe, separate from the main continuity. It's fitting then that Barbatos is a departure from the usual Gundam designs, taking on a more bestial form, replete with claws and brutal maces and swords. A primal mecha which literally kills its own pilot.
This is my first Metal Robot Spirits figure. I've been an avid collector of the Fix Figuration series, which was nicely painted ABS figures with a ton of swap-out parts that latterly adopted metal parts. I also collect the Metal Build series, which are premium pieces that have metal skeletons and are usually redesigned by the original mecha designers to have modern detailing and oft-times more heroic proportions. There are larger, sitting at 1/100 scale and make impressive display pieces.
Metal Robot Spirits are 1/144 scale, have a metal skeleton and features a lot of optional parts for a myriad of display options. This Barbatos comes with Three pairs of optional hands, Eye effect parts, Valkyria Buster Sword, 2 x 200mm arm cannon, 2 x rocket launcher, Sword-mace, Twin mace, Joint set and a Stand Set. That's a lot of options!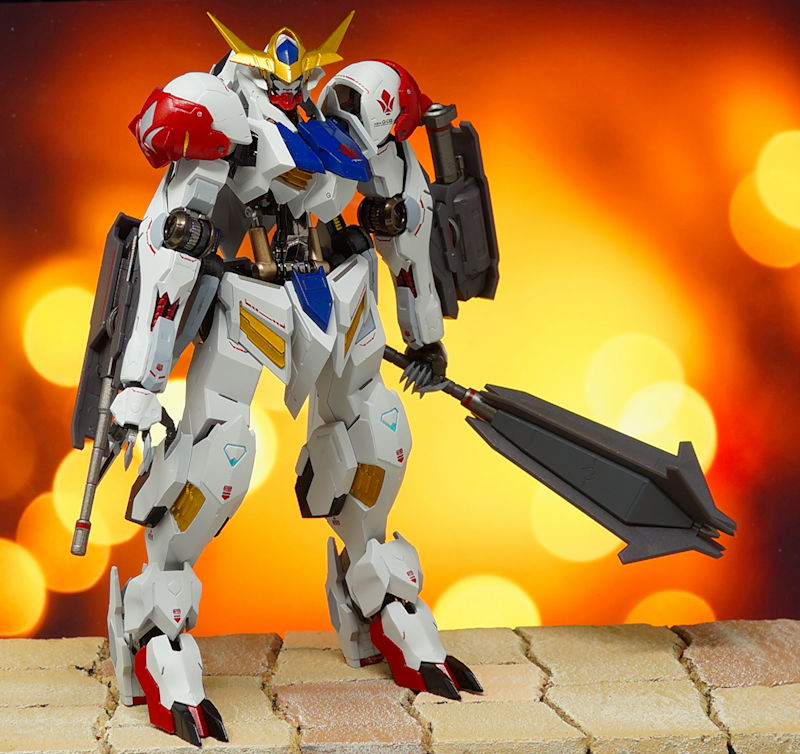 It's a curious Gundam design but all the better for it.
Taking the figure itself out of the box, there's a pleasing heft that lends it a premium feel, and there's a lot of paint here. Despite being a primarily white design, it's covered in matte paint that's very reminiscent of the Fix Figuration figures. There's a lot of tamp detail too, with metallic painted highlights completing the trifecta. In short, it looks superb, and I'm genuinely surprised I haven't discovered this line before, as it sits at my preferred scale with the attention to detail that I love. It's a cut above the Macross Hi Metal R range, but at a much lower price point (so long as you can jump in before the scalpers!)
The metal skeleton is very robust (though I have seen reports of loose shoulders on Youtube so your mileage may vary here). All I can say is that it weathers the shake test extremely well, and has been happily holding the Sword Mace aloft since I posed it. When it comes to articulation, it has everything it needs - thanks the hip-skirts, the legs have a wide range of motion at the hips, there's a pleasing range of tilt on those bestial ankles and together these can lead to some awesome animalistic poses. The exposed pistons at the waist are a thing of beauty, working exactly as pistons should and allowing for a fantastic range - ab crunch, swivel and tilt, there's not much it can't do. Shoulders have forward and backward butterfly joints, ball joints for a full 360 degree rotation, connected to elbows that provide a full curl. There isn't much curl on the wrists, but they are quite stiff and will give you a limited range - they do swivel though, which allows for plenty of expression between the 4 types of hands (curled, fists, holding fists and relaxed). Finally, the head can look up and down with plenty of range. This suits the figure as it looks best leaning forward, head up.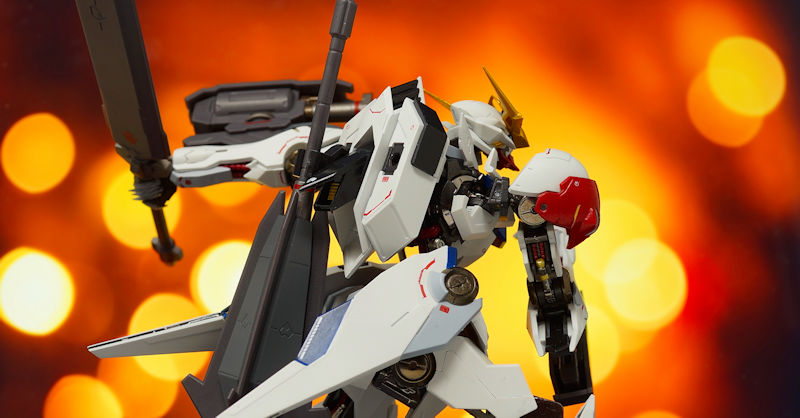 The metal skeleton protrudes across the figure, lending it a premium look and feel.
The box contains a number of connector ports which connect to the back and forearms, enabling weapons storage. The forearm weapons and wonderfully painted, with a metallic base and tampo details. The swords are cast in plastic and only have limited painted detail, as do the maces, but given how these are mostly bludgeoning tools, I don't suppose looking pretty is a priority.
The stand has 2 connectors to allow for more posing options, plus independent support arms for the weapons, in case you want to preserve the friction joints in more extreme poses.
Lastly, you have an effects part, which contains a replacement crest connected to crackling red energy that emits from the eyes. In short, there's no shortage of eye-catching configurations for this Gundam.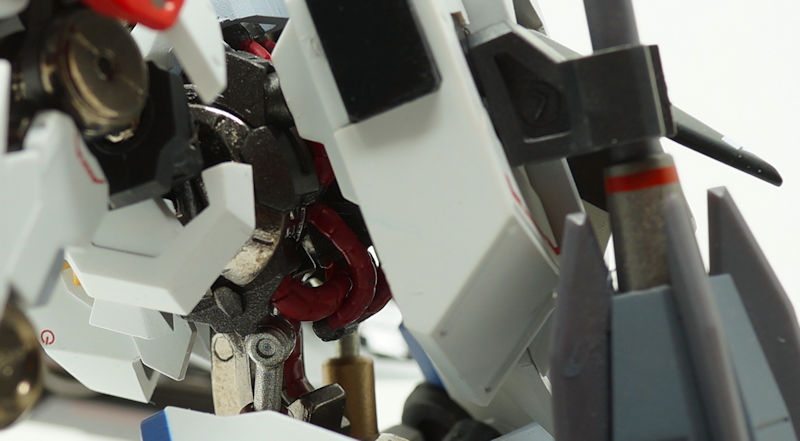 Even the innards have painted detail, such as the red cables and spine panels. Glorious.
So we have a combination of sharp (literally) sculpting, detailed paint (they even detail the spine, which you can only see at an angle) and solid engineering. Are there any issues?
Well, only one on a technical level, and it's even mentioned in the instructions. Because the entire figure is slathered in matte paint, it's possible to damage it when manipulating the limbs and rubbing parts together. Therefore some careful handling is best advised in order to keep the premium finish.
Otherwise, what we have here is a tremendous piece of engineering. Much credit must of course go to original mecha designer Naohiro Washio, but this genuinely feels like something different and interesting in the Gundam universe.
This has certainly piqued my interest in the line as a whole - it's my preferred scale at a decent price and has plenty of everything I like. Looks like I've found a new way to drain my wallet.