In all my many years of collecting, I confess to having never purchased a Play Arts Kai figure. Not that they aren't appealing, but until now I just haven't felt compelled to grab one - the DC range is too "out there" for my tastes, and I haven't really been heavily into the RPG range. Having finally spent some time with the glorious Final Fantasy VII Remake, I decided to pick up some of the characters, and here we are.
Having recently been on a bit of a Figma binge, I was quite unprepared for how big Tifa is - 26cm is full-on doll size, and while I have statues of this scale, I don't have anything posable. With 17 points of articulation, there's plenty of movement here, with Tifa's armour and dark thigh-high tights allowing the most noticeable joints a degree of discretion. The body itself has waist and upper-body articulation completely hidden by the skirt (a separate piece that hangs off the waist) and the sculpt of her top. It's clever engineering and allows for some seamless posing. Even her ankle articulation is hidden by her boots being separated into sculpted detail and two soft rubber pieces that just hang around her ankles. Overall, it's impressively designed.
There's an impressive heft to the figure, which makes it feel good in-hand. Ratchet joints are employed at all the load-bearing areas - shoulders, knees and ankles, which provides excellent stability. The ratchets are close together allowing for more positions, always good in a figure of this size. The only hinderance to movement comes from the rubber skirt, but being quite short it's not a major issue. A soft leather with functional pleats would have been the icing on the cake, but working within the budget, soft rubber is an acceptable solution.
The plastic is quite thick and feels like good quality, with the hair being soft to help prevent delicate strands from snapping. There's a nice subtlety to the paint on both hair and skin which really comes out when you're taking photos, especially the gloss applied to both the eyes and lips.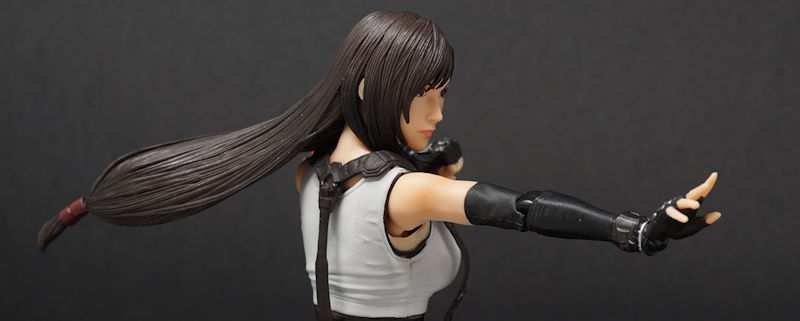 Sculpt details are fantastic, from the strands or hair to the wrinkles in her top
The sculpt itself is faithful to the game, which in the era of CAD shouldn't be any surprise. There's lots of paint to help bring out the details, especially in the gloves and various straps that adorn her short skirt. There are 8 hand options, from fists to open palms, 2 faces (not terribly distinct from one another it must be said) and 3 hair options for various levels of swish to suit the energy of whichever pose you'd like her in. Additionally she comes with a stand to keep her upright.
I am aware that there were issues with the head parts nots lining up properly on the US release of this figure, which unusually landed before the Japanese version. Mine has come from Japanese stock courtesy of AmiAmi, and there are no issues whatsoever with mine - just be aware that if you order from a US supplier, you may have issues. I'd recommend a purchase from your favourite Japanese store, or Square's own website so that problems can be resolved quickly.
So as an introduction to this series of figures, Tifa is a solid start. I would have liked more expressive face options, maybe some Materia or other accessories to display with her, but otherwise I can't think of any serious faults here. I have Aerith on the way to compliment her, and I'm very tempted by the recently announced Jessie too - the Remake has provided a lot of depth to these beloved characters, and I'm now quite keen to have them represented on a shelf. This could be the beginning of a new obsession.