If there's one thing Evangelion has excelled at outside of it's own media, it's successful merchandising crossovers. Based on the Radio Eva 10th anniversary illustration by Mai Yoneyama. The figure is available in two versions: the original, muted colours, as shown here, and a brighter version with a stronger palette. Initially I was tempted by the latter, but on reflection I like the idea of following the original illustration as closely as possible, so that's what we have here
As usual with Tokyo Otaku Mode's free shipping, it was sent via Surface Mail. I keep forgetting they do that, so it took the better part of 3 months to turn up on my doorstep, with tracking going from Sent to Arrived and no further. A touch frustrating in all honesty, but it was well packaged with a free illustrated paper file, so can't grumble at the packing.
Asuka here is a pricey piece under normal circumstances, but I had enough purchase points to knock her down to under £100, with a further 10% knocked off for my birthday, so I've been very fortunate to bag her at a bit of a bargain price. Looking around online this will set you back between $200 - $280, so it's quite an investment under normal circumstances.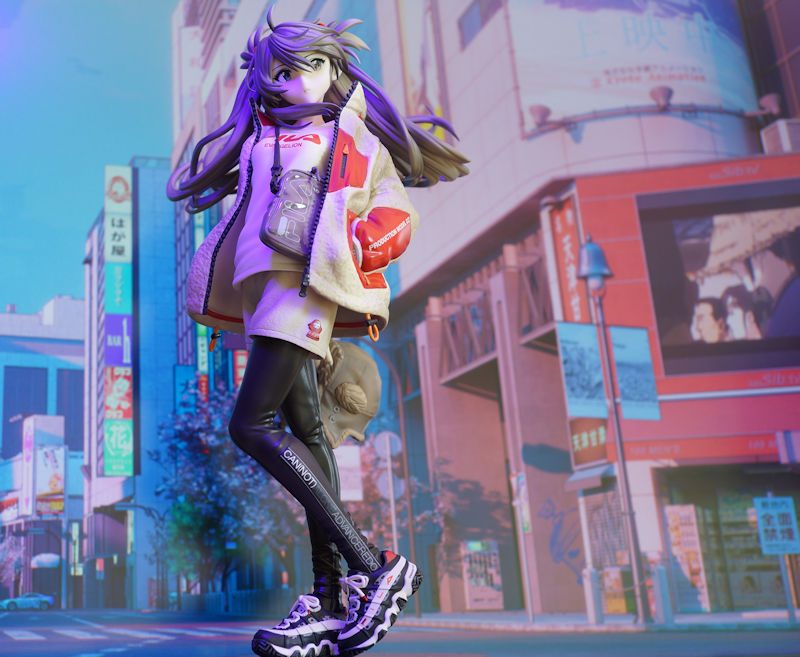 Sunset in Shibuya!
That money does buy you some extra quality however, not just the FILA license that's slapped onto every accessory!
Let's start with the overall sculpt, which is a faithful recreation of Yoneyama's artwork - Asuka in full gym-wear, sporting a baggy t-shirt, fluffy jacket, shorts, accessories bag, furry hat, leggings and gloriously detailed FILA sneakers. It's certainly "on-brand" and does a great job in making Asuka look very cool indeed. Details on the zips, straps and line-toggles add an element of realism to her garb, while her stance is both relaxed and windswept. It's certainly cool.
Adding to the rich textures are copious amounts of branding tampos splashed across the pieces, a mix of real-world fashion logos and in-universe Evangelion branding (even the hat has NERV adorning the back), these details really make the piece stand out. It's one of the reasons why I love rally cars and race queens so much, the effortless swagger of, say, the Martini stripes on a Porsche just seem to work in harmony, and it's no different here.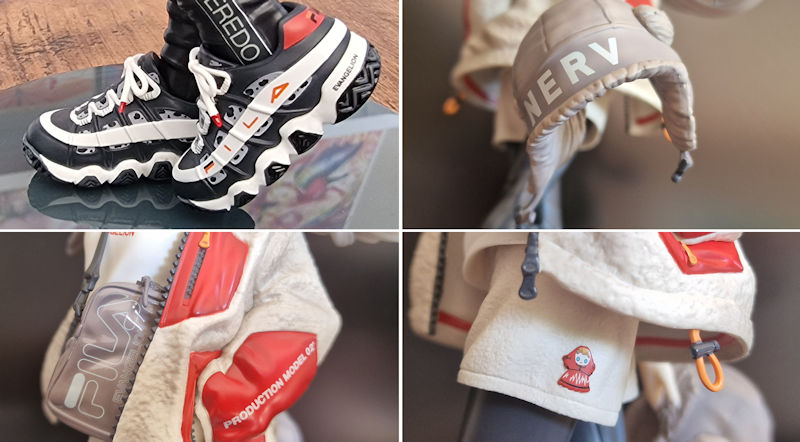 The painted detail is similarly sharp, with not so much as a dot of paint out of place, with almost every surface benefitting from a wash to add depth. In the muted colours it has a certain melancholy vibe, but upon glancing at it my wife proclaimed it was going in her office, and that's a first for any anime figure coming into this house!
The final weapon in the figure's arsenal is a touch of class. The gloss base with the Radio Eva logo etched into it is just absolutely perfect. It's high-end fashion and I love it.
The figure has an almost "grown up" feel to it, a combination of style, attitude, colours and detail that come together to make something that feels sophisticated. Without the usual hit of bright colouring usually enjoyed by this kind of product, there's a certain irony that it stands out on a shelf precisely because it isn't begging for your attention.
Radio Eva Asuka doesn't care whether or not you feast your eyes on her, but she knows you will anyway.