Fire Force is series from the creator of Soul Eater, Atsushi Ōkubo, wherein mystical fire brigades utilise magic as well as traditional fire-fighting techniques to fight invading "infernals", fire beings who long ago reduced our world to ash.
Tomaki Kotatsu is a junior member of the Fire Force, and in this figure she's depicted in her standard uniform - black underwear covered by more utilitarian fire-fighters trousers, boots and long jacket. The blue rings across her uniform will glow in the dark or light up under a black-light, just as they do in the show itself.
The sculpt captures what looks to me to be the midst of a fire, with billowing smoke forming the base, and the rise of her firefighters jacket and the twin-tails of her hair suggesting strong gusts of hot air. Overall it's a very pleasing pose with lots of character and an element of danger. I like the understated expression and the inward pointing of her toes, both of which suggest caution is being taken - Tamaki's clumsy but caring traits are captured in this pensive looking statue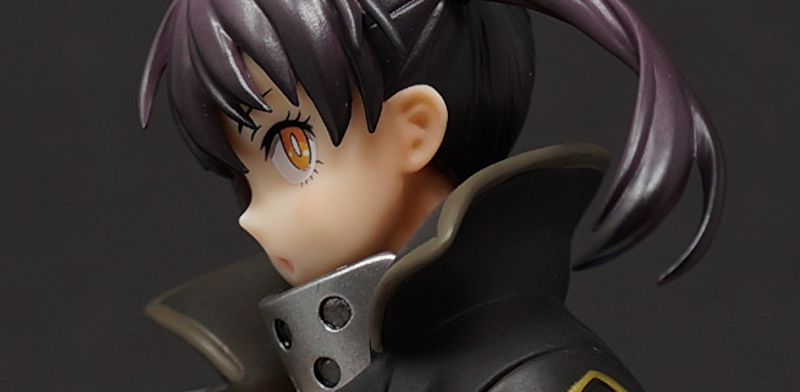 The face sculpt captures a pensive air, suggesting danger
The sculpting is ably backed-up by the paintwork - there's a lovely subtlety to her trousers, with patches in grey over a black base. The wash is nicely placed to bring out some limited stitching detail, and the black studs holding everything together also bring an element of function to her ensemble.
The flesh-tones work really well, and as you can hopefully see by the gallery image where I've placed a fire scene around her, it reflects colours beautifully - the warm red lighting was achieved with a lamp, so if you were to put her on a display with coloured lighting, I think she'd look amazing. The eyes, all of which are tampo'd these days, are as sharp as we've come to expect. Details such as the hair, ears and mouth are all nicely done, looking sharp and shapely from any angle.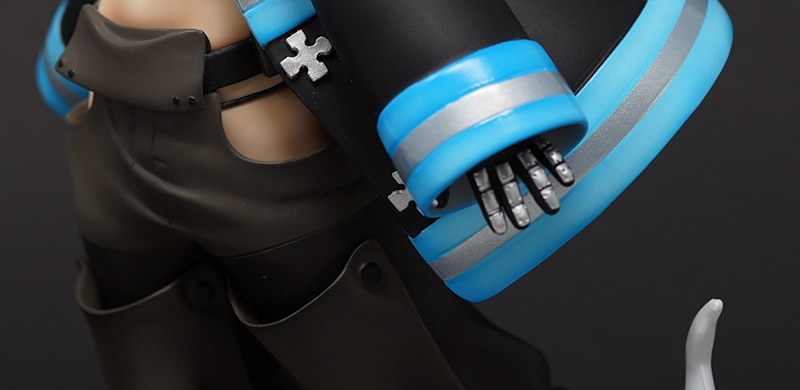 Details on the uniform are sharp and well painted
The detailing on the jacket, with the blue rings, metal cross buttons and silver catches are all excellent. I particularly like the details added to the gloves, with disconnected metal plates running across the fingers. Besides the figure and her clothing, there's not a lot of detail in terms of a base, so it's nice to see that what is here gets the care and attention you'd expect from Kotobukiya piece.
As usual, the joins are the main things to look for on a figure like this - the one on her hairline, connecting her fringe to the rest of her hair, is noticeable but not jarring, however one of the smoke pillars is connected by a rather clumsy looking connection that you can't hide at any angle - this is a shame because it's really the only notable letdown on an otherwise excellent figure.
If you're a fan of the series or this character in particular, this is a lovely example at a very reasonable price. The figure was supplied for review by Plaza Japan, and it's well worth picking up from them if you want to follow the link below.
Available from Plaza Japan
(This figure was supplied for review, but UK Anime Network earns no commission nor payment from advertising or sales of this item)
Watch the Video Review!