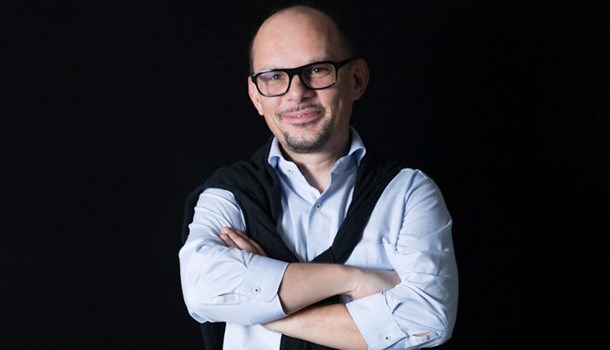 ABYstyle Studio Interview
Written by Ross Locksley on 03 May 2022
---
Firstly, thank you for taking time to talk to us. Can you introduce yourself to our readers and describe your role at the studio?
My name is Mathieu Beaudouin and I am the Director of ABYstyle Studio. I have always worked in the toy industry. I am a toy enthusiast myself and a collector. I have 15 years of experience in the field and I worked for very big names of the toy industry, known at the world level - without giving brand names.
We created the brand ABYstyle Studio in 2019 to focus on our line of figures and replicas. We manage the products from creation to production and we have a team of 20 people (designers, merchandisers, brand management) to manage the creation, design, sculpting, prototype.
How do you select the subjects for your statues? Are you able to pick and choose who you want, or is the list dictated by the licensor?
We study the market a lot. Obviously, we personally have an affection for some licences. We follow the news but not only, we try to be cross-generational by going from Grendizer to Jujutsu Kaisen. The Japanese culture is inevitable for us, but we'll soon come up with more pop culture licenses like Star Wars, Marvel, Avatar: The Last Airbender…
Once we get the license, there are some characters that stand out and for which it is obvious that we will have to develop a figure.
Once you know which character you're working with, how do you decide on the pose for the figure?
First of all, we look in the anime if there is a dynamic and striking pose that we could use. The more we progress in our projects at ABYstyle Studio, the more we look for dynamic poses so that the figure lives, we want to give the impression that the character is being inhabited.
But I have to say that sometimes, we have problems with licensors who impose certain poses. It depends on the project.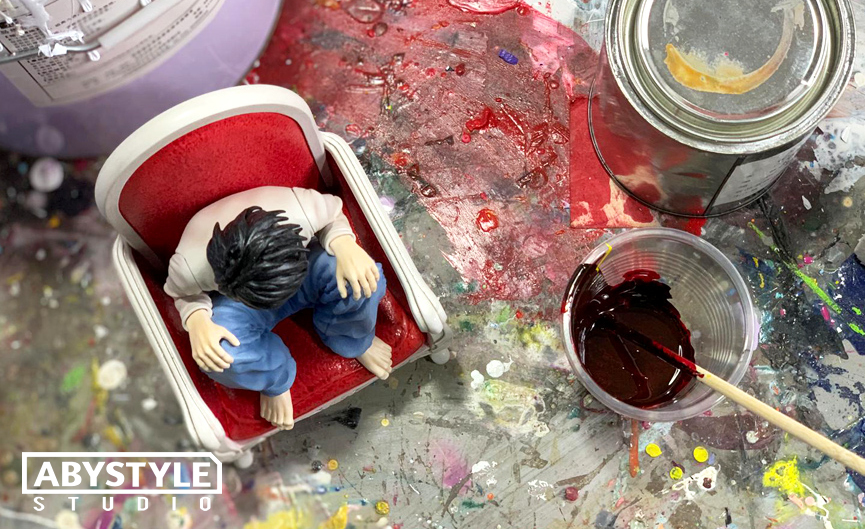 Painting the enigmatic "L"
Does each character require a lot of research? What sort of materials do you use for the detailing?
Yes, a lot of research, and also you have to stick to the anime. The licensors provide us with style guides, but in general there are not enough assets. It's a lot of adaptation work that has to be done so that the design of the character fits the volume that we want to give to the figure.
The pose depends on the complexity of the project. For example, for our future figure of Saitama from One Punch Man, we chose the pose according to a very famous asset, but we managed to give more strength to the figure with the power of the foot. It gives a lot more dynamism to the whole with the base.
What factors do you have to consider when creating a figure? Size/details, paint etc?
Our SFC (Super Figure Collection) range is in 1/10th scale at a price of 29.90€. These are two points that we want to respect. We study everything from the beginning of our thinking process so that we fit in this price target. One of our main focuses is to propose a really good quality/price ratio to our consumers and of course, this also means discussions and negotiations with the factories.
To date, which is your favourite statue to have worked on and why?
Ryuk from Death Note - first figure on which we had the freedom to do what we wanted; we went far in the details. The licensor was opened to discussion – we added a lot of details, a nice atmosphere emanates from it, the figurine seems inhabited.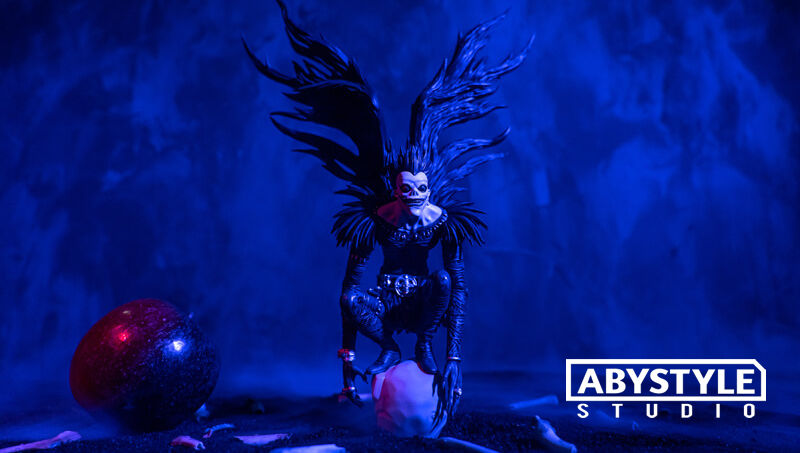 The gorgeous and imposing Ryuk statue
And on a more personal level, it's also our Grendizer figure which is also one of my most beautiful projects for ABYstyle Studio. It was a lot of work with the factory to get a nice product at a very affordable price. It had a great success since its release.
I love the way the bases are designed to work with matte and gloss detailing, what was the thinking behind that approach?
We try to make the bases evolve, they are an integral part of our figurines, there is a real link between the two. We are always trying to go one step further. For example on our future Yuyu Haskusho figures: the bases of our 4 figures could be assembled together to form the tournament tiles, we are very excited about it! Our goal in the future is to always make detailed bases.
What is your dream project?
I have a favourite license and I'm actually working on it. It's a special project that will be a real collector product. I can't say anything more for the moment... But this dream project is coming true, one of the coolest projects I've ever done!
Are there any plans to diversify from the current range? Such as larger figures (such as the L and XL ranges from Pop Up Parade), interlinking diorama style displays and so forth?
Of course, we have a lot of projects in the pipeline for the next few years, but for the moment it's a bit early to tell them. We invite you to follow us and come back to us in a year to discuss them.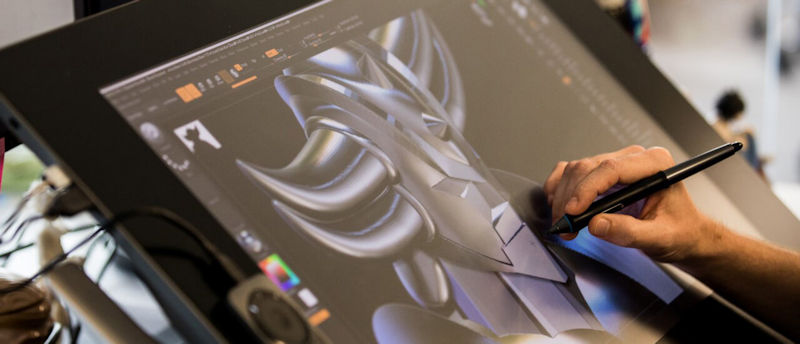 The digital design process
Which statues are you working on currently that we can look forward to?
Some of the licenses I mentioned before... YuYu Hakusho, One Punch Man, Tokyo Ghoul... And of course, we also continue to develop figures on the licenses that we have already exploited since the beginning of ABYstyle Studio.
What do you most want fans to take away from your work, and do you have a message for fans of ABYstyle Studio?
That we are above all enthusiasts! We try to do our best to bring quality figures at attractive prices. We want to change the standards, and we arrive with new products. Our packaging is also important, we want beautiful boxes. We are in constant evolution!
Thank you for your time!
Thanks for the interview and I would like to thank all the ABYstyle Studio team for their daily engagement and their passion to offer the best products to all fans.
You can find out more about ABYstyle Studio and their latest projects at the official website
You can view the entire range at the ABYstyle Studio Store

About Ross Locksley
---
Ross founded the UK Anime Network waaay back in 1995 and works in and around the anime world in his spare time.
---