Quirky Guy - An Interview With Yosuke Fujita
Written by Hayley Scanlon on 08 Dec 2014
---
Yosuke Fujita's previous feature Fine, Totally Fine has become something of a cult hit and is one of the most popular Japanese comedies currently available in the UK. However, it's been more than six years since the film was first released so, with his long awaited follow-up Fuku-chan of FukuFuku Flats premiering at the Raindance Independent Film Festival, we caught up with him to find out just what he's been up to in the meantime.
Yosuke Fujita: Nice to meet you!
UK Anime: Nice to meet you too - is this your first time in London?
Yosuke Fujita: Yes.
UK Anime: Have you had a good time so far?
Yosuke Fujita: Yes I'm enjoying it so much.
UK Anime: Fuku-chan of FukuFuku Flats is only your second feature since Fine, Totally Fine. What's kept you away so long?
Yosuke Fujita: There are actually two reasons - I've been doing a few bits and pieces like the short segment in the omnibus movie and a TV drama during the last six years, but the main is reason is that it took me so long to write the script because I really couldn't compromise anything. So it just took me so long to do and then there are all the financial problems. It's really difficult to gather all the funding, so for those two reasons it just took so long.
UK Anime: I wanted to ask about a project that only seems to be listed on your Japanese Wikipedia page called Saba - I know it was made for TV but was it a one-off special or drama series? How did you feel about working on TV?
Yosuke Fujita: Just a one-off special. Yoshiyoshi Arakawa starred it too. Have you seen it?
UK Anime: No, we'd really like to but it seems quite hard to get hold of.
Yosuke Fujita: I really love that movie, I don't think it has subtitles though. I'd like more people to see it.
UK Anime: Is TV something you'd like to do more of in the future?
Yosuke Fujita: No, not really. I love movies!
UK Anime: After that you contributed a short film Cheer Girls to the Quirky Guys and Gals anthology film, how did that come about?
Yosuke Fujita: I was asked to contribute because of a scheme to nurture new producers so it had to be low budget, and I was told to make it a story about a young girl, so that was the criteria I had to stick to. So that's why I made it but to be honest, I wasn't really sure how it came about really but it was for the producers' project.
UK Anime: You said you prefer working on movies, but do you have any preferences for working on short film or features?
Yosuke Fujita: Features, I think.
UK Anime: What do you think are the differences in making a short and feature film?
Yosuke Fujita: In terms of the actual filming, it really doesn't matter - there's not much difference between them. However, there's definitely less exposure with a short. You don't have lots of opportunity to show people the film in a big theatre, but features are always shown in a big theatre. So probably I prefer features because there's more exposure.
UK Anime: Would we be right in thinking that Yoshiyoshi Arakawa has been in all of your projects so far?
Yosuke Fujita: Yes! All of them.
UK Anime: You seem to have quite a productive working relationship, we read in another interview that you were both in the same theatre group - is that correct? Could you talk a little about how you first started working together?
Yosuke Fujita: I don't know if you've heard of the theatre company Otona Keikaku, but that's how we met each other - then, Yoshiyoshi Arakawa was a theatre actor there and that was the first time I started working with him. The reason I use him is that the thing I want to deliver, the message or something in my movie, Yoshiyoshi Arakawa is the closest thing I can use to project what I think. That's why probably... we share a similar sensibility so I can't help using him all the time.
UK Anime: We assume you plan to work with him again in the future?
Yosuke Fujita: Yes! In the film I'm writing now Yoshiyoshi Arakawa will play a similar sort of role, but I'm also planning to work with with Miyuki Oshima again - this time in a female role.
UK Anime: We were a bit disappointed that there aren't any dolls with Yoshiyoshi Arakawa's face on them in Fuku-chan of FukuFuku Flats.
Yosuke Fujita: Sorry - I'll put them in next time! Yes, in Fine Totally Fine it was actually his head on them wasn't it? Then in the kokeshi in Cheer Girls - oh well, next time. Maybe I should have put his face on one of the kites but I didn't think of it.
UK Anime: You seem to have built up quite an ensemble company and are using quite a few of the same actors again and again - Seminosuke Morisugi, has he been in all of your films as well?
Yosuke Fujita: Not quite all, do you know of him?
UK Anime: We recognised him popping back up in your films. Do you enjoy working with the same actors over and over again?
Yosuke Fujita: When I'm writing the script I kind of imagine an actor or actress in mind and then start writing, and when I'm writing something someone comes up in my head so I've probably already cast somebody into my script unconsciously. So that's why I'm always using the same actors.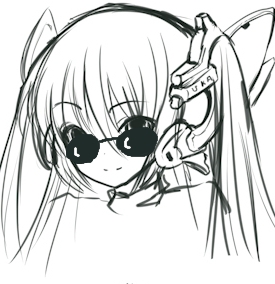 Author: Hayley Scanlon
---
Hayley hasn't written a profile yet. That's ruddy mysterious...
---