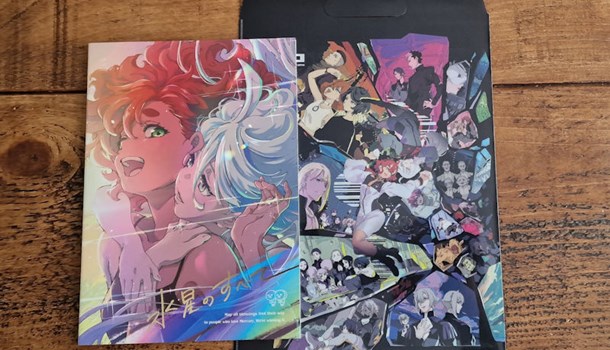 The Gundam Witch Staff Book
Written by Ross Locksley on 08 Sep 2023
---
Having concluded its run, Mobile Suit Gundam: The Witch From Mercury has been a huge success. Pushing Gundam into Bandai's second most profitable brand after Dragon Ball earning 131 Billion Yen, the show was designed to bring in a new viewership and it undoubtedly succeeded.
Although many (including myself) found the overall story to be a touch lacking thanks to a rushed feel and a lack of consequences for major players, the charm of the series and overall love for the characters saw it resonate and maintain positive overall feedback from fans.
The one fly in the ointment has been Bandai's recent statement that the relationship between the two principle characters, Gundam pilot Suletta Mercury and daughter of Galactic President Rembram Delling, Miorine, is "open to interpretation". This despite the fact that they're both seen wearing wedding rings and there's a reference to elder sibling Eri being Miorine's "Sister in Law". To say this angered a few people online would be an understatement.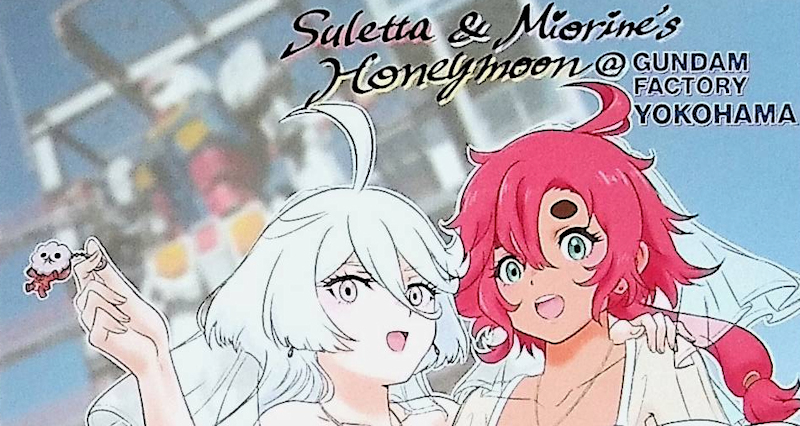 Suletta and Miorine by Shuta Nagabe - this isn't very ambiguous!
So, move on a few months and enter Comiket, at which an artbook was sold wherein the relationship between the two characters is depicted in very clear terms, not least on the cover. It's 100% unofficial, thereby not entirely undermining the stance taken by the IP owner, but it is very clear how the staff viewed the situation from the contents of the book. As such I thought it was something I very much wanted to look through, as it gives an insight into the mindset of the creative team and, well, that artistic spirit is the main appeal of anime to me - not so much the end result, but the artistic vision and processes that bring such things to life.
In terms of Bandai's stance, I don't really care. I can understand that certain countries who very much enjoy Gundam are not in the same place culturally as others, so hedging bets is probably a smart business move. For me, I thought the relationship between the pair was very sweet and entirely in keeping with the story. It didn't feel forced, though I do think Suletta's initial reaction to Miorine's proposal was quite telling, and at the time sparked its own debate.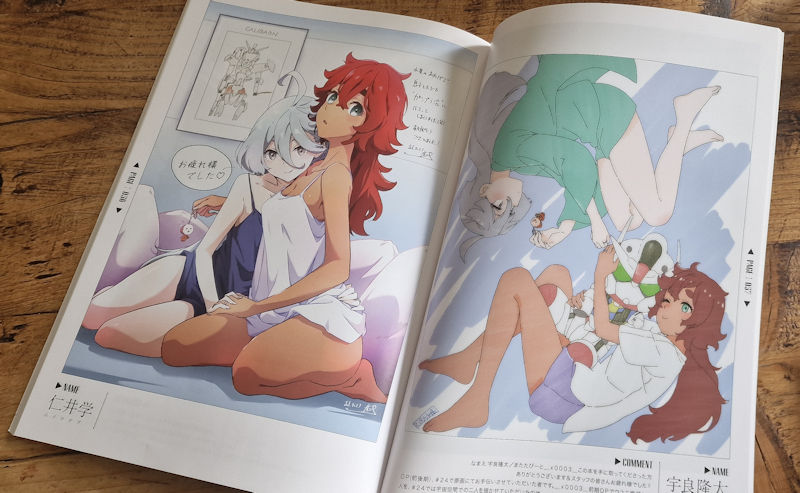 There are plenty of relationship illustrations - these by Manabu Nii and Ryuta Ura
All that said, I very much enjoyed the book, which I managed to track down at Mandarake for a pretty huge mark-up over the original cover price. I took the plunge for a couple of reasons - artistic insight as mentioned above for one - but not the least of which was the news that the book would never be reprinted. Given the limited distribution and a print run I gather they only got away with because Bandai was unaware of it, I think this is going to be a key collectable for anyone who enjoyed the series as I did.
I'm also a complete sucker for artbooks and this one is absolutely lovely.
Full of messages to fans, thanking them for watching the series (thank you Google translate camera, you have changed the game for importers of artbooks) and with a clear enthusiasm for the world they created, the team have put together a tome which I can best describe as "joyful". It's full of fun images, the characters interacting in the illustrations just as you imagine they would.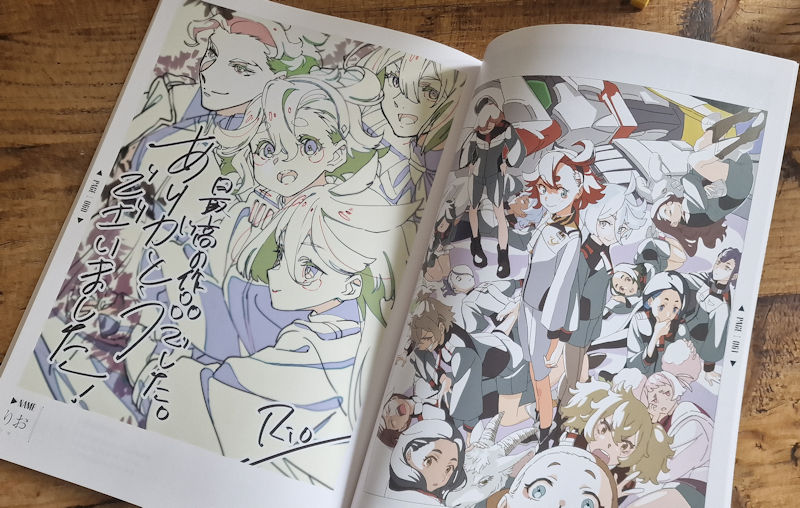 Group illustrations of the cast by Rio & Hideki Hamasaki
For fans of the "ship" in question, this is a wonderful tribute to a couple that many took great delight in watching. Safe to say those who weren't fans of the arrangement probably won't enjoy the staff book.
This is a shame, because there are some really nice pieces in here, not least of my favourite characters, Sophie and Norea. They're a controversial pair because their actions seem so callous, but it's notable that the children of Earth saw them as heroes fighting to end the oppression of the Spacers. They're really quite tragic, but I especially enjoyed Sophie's gluttonous lust for life and complete disregard for her own safety. She knew her days were numbered, so just ate up everything she could in a bid to find some meaning in her short existence. Seeing her exuberant face several times throughout the book was just fantastic.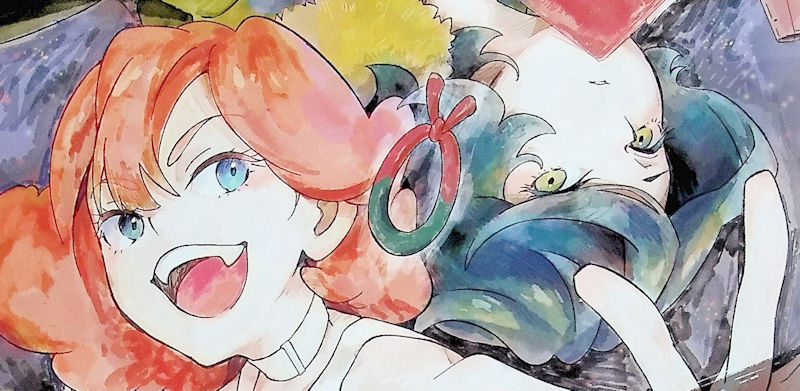 Sophie and Norea by Yuki Ito
There's lots more too - fabulous mecha artwork by Kanta Suzuki, Zhu Haoran, Yasushi Tokuda, Nakajima Takeryu, Masami Obari and many more. The mech designs in this show were really fantastic, and the art in the book by these creators is stunning.
The shame of it is that this will only become harder to get as time goes by. There's a huge audience for it, and I can only hope that Bandai allows at least some of the artwork in this book to be presented in a new official publication so that it can be enjoyed by a wider audience. Not everyone has the luxury of spending well above the odds to pick this up out of curiosity, I'm very lucky to be able to do so, but this was a show that - despite its narrative shortcomings - engendered a huge amount of goodwill because people loved the characters. I'd like to think we can get as much as we can of them.


Also contains mecha... Calibarn by Shinpei Sawa
While I've only uploaded low-resolution scans for the purposes of illustrating this article, you can find some larger versions on our UK Anime Collectors Facebook Group - do feel free to join up and say "hi", we post interesting curios and rare toy pics in there fairly regularly.
The Gundam Witch Staff Book was purchased through Mandarake.

About Ross Locksley
---
Ross founded the UK Anime Network waaay back in 1995 and works in and around the anime world in his spare time.
---
OTHER STORIES:
---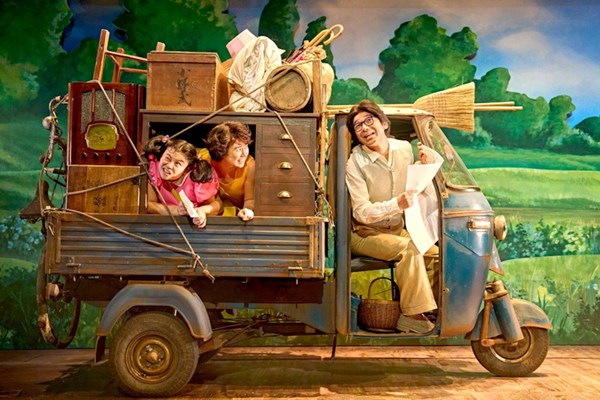 posted by Richard Durrance on 28 Nov 2023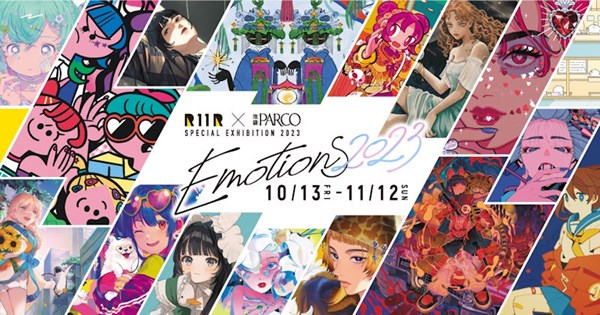 posted by Ross Liversidge on 16 Nov 2023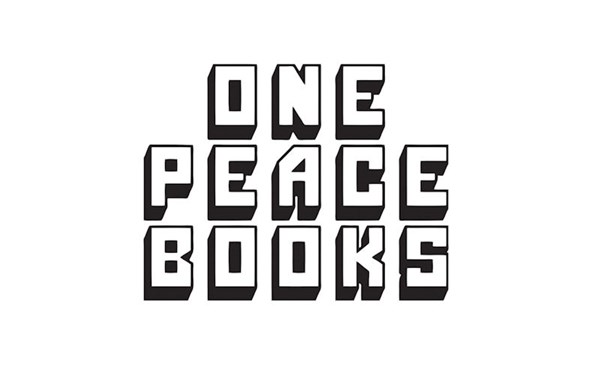 posted by Ross Liversidge on 07 Nov 2023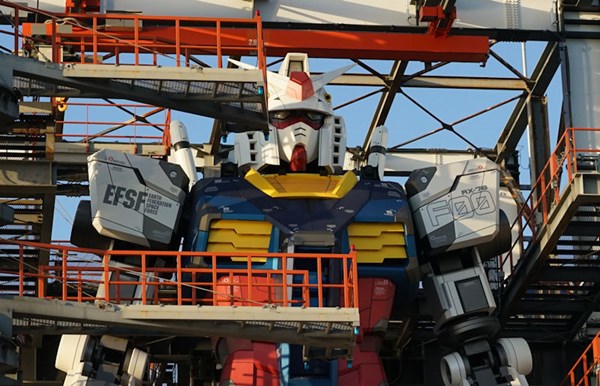 posted by Ross Liversidge on 02 Nov 2023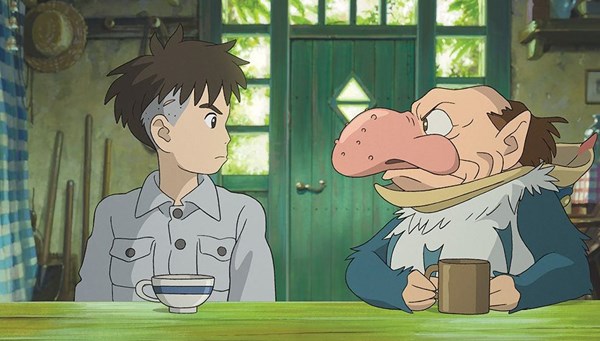 posted by Richard Durrance on 09 Oct 2023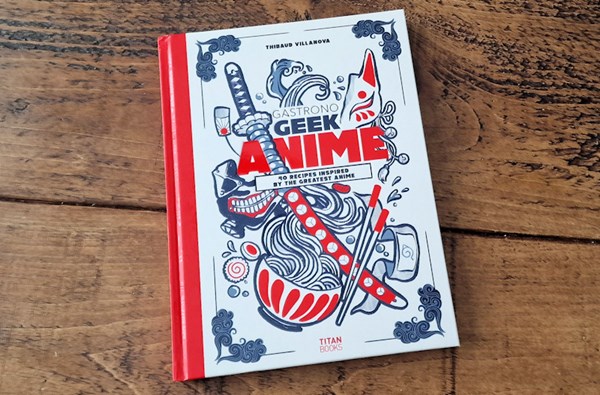 posted by Ross Liversidge on 02 Oct 2023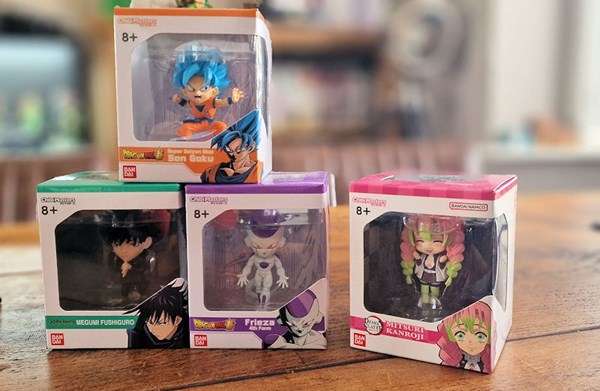 posted by Ross Liversidge on 22 Aug 2023
---
VIEW ALL