Crunchyroll has revealed the nominees for the Anime of the Year, an award voted on by the fans.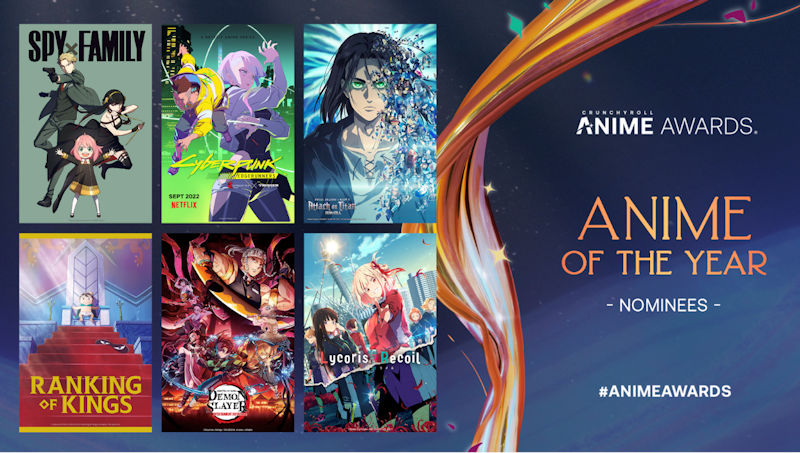 For a full list of nominees and to cast your vote, visit the Crunchyroll Website.
The nominees for the seventh annual Crunchyroll Anime Awards have been announced today, honouring the creators, musicians, and performances across streaming and theatrical powering the global love of anime. Voting is now open worldwide in more than 200 countries and territories. Nominees represent anime excellence across more than 30 anime studios, eight streaming platforms, over 50 series and films, and celebrating more than 50 voice actors. The full list of nominees is available on the Anime Awards website and can be found below.
Anime Awards voting is open now until Thursday, January 26th at 1 am. Fans are encouraged to vote every day for their favourites and, new this year, Crunchyroll will offer social voting on Twitter for the Anime of the Year category. Twitter users can cast a vote by posting required hashtags or sharing a friend's tweet. Fans can visit @Crunchyroll for instructions and official rules to participate. Results will be revealed at the 2023 Anime Awards live ceremony on Saturday, March 4, and through a global fan livestream.
Crunchyroll has also announced that Kenichiro Yoshida, Chairman, President and CEO of Sony Group Corporation will open the festivities. The live ceremony will be held at the Grand Prince Hotel New Takanawa in Tokyo and will be hosted by renowned voice actress Sally Amaki and popular entertainer Jon Kabira. Sony Music Solutions, Inc., a subsidiary of Sony Music Entertainment (Japan) Inc., will support Crunchyroll in the execution of the Anime Awards.
"The 2023 Crunchyroll Anime Awards are a global celebration of anime, which inspires emotion and joy in people and has the power to create global communities," said Yoshida. "Crunchyroll is committed to spreading fascinating Japanese anime to the globe. It's an honour and privilege to be with the creators, innovators, and fans of anime to celebrate."