GUNSHIP are back! And with a new anime-style music video to boot!
For those of you that don't know them, GUNSHIP are a UK synthwave band made up of core members Dan Haigh, Alex Westaway and Alex Gingell. By using vintage analogue synthesizers and other retro electronic gear, they are somehow able to bundle up the atmosphere and nostalgia of the 80's and sweep you up in a sound that transports you back in an instant. Their addition of haunting, passionate vocals to what is normally an instrumental genre makes them stand out from the synthwave/outrun crowd.
Dan Haigh has described their sound as "a neon soaked, late night, sonic getaway drive, dripping with luscious analogue synthesizers, cinematic vocals and cyberpunk values, exploding from the front cover of a dusty plastic vhs case which has lain forgotten since 1984". That is about as accurate as it gets. If you are a fan of Stranger Things, Drive or Ready Player One then we highly recommend that you give them a listen!
For me, the ten day long agony is finally over. GUNSHIP grabbed my attention on the 3rd July by turning their Facebook profile and cover photos black. Just black. This was soon changed to an image of a gravestone with 'RIP GUNSHIP', which swiftly sent the whole fandom into a complete and utter meltdown. With the addition of dates to the grave, hope was rekindled that the band was not disappearing from our lives and actually releasing their long awaited second album. Over seven excruciating days we have seen the GUNSHIP sun eclipsed in its entirety with the iconic mountain fading to mist.
At last, the second single Dark All Day has been released, in tandem with the announcement that the same titled album will be released on the 5th October this year. Dark All Day is availble for pre-order now. The album contains 13 tracks and is available in a deluxe limited edition 180g double-gatefold 45 rpm vinyl set with special lenticular cover, as well as in a brand new Special Edition '16-Bit Box Set' which includes signed CD and a plethora of new GUNSHIP goodies.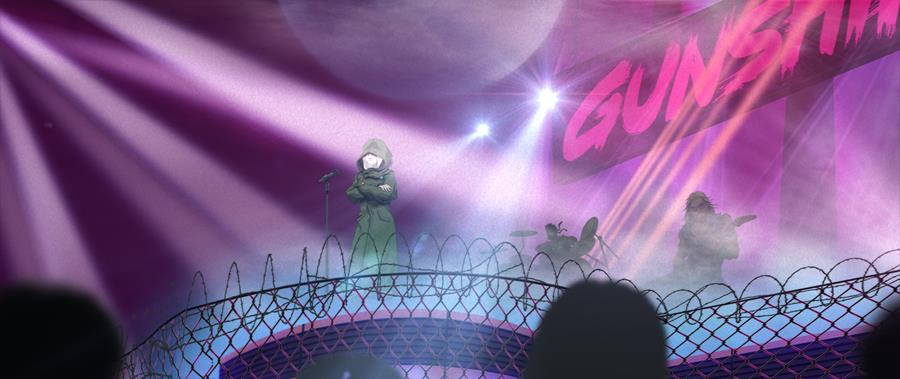 Dark all Day's music video is an homage to the late 80's film The Lost Boys, including a role reprisal from the shirtless, sex-aphone playing Tim Cappello himself. Singer Indiana joins both the vocals and video, adding a wonderful enigmatic complement to the rest of the track. The anime production was carried out by Angry Metal Studios, who are also known for their work with Adi Shankar's Bootleg Universe.
Their new music video which is heavily anime inspired, is available to watch on Youtube.
Spot the References
We start out in the run down city of Santa Carla where GUNSHIP are playing their latest show. To be on the safe side, they have brought along their crack team of vampire hunters, consisting of Blade, Buffy the Vampire Slayer and Seth Gecko (From Dusk til Dawn). Unfortunately, even these three can't handle the big bad (a mixture between Rebi Ra from Demon City Shinjuku and David from the original The Lost Boys), all succumbing as the blood rain falls. However Blade manages to use his Predator wrist computer to self-destruct and take him down, blasting the band into the real world. This switch from anime style to live action is super exciting, as this is the first time that the members of GUNSHIP have actually appeared in one of their own videos. As we reach the end, we can see that the band members have all been ravished by the remaining vampires. But it is not the end! The falling blood rain ensures that they all rise again and we see them speeding off into the eclipse.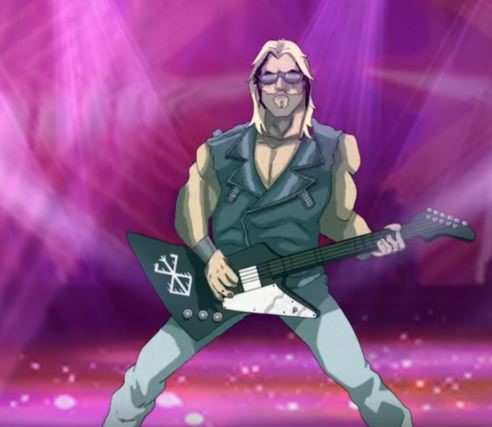 It is chock full of horror/cult anime, film and TV references, including Edgar and Alan Frog from the original movie, The Lost Boys, who can be seen throughout the video until their interesting demise at the wrong end of a crotch gun…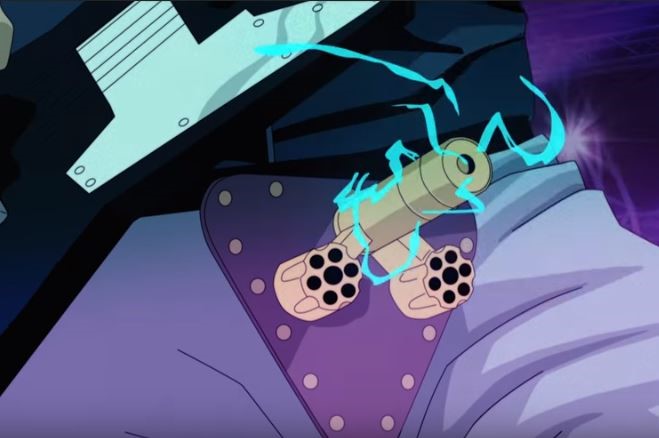 I am of the opinion that the band themselves are characters too, with the main singer bearing a strong resemblance to Light Yagami (Death Note) and the drummer to Ryu from Street Fighter. The guitarist can also be seen to have the Berserk curse symbol on his guitar. Every time I watch it I see something new and honestly don't think I've managed to spot everything yet…
The music has certainly taken a darker seductive turn, but still retains GUNSHIP's distinctive style, which I personally can't stop listening to. This is the second single to be released for their forthcoming album Dark all Day, the first being Art3mis and Parzival – a mini adaptation of Ready Player One by Ernie Cline. The video is full of retro gaming references (over 80!) and is a visually excellent, loving tribute to 8-bit video games from the 80's.
GUNSHIP have definitely created high anticipation for their album and all in all, this has been an excellent Friday the 13th!
UK-Anime.net will be aiming to secure an interview with the group in the near future. Watch this space!