The Rumble Fish 2, the follow up arcade fighter to The Rumble Fish is releasing digitally on 8th December for PS5, PS4, Switch, Xbos X/S/One and PC. Released by 3goo and Dimps Corporation, the cult-classic will also receive a Collectors Edition which will also include the original game.
From the Press Release:
"Developed for the Atomiswave arcade platform and debuting in 2005, The Rumble Fish 2 delighted players with its flashy, technical gameplay governed by five buttons and two super move gauges and stood out with a unique, colorful cast of 16 characters punctuated by the game's innovative "Smooth Model Animation" system, allowing for 2D sprite animation on a per-limb basis. Exclusive to arcades until now, this new release marks the first time The Rumble Fish 2 will ever be officially available on consoles and PC."
About The Rumble Fish 2 Collector's Edition
The Collector's Edition will come in a beautiful outer-box featuring newly drawn visuals by YukinariZ, who created the character designs and artwork for the arcade version of The Rumble Fish.
The Rumble Fish 2 game
The Rumble Fish 2 Strategy Guide-Book
Three additional DLC in The Rumble Fish 2: Greed, Beatrice, Hazama
Command Cardsin The Rumble Fish 2
The Rumble Fish Original Arcade game
The Rumble Fish Original Arcade game OST CD
The Rumble Fish Original Arcade game Art Book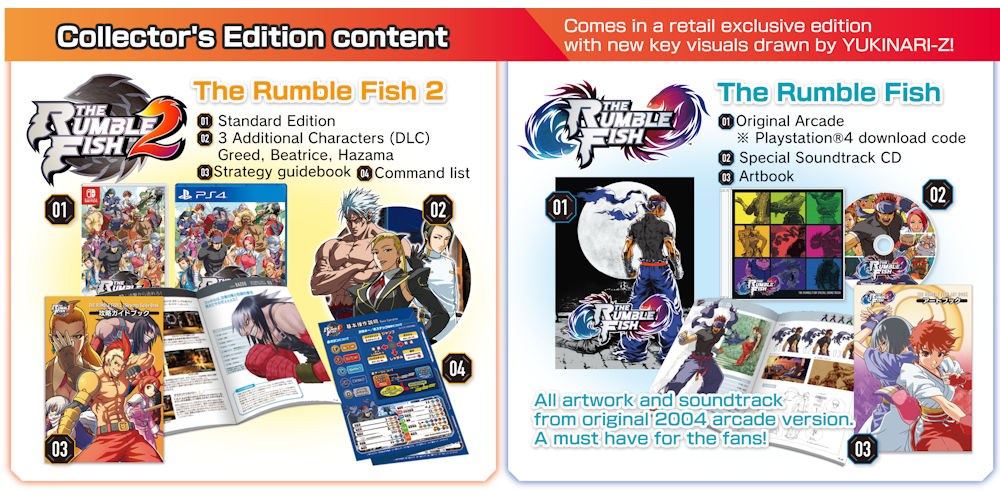 Story Trailer:
You can catch all the latest details on the official Rumble Fish 2 website.