It's not often that we get a chance to wax lyrical about the Marvel and DC comics characters here on UKA, but we're more than happy to do so when given the chance, and taking a look at Kotobukiya's Bishoujo line seems like the perfect excuse to sneak this past the editor…..
Starting out as a doll shop in 1947, Kotobukiya has come a long way in the last 80 years, successfully transitioning first into producing model kits and then into producing fully sculpted and painted figures. Then in 2009 (as far as we can determine - pinning down the exact date has proved quite tricky) the company began a partnership with Marvel comics which led to the release of the first figure in the Bishoujo line - Marvel's Black Widow. From there, the company has gone on to produce dozens of other figures in the line, introducing characters from Star Wars (though the baffling lack of a Rei to tie in with the current trilogy leads us to believe this particular license may have expired), Men in Black, DC comics and even various classic horror franchises.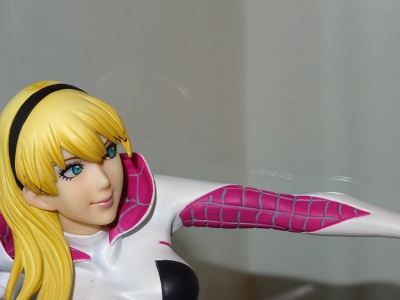 The designs for the figures are all done by Shunya Yamashita whose utterly stunning artwork adorns the boxes of the line. He's also designed a Rei from Neon Genesis Evangelion in the same style for FLARE which is another gorgeous figure. Under his talented brush (or stylus, if we're being honest) these popular characters are transformed into spectacularly beautiful women, each instantly recognisable and yet elevated to the height of possible feminine appeal and then posed into either an action pose or a sexier, flirtier stance more in line with classic pin-up models. The new Ikemen line will also start producing male figures in the same vein this year though the choice to launch with Nightwing and Red Hood rather than one of the more popular male heroes is a bit odd. Whilst we do have to admit that there are more than a couple of these that push the sex appeal a little too much - Starfire in particular looks like she's posing for some very candid photos - but this has been toned down a little in recent years in favour of more elegant, striking posing. Yamashita is truly a master of his art and is easily able to capture the best aspects of each character and still keep them feeling very feminine. He's also got a great (and insane) imagination too - just look at the horror line which sees him transforming the likes of Jason Voorhees, Freddy Krueger and, later this year, even Hellraiser's Pinhead, into sexy gender-flipped versions!
From his studio the designs are then passed through to Kotobukiya's talented sculpting and painting teams who translate the designs into absolutely spectacular 3D sculpts which couldn't be better adaptations of the designs if they'd stuck a bicycle pump into them and blown them up Roger Rabbit-style!
Each statue is a thing of beauty. Under the sculptor's hands we get a series of stunning ladies each carefully crafted with every minute detail accounted for as capes fly dramatically back under an invisible breeze, hair floats around heads as if recently disturbed by a swift turn and fingers (replete with tiny perfect fingernails) grasp and point individually. The lines are smooth and perfect, effortlessly simulating the often skintight fabrics as they stretch and rumple in accordance with the pose of their wearer striking a balance between the realistic and the comic book physics.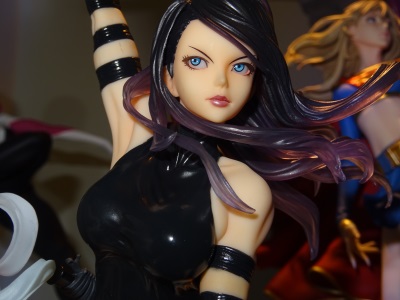 The painting matches the quality of the sculpts to a T, drawing on Yamashita's designs to produce gorgeous skin tones and delicate eyes that draw your attention instantly, before you notice the amazing blending, shadows and highlights that go into the product as a whole to really bring these characters to life.
As a line there is very, very little to criticise bar the slight over-objectification of some of the earlier works and one or two minor design issues, e.g. Spider Gwen really needed a more solid base as she's very top-heavy and not too stable. These are brilliant and beautiful and the production value is spectacular, feeling both delicate and yet solid enough that you don't feel like you're about to break them if you need to handle them.
They are, however, not always the easiest figures to pick up. Our shopping trip this year ran through dozens of stores in Japan and turned up about a dozen copies of the same two of three figures. Even in the West, where they're arguably some of the easiest to pick up Japanese figures given that comic shops often stock the odd one or two, they vanish quickly from shelves and older figurges and the odd comic con exclusive that's been produced can often run to several times the original £40-£60 starting price. So it's definitely best to grab one when you see it or better yet get a pre-order in (we're still hunting for an elusive She-Hulk). What you get for your time and effort is more than worth it and we can't stop going on about how utterly stunning these figures are and for good reason - one of these in your figure cabinet will catch the eye of every visitor with ease and give you good reason to pause for another quick look every time you walk past!