With Bleach enjoying a recent renaissance with the latest sequel TV show, Thousand Year Blood War, doing great business, now is the perfect time to invest in a little Bleach merchandise!
ABYstyle's latest creation comes in a very impressive box - seriously it's massive - and features a battle-ready Ichigo complete with flowing Soul Reaper robes and Tensa Zangetsu in both hands. The Hollow mask adds a layer of menace, making Ichigo decidedly more sinister looking in this incarnation.
The costume itself is a lot more complex than it looks - despite the overall black colouring, it's actual multiple layers, with the flowing black top sitting on a white robe that's separately moulded underneath it. I had expected it to just be a painted detail, but this extra detail really makes the figure crackle with malicious energy! The bandages are fully sculpted, not just flay with painted highlights (a trick NECA frequently pulls) so everything feels that little bit more premium.
For example, the Hollow Mask is fragmented into Ichigo's hair, proper little pieces that seem to "float" in place. It's a really cool touch adding more complexity to a seemingly simple design. The malevolent expression and dead eyes complete the look from hero to villain perfectly.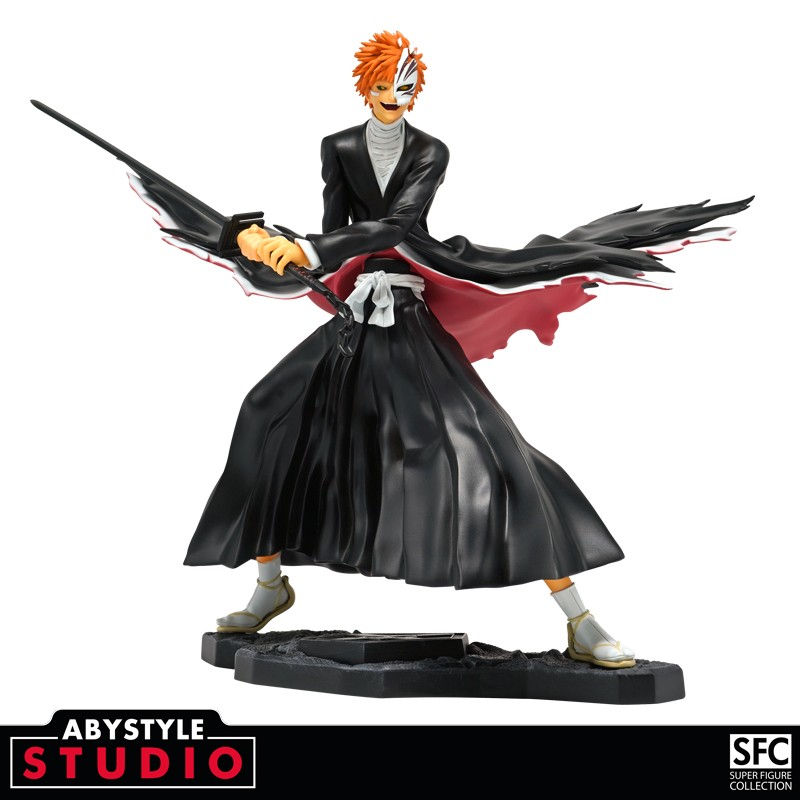 Paintwork is deftly handled, all the "white" parts are actually a very light grey with a matte finish to add texture. These create a nice touch of colour to the costume alongside the blood-red underside of his white inner robe.
Ichigo's signature Tensa Zangetsu blade is a menacing black, with the handle sculpted to include the fabric and familiar diamond pattern - again, not just painted details on a flat base. It's the little things that make all the difference.
Hats off once more for a detailed base too, something that's become a lot more common with ABYstyle Studio figures of later, granting them much greater shelf presence than a lot of figures twice the price that have characters standing on a simple disc. The stone grey perfectly compliments the dark presence of the figure itself.
For under £40 I can't see any issues with this figure - it's huge, the flared costume providing much of the bulk, and presence. If you're a Bleach fan, or know one, this is a real centerpiece for any shelf. I wouldn't say no to a Rukia figure to go with it...