Atelier Ryza has undoubtedly been the franchise darling, with over 24 individual games released over multiple formats since 1997, it's been a surefire hit for Gust since release. However, Reisalin Stout, heroine of the Ryza games, has proven immensely popular. Part of that appeal is down to the character design, which has changed across the games but remained consistent enough to keep the fanbase interested. The "thicc" thighs probably didn't hurt either.
Sculpted by Max Factory to match the premium box illustration, the figure comes with Reialin pulling on her boots for a new adventure while chatting to a bird perched on her shoulder.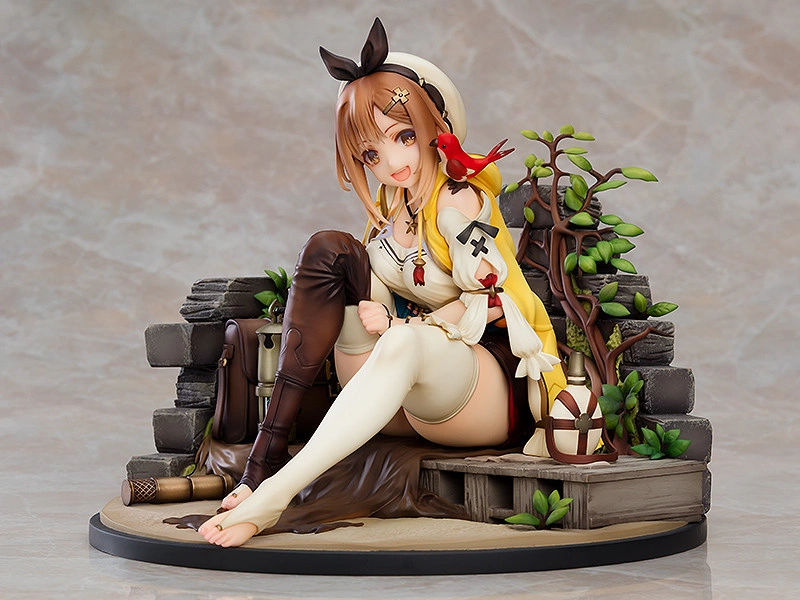 A clearer short of the figure courtesy of Goodsmile. Attention to detail is gorgeous.
Her sculpt is fantastic, all the elements of her costume just beautifully rendered from the various jewellery items in her hair, on arms and neck through to the lovely alchemy bottles strewn about her costume. The attention to detail is just wonderfully realised - folds in the clothes, shorts and boots are especially well done and the facial expression is a real treat - relaxed but full of natural, youthful energy. I love that she has one leather boot pulled on to show how her costume below the waist is layered, the detail of the toe-ring on her tights which is still visible when the boots are in place, it all just gels so well that it's easily one of my favourite pieces on these merits alone.
However. there's a lot more to the figure than just Reisalin. Firstly, you have the option of displaying her in her sleeveless hoodie, which you can tell from the photo I decided to plump for. It's fair to say that the young lady's outfit is somewhat revealing thanks to the short-shorts which are something of a signature for the character. As such, he seated position shows off a fair bit of back and sides when she's uncovered, and being a wholesome individual with a family, I decided to keep her as modest as possible. I also like the extra detail and splash of colour it gives the piece overall, even if it does hide some of those beautiful alchemist bottles she keeps around her belt and midriff.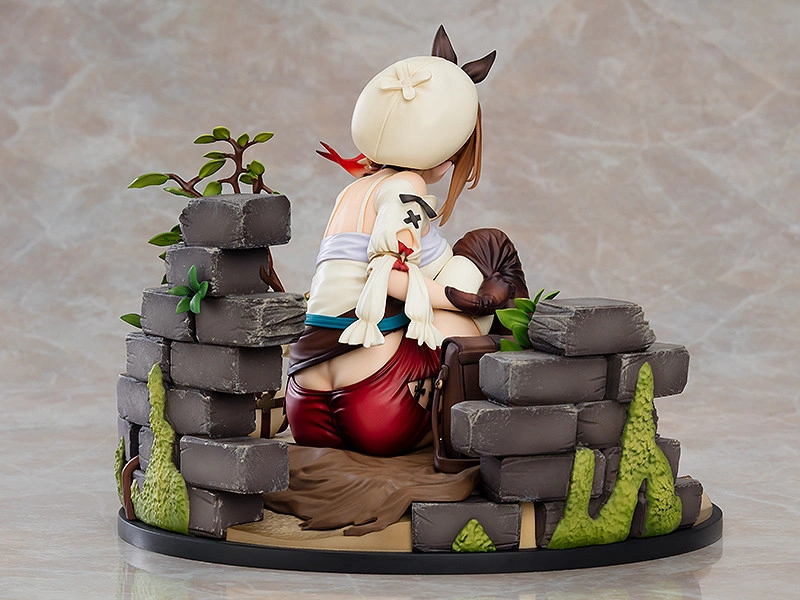 Without the cape there's a lot more... detail visible. Display options are nice.
And then there's the base - possibly one of the most stunning figure bases I've ever seen on a figure at this price point (we won't go into Studio Prime territory or Premium Sideshow territory!) Featuring broken bricks walls adorned with ivy and a wooden palette as the principle architecture, it's also adorned with some lovely accessories for Reisalin's adventure - a water bottle with leather straps, a lamp and telescope both beautifully painted to look like brass and her satchel, resplendent with straps and buckles. It just looks absolutely perfect and I think I'm a little bit enamoured with it.
I'd be remiss if I didn't also mention the paint and finish. As I mentioned, the brass details are wonderfully realised, that includes all the metallic elements throughout the piece that grant a touch of reality, all very sharply painted and washed to give a feeling of depth. There's spot gloss used on the bottles to separate the texture from the matte leather, subtle washes applied to the clothing, and anything leather features grain and wash to make it look like you could pick it up and use it. The skin has a matte finish (shiny skin is always a pet-hate of mine) and overall it just looks very premium, especially at £140 imported. It's a lot more expensive from outlets that aren't AmiAmi or Hobby Link Japan, but go direct and it's an absolute bargain.
We've already had some excellent Ryza figures - the Figma was a lot of fun, and you can find my review of the Wonderful Works figure here. Safe to say this Max Factory offering would be my choice if forced to pick one or the other, but you really can't go wrong with either, honestly.Hands down the best Atelier figure I've seen anywhere, and highly recommended.