Yuru Camp (Laid Back Camp) has been something of a hit in Japan, the cosy and amiable story providing the same sort of relaxing charm as Aria, but in a far more grounded context. I hadn't realised that AmiAmi had their own production house, but once I saw this I popped my money down and eagerly awaited my pre-order. With postage being what it is these days, DHL got it here in three days costing less than EMS. Utterly bizarre.
The 1/7 scale figure has four main components - Rin herself, sat reading a book barefoot by the bath, shawl across her lap. The second part is the base, which is comprised of part of the bench at the foot bath she's visiting. There's a little towel that's got a lovely texture, and finally for those of us who pre-ordered, an extra head with an alternative, sombre expression. It's nice to have, but I'd rather have her sat around with a smile on her face, so this will likely stay in the box.
The bench/base is sturdy, with a faux wooden top and stone base. There's nice deep grooves between the wooden slats, and you can feel a recess between the stone slabs too which is a lovely touch. While paint/printed detail adds texture and warmth, it's still nice to have genuine shape for light to create it's own depth too.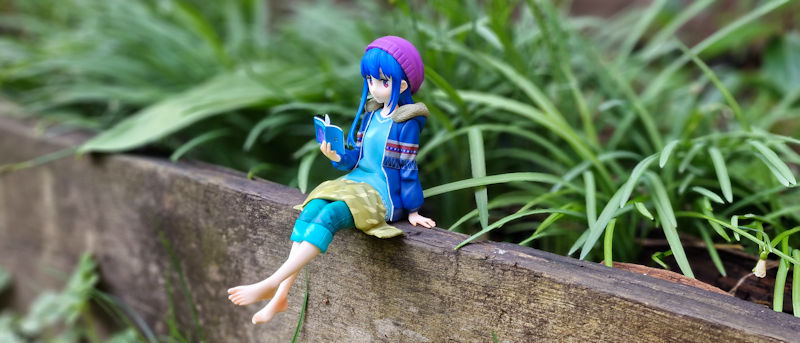 Relaxing anywhere
The paintwork on this figure was the main reason for buying it. There's so much wash across the entire piece that it just feels very "present". The hair, clothing, texture and even the skin tone, most notably in her fingers and toes, is very high quality. Even the soles of her feet have blush, and it's not a part of the figure you're likely to see unless placed high on a shelf. It really is the excellent attention to detail makes the piece feel premium.
Because Rin sits freely on the bench - no pegs to hold her down - it means that you can use her on any flat surface, no just the base she came with. As such she's a lot of fun to perch in her natural outdoors environment. She's the complete contrast to my next review, ABYstsyle Studio's Sakura from Naruto, who's mid-attack and all energy. Every so often it's nice to get a figure that has an auro of chill too.


The bonus face, exclusive to the AmiAmi pre-order, conveys a more melancholy feel.
I can't say I have any complaints - Rin is certainly worth her asking price (assuming you go direct to Japan) as the figure is just so well put together, plus the base and little extras provide a good start in making a larger diorama. It might have been nice to have included a tray to pop the base in so you could add water, but that's something I might work on anyway
We buy these pieces to decorate our rooms with, and taken on her own, chilling with a book, she'll be going on my new lounge bookshelf to remind me to take time out every once in a while and curl up with a good read.