There's no denying how hot Mobile Suit Gundam: The Witch From Mercury is right now - the characters are frequently topping fan polls, every new episode is dissected by fans in much the same way as HBO's Succession and the kits/toys are flying off the shelves.
However, unlike Macross, Bandai seems to be getting their stocks about right with G-Witch - you can pick up the Gundam Aeriel Chogokin from HLJ right now with little fuss. Suletta was a bit trickier to find, but thankfully Yoyakunow seems to be able to pick up even the most popular items, so give them a go if you're struggling - I've found the customer service to be incredibly good!
So enter the much-anticipated Suletta Mercury figure into the SH Figuarts line of articulated action figures. I admit I tend to lean toward Figma for my anime-action figure hit, but that was never going to happen with a Gundam character. Happily I can report that Suletta is well worth hunting down.
The figure comes with eight pairs of hands, five faces and four minifigures to display with your Aeriel Gundam, catering for both Chogokin and Robot Spirits scale figures.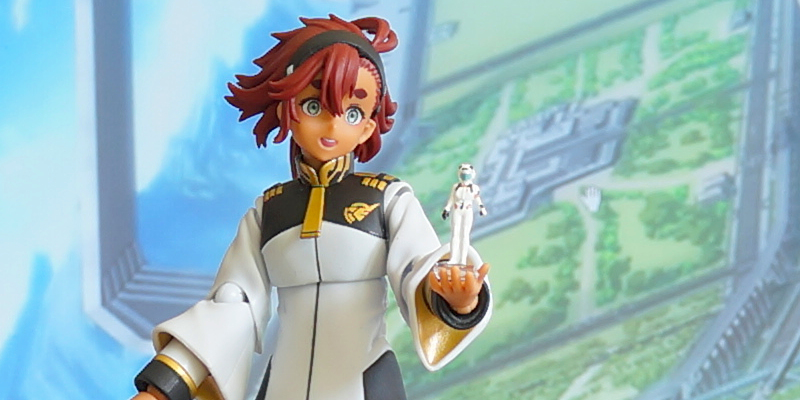 Suletta holding Suletta - the figures are absolutely tiny (and this is the larger of the two options!)
Let's start on the mini-figures, as these are an inspired pack-in and really show the commitment Bandai has to supporting the show. She comes in Holder uniform and space-suit versions, fully painted and standing to attention. The Holder version is undeniably the weaker of the two, the clear sprue at the top of the head is quite unsightly, and the scale means that the detail looks smudged. It's fine from a distance, but up close it's a bit messy. The ability to leave extra detail at the door helps the helmeted version no end, and is my choice of the two for display.
With those out of the way, let's talk about Suletta herself.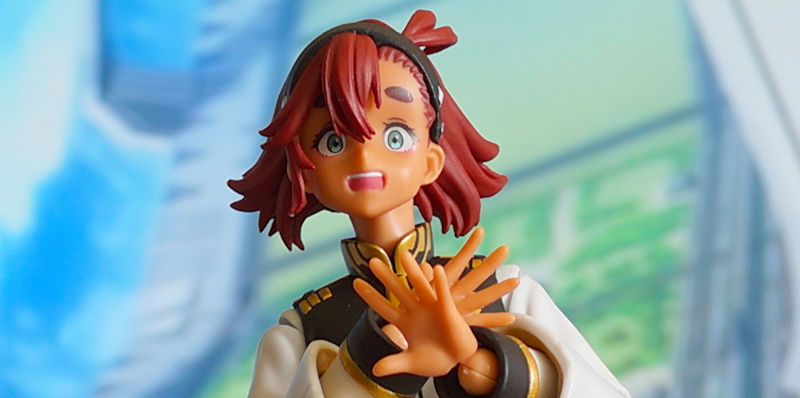 Sadly the lack of a butterfly joint in the shoulders means you can't get her arms quite right for that famous post-slap pose!
Suletta comes in her white Holder's uniorm which she earns after the first episode, resplendent in black and gold trim. Taken on its own, it's a pretty unisex look, and one of the pleasures of the show is seeing how the various characters personalise it to make it look more appealing. Where it exists, teh printed detail is sharp, but honestly most of the figure is white or bare skin, so it's pretty simple.
Articulation exists in the upper torso, shoulders, elbows and wrists, thighs, knees, ankles and toes. It has about all the articulation Suletta needs, given that she's not a character known for fighting moves anyway. The lack of articulation in the hips was slightly more surprising, it gives her a pretty rigid stance at all times, again this is consistent for the character who wouldn't strike a feminine pose in any case. Joints are stiff, and swapping out parts is no issue, it feels durable and tough enough to withstand repeated part replacement and re-posing.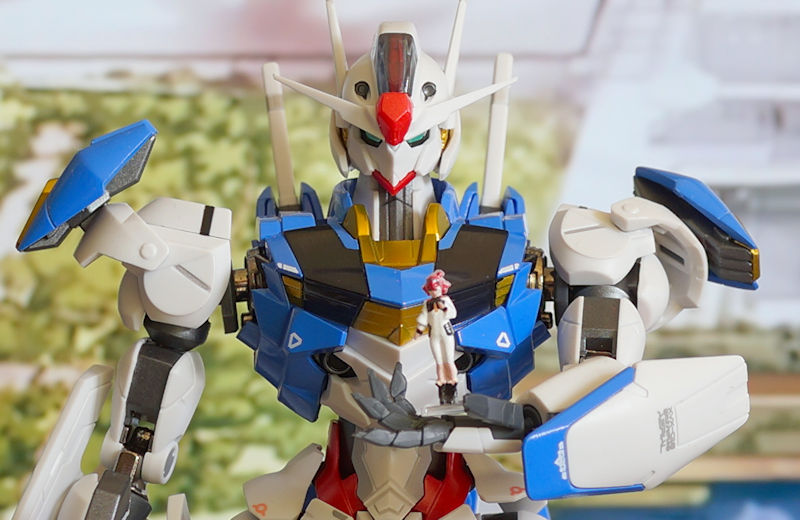 Aeriel and Suletta Holder Mini Figure - even the larger of the two figures loses definition at this scale
The hair is somewhat darker than I expected, but I think this may be due to fan-art (of which there is no shortage) often presenting her with very red hair rather than the official source material which sits a shade darker. The facial sculpts seem pretty much bang on to me, with anger, timidity and happiness all aptly catered for - coupled with what seems like an endless array of hands, I don't see much you'd be left wanting for in a Suletta figure.
With it's additional mini-figures, ample extras and clean sculpt, I'd say this is about as good a Suletta as we can ask for at this scale and price-point. Mine will be added to the Gundam cupboard next to her beloved Aeriel, patiently awaiting the arrival of Miorine who is on order and due to arrive over the Summer. If we can get more from the show in this line (a Sophie or complete set of Grassley House for example) I'd be very happy indeed.