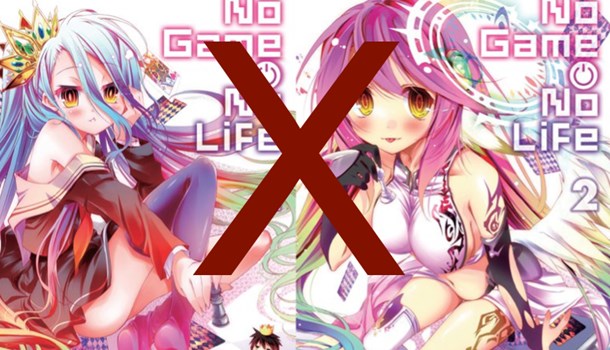 Amazon's Removal of Light Novels
Written by Luther Dickson on 23 Jul 2020
---
In the last few months, there has been talk on the internet of popular manga and light novel titles disappearing from the U.S. arm of Amazon Kindle. Yen Press and J-Novel club have now confirmed these rumours to be true, and fans are horrified. Why in the world would they do this?
According to Sam Pinansky, founder of J-Novel Club, this began in the first week of May when Amazon removed two volumes of How NOT to Summon a Demon Lord from their digital store. He also recounted that after multiple attempts on their part, no contact was made with Amazon and they were given no explanation as to why the books were de-listed. J-Novel Club again attempted to upload the two books, but were disappointed to find that one was removed a week later and the remainder of the series was taken down on May 11th. After many efforts to get in touch with Amazon to rectify the situation, the only response they received was, "As stated in our guidelines, we reserve the right to determine what we consider to be appropriate, which includes cover images and content within the book. We're unable to elaborate further on the specific details regarding our content guidelines beyond what is available here." (A link was included.) Managing Director of Yen Press, Ken Hassler stated that Amazon told Yen Press, "A determination has been made that the books did not fall within their global guidelines."
On June 24th, J-Novel Club tweeted:
"For those of you who may have preordered My Next Life as a Villainess Volume 6 from Amazon, @AmazonKDP arbitrarily decided to block the book from publishing and cancelled almost 1,000 pre-orders today, we apologize for the inconvenience. We'll try to upload again on the sale date."
They followed up with three more tweets which read:
"You may have noticed, but this has been going on for the past 2 months, starting with a block of How NOT to Summon Volumes 6 and 10, and currently Arifureta 6, seirei Gensouki 4, Greatest Magicmaster 5, Infinite Stratos 8 and Lazy Dungeon Master 2 are blocked.
Amazon content review refuses to communicate any reason for these blocks, and multiple, sometimes daily contacts are producing little results… We will keep trying to find some way to get them to fix these issues or at least acknowledge them.
Considering the timing of these issues, I suspect it is due to an over-reliance on automated content flagging systems and lack of competent human resources, but that is no excuse for refusing to fix errors when they happen."
Sadly that was not the end of it. J-Novel Club Tweeted again on the 13th of July:
"We verified today that starting July 11th, all books in the series The Greatest Magicmaster's Retirement Plan, I Shall Survive Using Potions (Manga+LN), How Not to Summon a Demon Lord, and Clockwork Planet (LN) are no longer available for sale on Amazon Kindle (except .co.jp)"
We have received no notification whatsoever about this, and only noticed due to user complaints. Also, all preorders for Magicmaster 6 were forcibly cancelled today. After calling up Amazon, they said the books were removed from sale by Kindle Content Review but couldn't say why
We'd like to remind everyone that ALL of our books are for sale on @BOOKWALKER_GL, @nookBN, @kobo, @iTunes, @GooglePlay, @ OverDriveLibs as well as premium epubs directly from our site at j-novel.club for members!"
J-Novel Club followed up the next day with a tweet that read:
"Update As of a few hours ago, Grimgar of Fantasy and Ash Volume 1, and Infinite Stratos Volume 3 have been blocked from sale by Amazon (they at least emailed us about it this time). Note, Grimgar Volume 1 was one of the very first ebooks we published more than 3.5 years ago."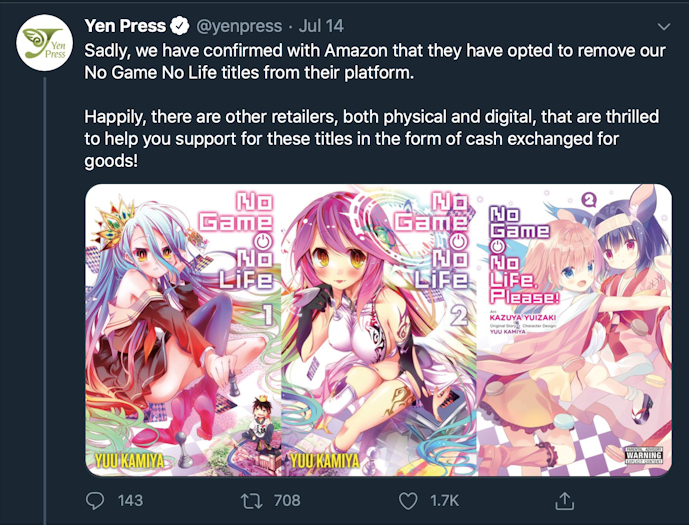 On the same day, Yen Press tweeted:
"Sadly, we have confirmed with Amazon that they have opted to remove our No Game No Life titles from their platform.
Happily, there are other retailers, both physical and digital, that are thrilled to help you support for these titles in the form of cash exchanged for goods!
By way of example, check out @BOOKWALKER_GL if you want to download and read in a matter of seconds, or if you want to treasure these books on your shelves, @rightstufanime has you covered!
Thanks for all your inquiries - and keep watching this space for NGNL news! (Hint…?)"
The aforementioned publications have handled this situation quite well, but it is scary to think about what the future holds regarding this subject. Will all light novels and manga eventually be banned from Amazon? Will other large retailers follow suit?
This is not the first time Amazon has targeted anime. The retail giant previously removed many Anime figurines from their web store to the dismay of many. Unfortunately, these events seem to follow a trend of censorship and "cancel culture" in the U.S. that has been going on for a while now. Even Patreon has been removing anime-style art from their website. It is truly heartbreaking to see these attacks on these beloved pieces of Japanese culture. With Amazon being such a huge book retailer, the light novel industry in the west will suffer a massive blow. Fortunately there are other book retailers such as Bookwalker and Rightstuf that continue to support Otaku works.
A man named Kyle Loch started a petition against the removal of manga and light novels on Amazon. If you wish to support the cause, you can sign the petition here.
Otaku culture shall prevail.
What do you think about the deletion of light novels from Amazon? Join the conversation here.

About Luther Dickson
---
Luther is a lifelong anime and manga fan, musician, and self-proclaimed professional loner.
---