Following on nicely from last month's Light Yagami review, it was only fair that his fangirl/accomplice Misa is given the same treatment.
Misa is sculpted in a sitting position holding her Death Note aloft - a pose you'll likely know well if you're a fan of the series, as this illustration of Misa has been used widely on posters and promotional material for the show: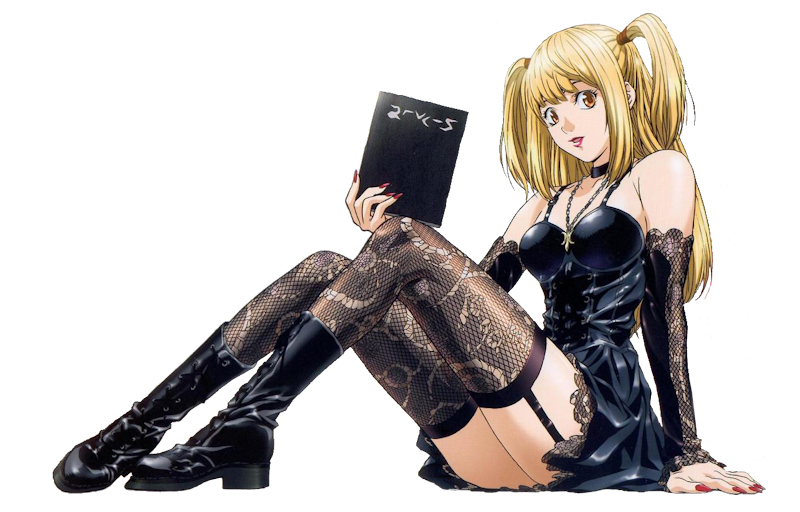 ABYstyle Studio have taken this iconic pose and translated it into a rather fetching statue that has a few unique firsts.
The most striking thing from a construction point of view is that the model is wearing actual soft-goods for tights around the arms and legs! This is a super-premium touch for a figure at this price point and I was very surprised to see it implemented here. While the straps and top/bottom ends of the stocking details are hard plastic, the fishnet material between both is not only fabric, but you can also move it - this is a lovely tthat adds an element of realism to the figure that I haven't seen on an ABYstyle Studio figure before.
Complimentary to the fishnets is Misa's necklace, an actual chain that hangs around her neck (though I had to fiddle with it to get it into the proper position out of the box, it was stuck behind her hair). A quick readjustment later and it's hanging as it should, another great touch that I think adds a lot to how the figure presents.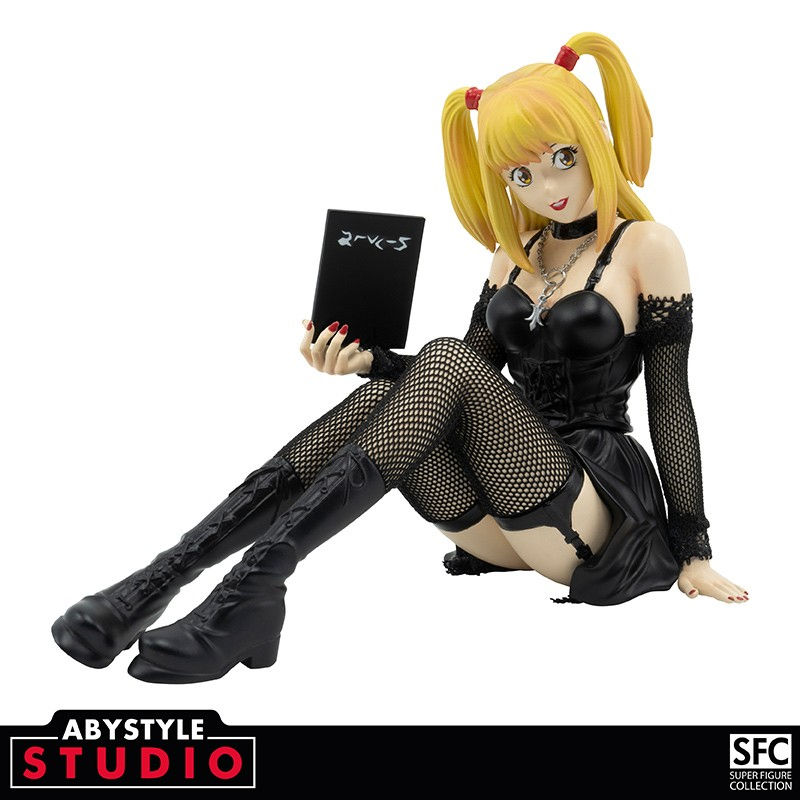 The sculpt work itself is up to ABYstyle Studio's usual standard - the intricate lace detail of her under-skirt, while only presenting the fringes on display, actually carries on all the way up on the inside of her dress. This is excellent attention to detail considering that, on display, much of this is hidden from view.
What you will see on display is the shiny black bodice/skirt and boots that give Misa her distinctly gothic appearance, all of which have wrinkled sculpting to add texture. Those hard plastic lace ends contain intricate details too, creating a very faithful overall representation of the illustration the figure is based on.
While painted detail is minimal, what we get is all good - some nice wash in Misa's blonde hair, painted fingernails and a delightful pale matte skin tone that keeps the figure looking premium. The face sculpt is nice, though being ultra picky I'd like her eyes to look slightly more to the side so that she's locking eyes with you rather than the floor. Her hand doesn't quite reach the floor either, but given it took me a while to notice that, it's hardly a problem.
While I dig the action poses of the shonen heroes that ABYstyle Studio typically depict, I have a real appreciation for the female characters they choose to produce. Misa is no exception, she's a fantastic representation of a classic Death Note illustration, a pivotal character in the franchise and one that has been given exceptional touches to make her feel special. She'll look even better sat under Light Yagami and Ryuk, so until they release L in the line, this is a fantastic 3 figure display for a little over £100 collectively. Amazing stuff.
This figure was provided for review by ABYstyle Studio.