An Interview About Vampires with Masaaki Yuasa
Written by Rob Jessop on 13 Sep 2017
---
Masaaki Yuasa is an anime television and film director best known for his dynamic, free form, animation style. Having directed such titles as Kick-Heart, The Tatami Galaxy and Ping Pong, it's easy to see where that reputation comes from. He is in the UK, along with his Science Saru colleague Eunyoung Choi, to promote two new films: Night is Short, Walk On Girl and Lu over the Wall. We caught up with them in London on Monday 11th of September 2017, to talk about vampires, dancing, and Adventure Time.
UK Anime: Night is Short, Walk on Girl and Lu over the Wall are the first two feature films made by your new company Science Saru, which you announced the founding of in 2013 with Eunyoung Choi. Why did you decide to start a studio and how does it feel to run one?
Yuasa-san: When we were working together on different projects and we faced challenges, we thought "Can we do it better? Can we make it better, somehow?" The people on the business side said "Well, sorry, that's the way it is" so people tend to give up there, but we thought we should try out. Both of us are creators, so we wanted to create a better environment for creators. More flexible and an easier place to work. Basically the artistic freedom for us is what we wanted; somewhere you can make what you want, in the way you want. That's how it started.
UK Anime: Are you happy with the way the studio is working now, with its direction?
Yuasa-san: Yes, I think we are going in the right direction.
Interviewer: Night is Short, Walk on Girl is the book that Ozu gives to the protagonist in an episode of your 2010 adaptation of Morimi-san's The Tatami Galaxy. Did you think, back then, that you'd get the opportunity to adapt Walk on Girl as well?
Yuasa-san: So while we were making The Tatami Galaxy actually, the project came up to make Walk on Girl. So the original plan was that Walk on Girl was going to be made right after The Tatami Galaxy work finished, but it didn't turn out that way. So the project, kind of being aborted [then] came up again. We repeated that [process] twice, three times and while I was making Lu [over the Wall], this came back up again so I thought "Right, I'm not going to miss the chance." So I was quite desperate to make it happen and I did.
UK Anime: The people who made Walk on Girl are basically the same people who worked with you on the The Tatami Galaxy. Was it difficult to put that team back together after seven years?
Yuasa-san: Yes it was hard. The scheduling was really, really difficult. So some people couldn't really make it back to us but then again, it was nice to have new people as well. So I can't really see much of a problem in terms of staff and people change, also. Obviously it's always easier to work with people who are familiar; I don't have to say too much to explain things.
UK Anime: There are returning characters from and references to The Tatami Galaxy in Walk on Girl, which was broadcast seven years ago. How did you approach the film knowing that there would be a mixture of nostalgic old fans (like me) and people who are new to the setting?
Yuasa-san: It's quite interesting to go to various screenings because I can see how people would react. And also I really think the world that [Tomihiko] Morimi, the author, creates is quite unique. I wasn't actually thinking of these new fans to be honest while I was making it, so I sort of presumed that they know [Galaxy]. So for me it's like one 'string' of things from Tatami to Walk on Girl. But now I go to screenings and see people who haven't seen Tatami Galaxy so I try to explain what Yellow Cowboy, what Johnny is because I kind of feel like I should have explained more in the movie.
UK Anime: Lu over the Wall is an original film. Can you tell us how it came about.
Yuasa-san: It started as a Vampire story. A young girl vampire and boy vampire meet. [A story for] children. I was toying with the idea of making a feature film out of these characters. Then the setting changed to a Japanese small town so it would be more a Japanese 'mononoke', a Japanese monster. So maybe old port city, then mermaids. Also, I wanted to put my observations about modern society, about communication - how people communicate or don't communicate their feelings.
UK Anime: One of the things I liked most about Lu over the Wall was how it combines a more muted, realistic art style with brightly coloured and fluidly animated parts of the film (for the more magical parts of the story). Can you give us some insight into how you approached this?
Yuasa-san: I wanted to make something similar to what I used to see when I was a child. Something I was familiar with. Something that everybody likes, so family orientated. But, as I was making it there were things that aren't quite classic, but that was the intention to start with.
UK Anime: You mentioned in an earlier answer that you wanted to make a film that was suitable for all ages and children. Have you always wanted to make animation for the whole family?
Yuasa-san: Basically I am making something that I, as a child would have liked to have seen. Like something I loved. I just want people to see them. I've tried various different styles, different ways of animating, but I just wanted to get back to where I started and I want as many people as possible to see things I used to enjoy. Originally Lu's target audience was high school students but because this is an original story I just wanted kids to come and see it. Obviously I am not a child any more, so there are some views and aspects that I cannot [see] as an adult. I didn't actually plan it, but I'm pretty sure that grown ups can enjoy this movie.
UK Anime: Music, singing and dancing feature heavily in Walk on Girl with the guerrilla theatre troupe and more so in Lu over the Wall. What was it like to work on movies with a musical focus?
Yuasa-san: I think when music and picture synchronise really well, it's fun to watch in many movies. I just wanted to use that in my movies. So, with Lu I'm setting the scene that's a very conservative town where the music comes and is a symbolisation of fun and oddness. The music actually helps in 'opening up' the town. In Walk on Girl again, [there is] synchronisation between the movement and music. In the original book [the musical theatre parts] are actually a [traditionally spoken] play, it's a theatre production. Because it's an animation I thought a musical would work so much better [while keeping the plot] the same as the original novel.

UK Anime: You directed an episode of the Cartoon Network TV show Adventure Time and I believe you once listed Aardman Animation's The Wrong Trousers as an influence. If you could pick anything, which non-Japanese productions would you like to be involved in?
Yuasa-san: I don't want to limit myself to Japan, I'm quite happy to go anywhere; I'm a gun for hire. With Adventure Time, they were doing something that we wanted to do so I was more than happy to participate in that project.
UK Anime: Did the creators of Adventure Time approach you for the project?
Yuasa-san: When I was working on Kickstarter [for Kick-Heart], staff working on Adventure Time were there and another guest director David O'Reilly was there too. So I think the producer thought about what we were executing and thought "shall we just bring him in?" So they approached us.
UK Anime: You successfully crowd-funded the animated short film Kick-Heart. Can you tell us your thoughts on that process and whether you'd ever return to crowd funding?
Yuasa-san: Probably. I would like to, myself, as much as I can. Using Kickstarter, yes, probably.
UK Anime: Have you had chance to try British food and drink during your visit? Any highlights you'd like to share?
Yuasa-san: Everything was good. The bread was good, the cheese was good. I tried goat's butter in Scotland and that was really nice. You can get various different ethnic foods here. I actually enjoyed haggis while I was in Glasgow, which was a bit heavy but I liked it. Oh and tea! Tea with milk.
We'd like to thank Anime Ltd and Fetch Publicity for arranging the interview and Kozue Etsuzen for translating. Special thanks to our forum members for suggesting questions.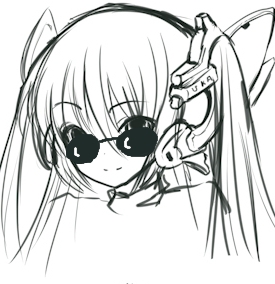 Author: Rob Jessop
---
Rob hasn't written a profile yet. That's ruddy mysterious...
---