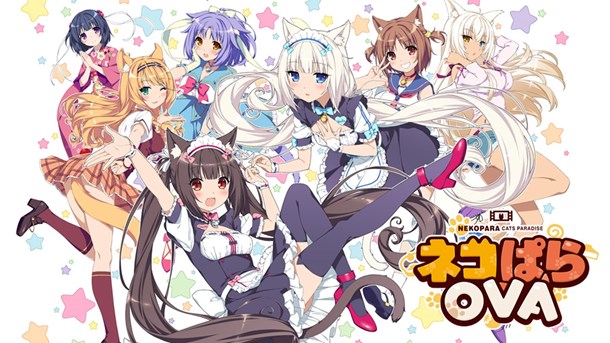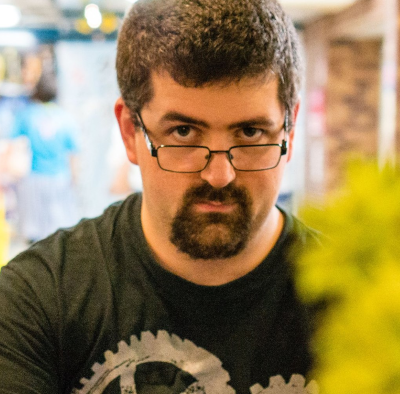 Author: Seb Reid
---
Seb has been an anime fan since the late 90s and is particularly fond of anything post-apocalyptic, amusing, catgirly, ecchi or containing exquisite aerial battles. Living in Leeds with his cats and living up the bachelor life, Seb enjoys whiling the nights away deep in a book, game or a damn good series.
---
NekoPara OVA Collector's Edition
Introduction
Its finally here! I have waited almost two years for what might be the greatest visual novel to anime adaptation ever! [Ed. - *cough* Steins;Gate *cough*.]
Ok, that is perhaps a bit of an exaggeration. NekoPara - as cute, lewd, and wonderful as I personally think the franchise is - is nothing compared to some of the true masterpieces out there. However its anime adaptation is perhaps the first fully fan-funded production which I have seen from an independent property. This anime adaptation is a fully all-ages adaptation of NekoPara Volume 1, which I reviewed favourably here. As this adaptation is rather faithful to the visual novel, I will keep my review brief and focus on what I can only describe as an almost-perfect collector's edition.
NekoPara OVA
The OVA was crowdfunded quite some time ago, this provided sufficient funding for a 60 minute OVA to be produced with a fully original soundtrack and new opening/ending themes (including one by Kotoko). The voice cast from the visual novels all return for the anime, plus some new voices give their talents to three new characters. These new characters are based on the pets or original character designs of funders. (You paid $9,000 for a custom character design of you and your cat. I was very close to selling a kidney to see my tom Marco animated in a maid outfit…)
The creators of NekoPara, Sayori and NekoWorks, have been retained for the anime production, for which they have also produced the storyboards and character designs. The result is an almost uncanny resemblance to the visual novel and a very fluid and fun animation style. The animation follows the same story as the first visual novel, with more emphasis on character development, backstory, and the childhood of the Minaduki catgirls. This follows their progress up to the opening and servicing of La Soleil, as well as their bell test. The, somewhat, lewd scenes are completely skipped, but the developing closeness between Vanilla, Chocola, and Kashou is still loud and clear, and very cute indeed.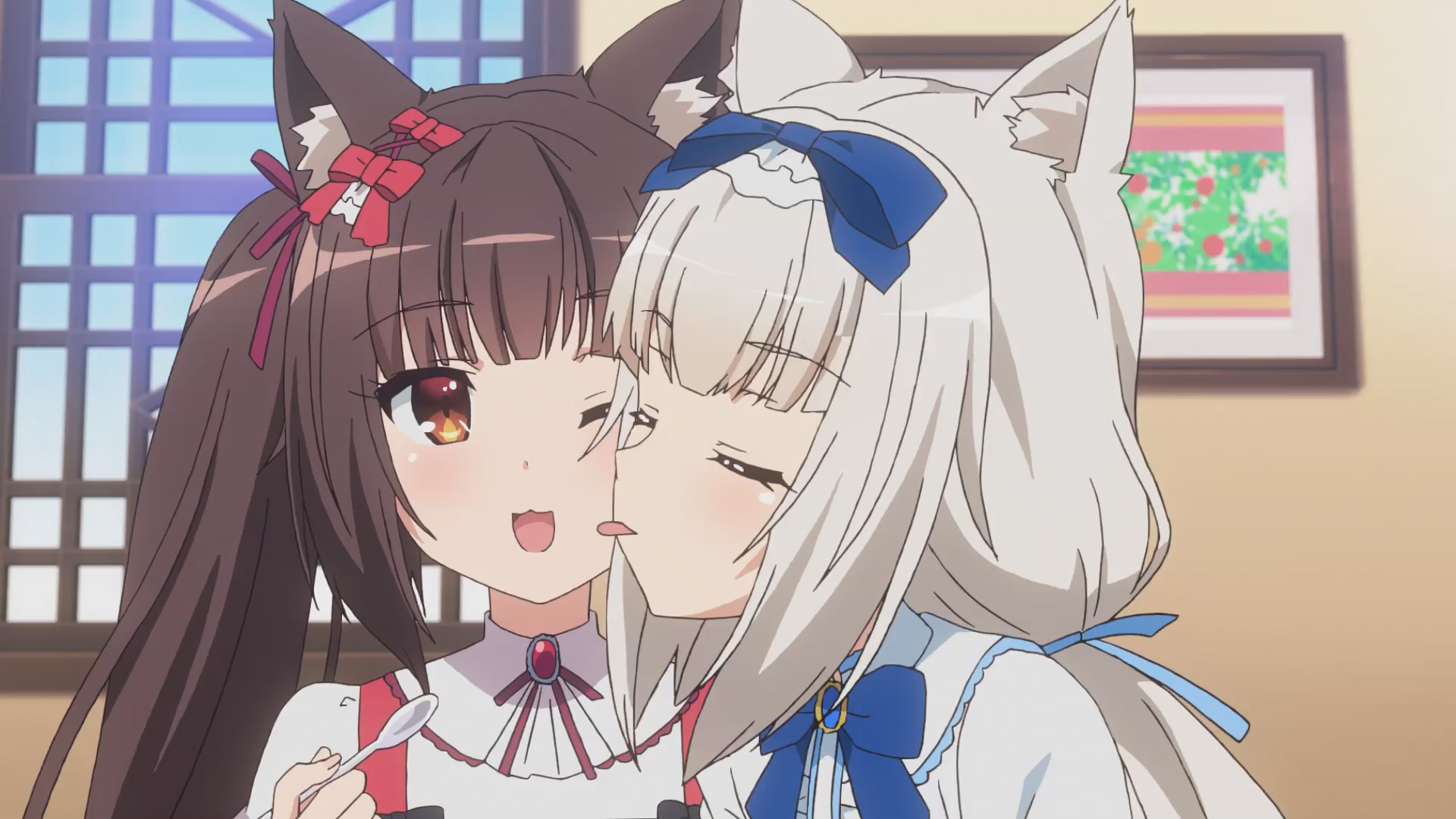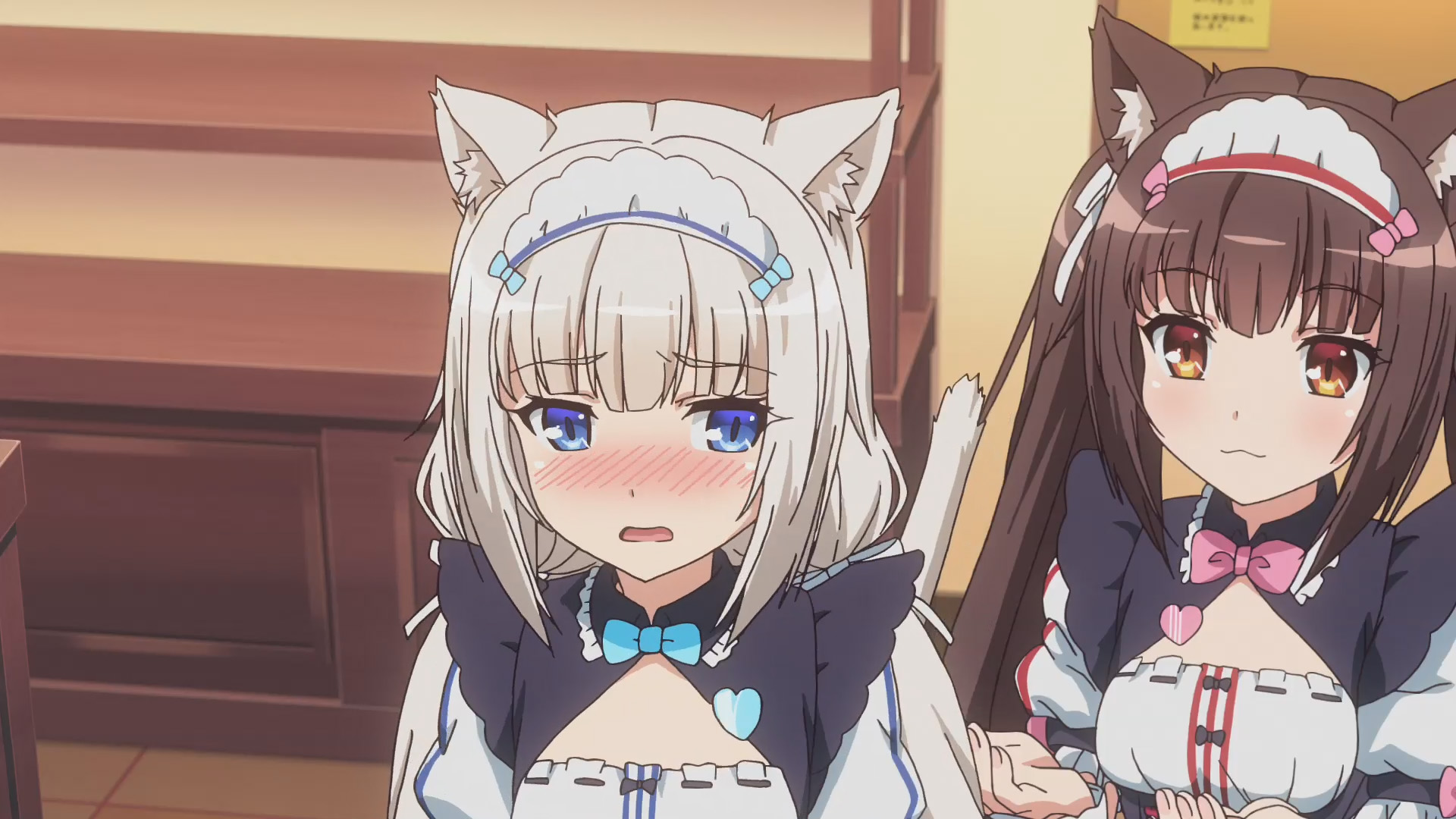 As you can see, the series is a true cat paradise, just like the visual novel, and while the physical copy is difficult to get hold of, the digital edition is available to buy from the online store-front Steam. One to get if you are a fan of the visual novels like me!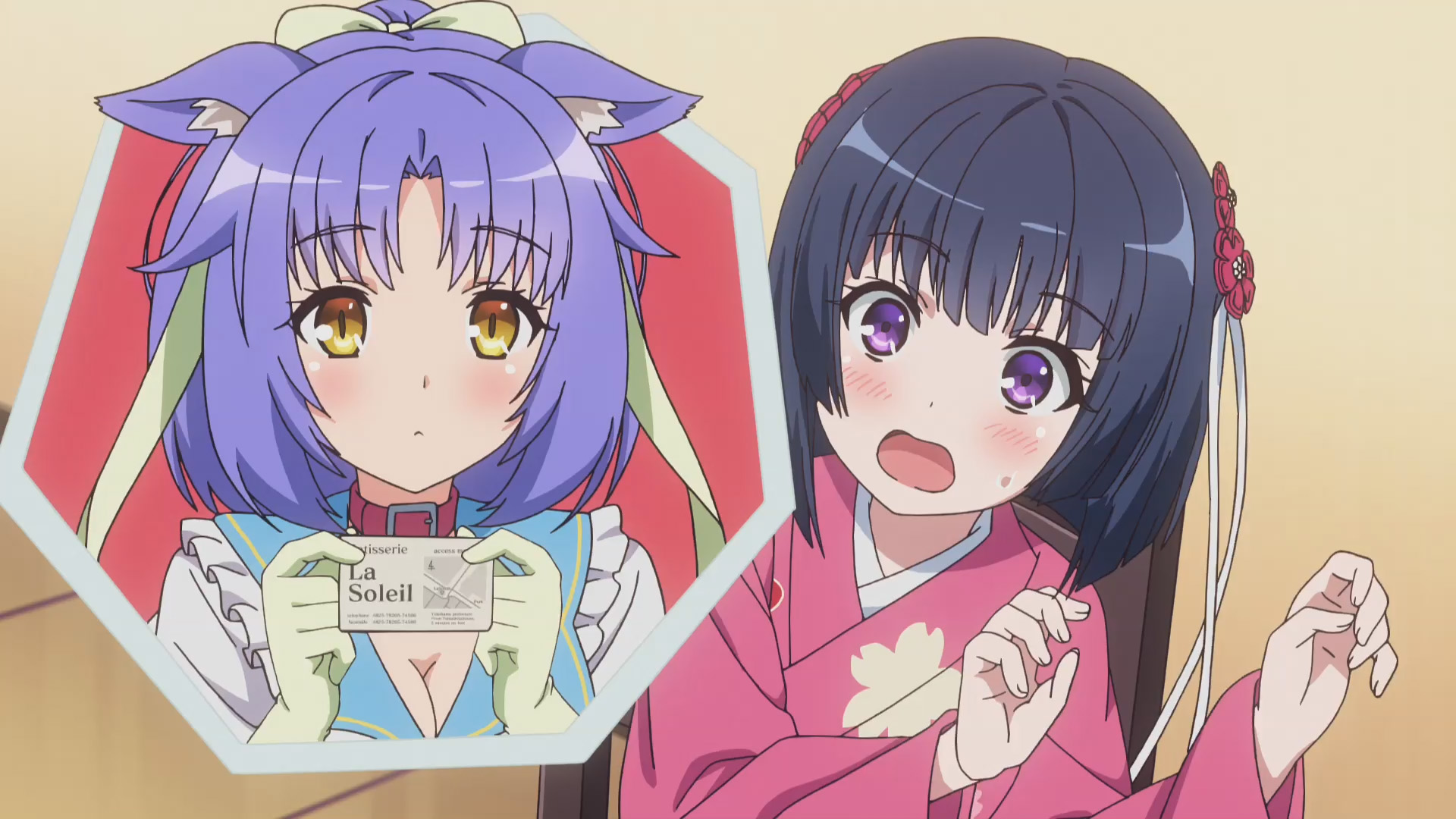 What's In the Box?
The box itself is a work of art, it is a huge A4 sized tome with beautiful artwork of Vanilla and Chocola on the front and back covers. The box is quite hefty, as well as being well padded and sublimely put together, in my opinion!
Inside the box is a compressed foam inlay, with a pull string, and the following contents:
211 page, full colour A4 NekoPara Chronicle Artbook (This is also available digitally via Steam). This Chronicle, a bible of all of the NekoWorks' art from the series, is worth the price of admission alone. It is simply the best artbook I have seen in some time. I am a little bit lost for words on how beautiful this book is and it comes with a list of all of the backers at the rear, including myself!
An A4 sheet of missing names from the Chronicle.
A series of frames from the 35mm master (I got some of Chocola!).
An A4 sheet of very cute NekoPara stickers. I am not sure if I will ever use these, but I am sorely tempted to stick one or two to things. I rather wish they were transparent so I could use them for car decals…
An original soundtrack CD, including full versions of the opening and ending songs by ElleMonty and Kotoko (this is also available in FLAC on Steam).
Blu-ray of the Anime including subtitles in a wide variety of languages including English, Japanese, Chinese, German, Spanish, Portuguese and French (This is also available digitally on Steam).
A character guide booklet and bonus artbook with the Bluray.
A free copy of NekoPara Vol 1 on Steam.
I decided to opt-out of the larger editions, which also included plushes, badges, and cosplay outfits for humans and cats alike!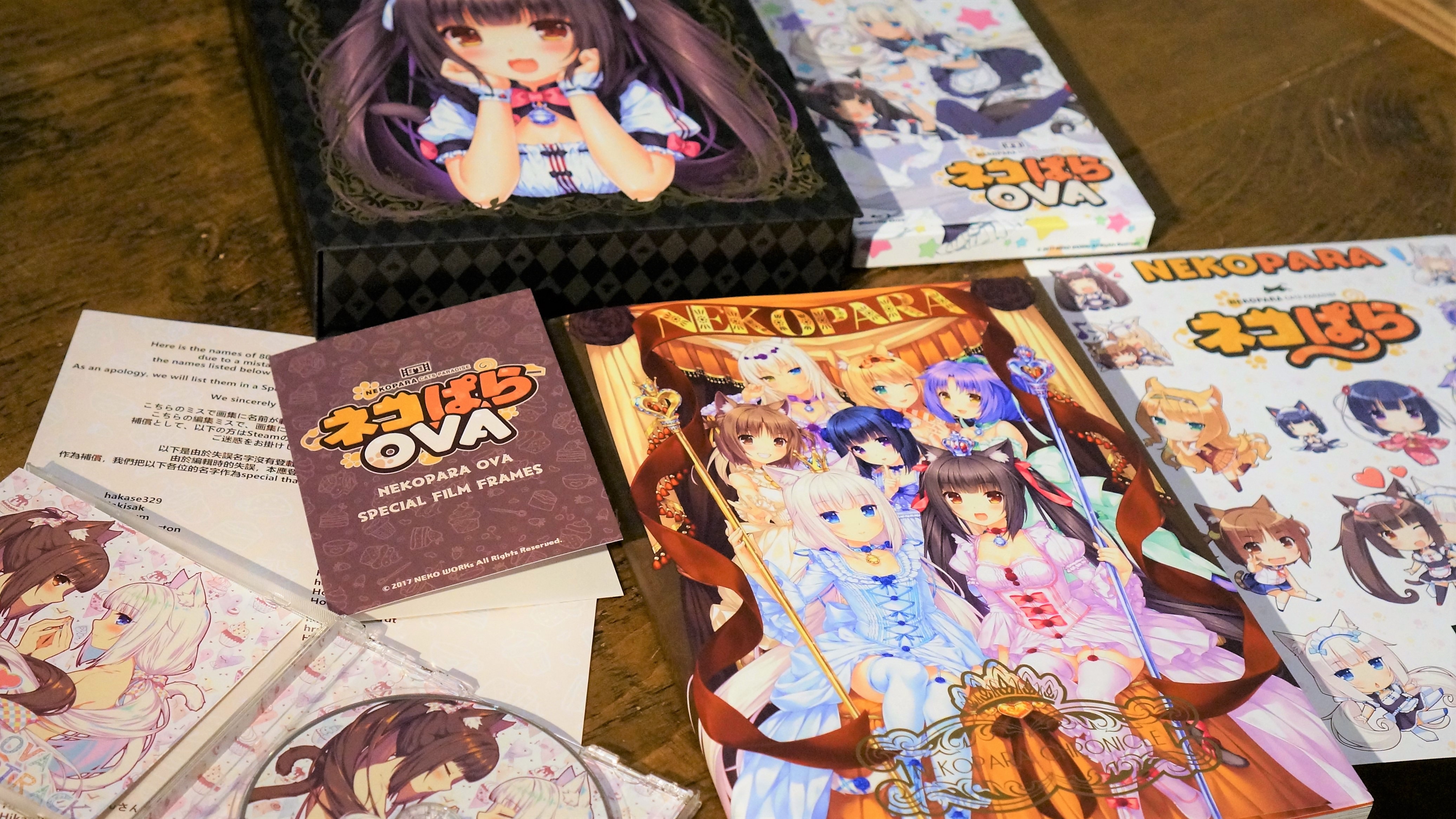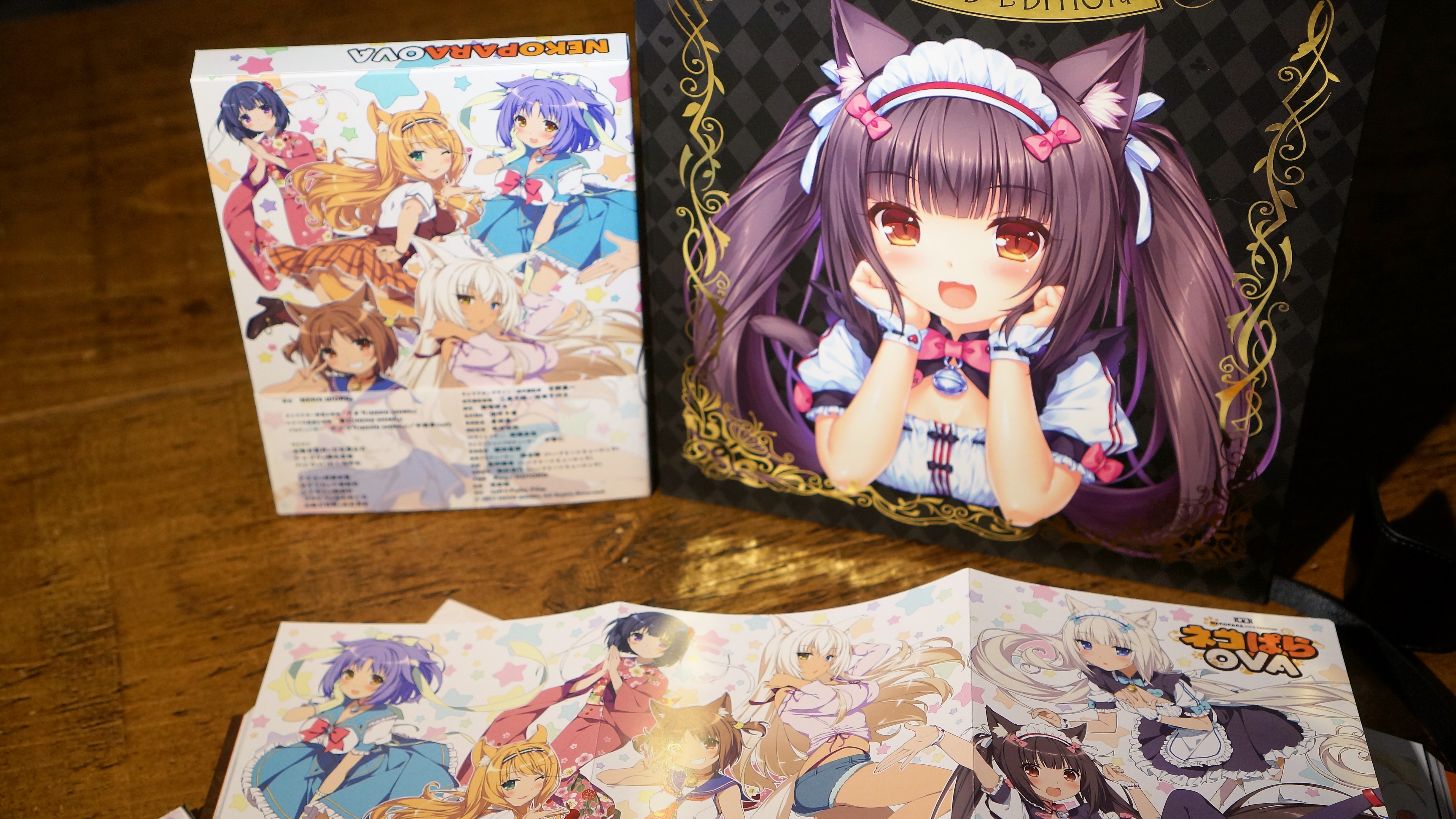 What's on the disc?
To be honest, just the animation. But it is rather pretty!
Anything else?
Not really. I paid around £110 plus £20 shipping (plus £25 customs - Ouch!) and given that I saw the OVA at New Years, and I had digital versions of all the content, there was little left to surprise me, other than the sheer awesome feel of the box and its contents. Though I really didn't expect the NekoPara Chronicle to be so, premium. Especially as much of NekoWorks' other content has been doujin style.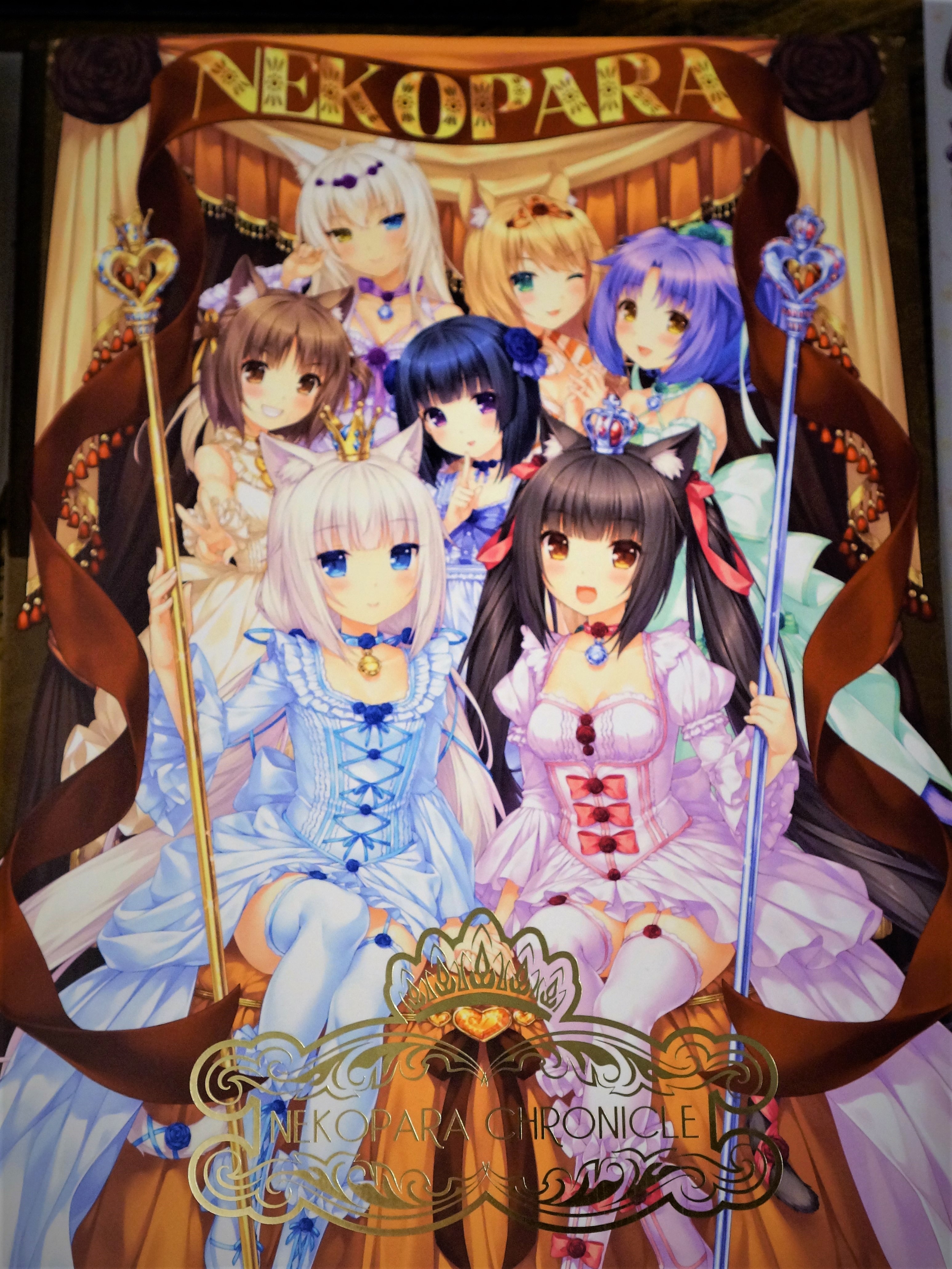 The presentation is truly premium, as you would expect given that it was helped to market by Tokyo Otaku Mode. And I honestly couldn't be happier. While the price is steep, the sheer fact that it is such a complete edition (plus I got fully portable digital copies of all the content, plus a free visual novel) just made it feel all the more value for money.
While it's not perfect, this is now my second favourite collector's set of all time! Here is me hoping that Volume 2 gets an anime adaptation!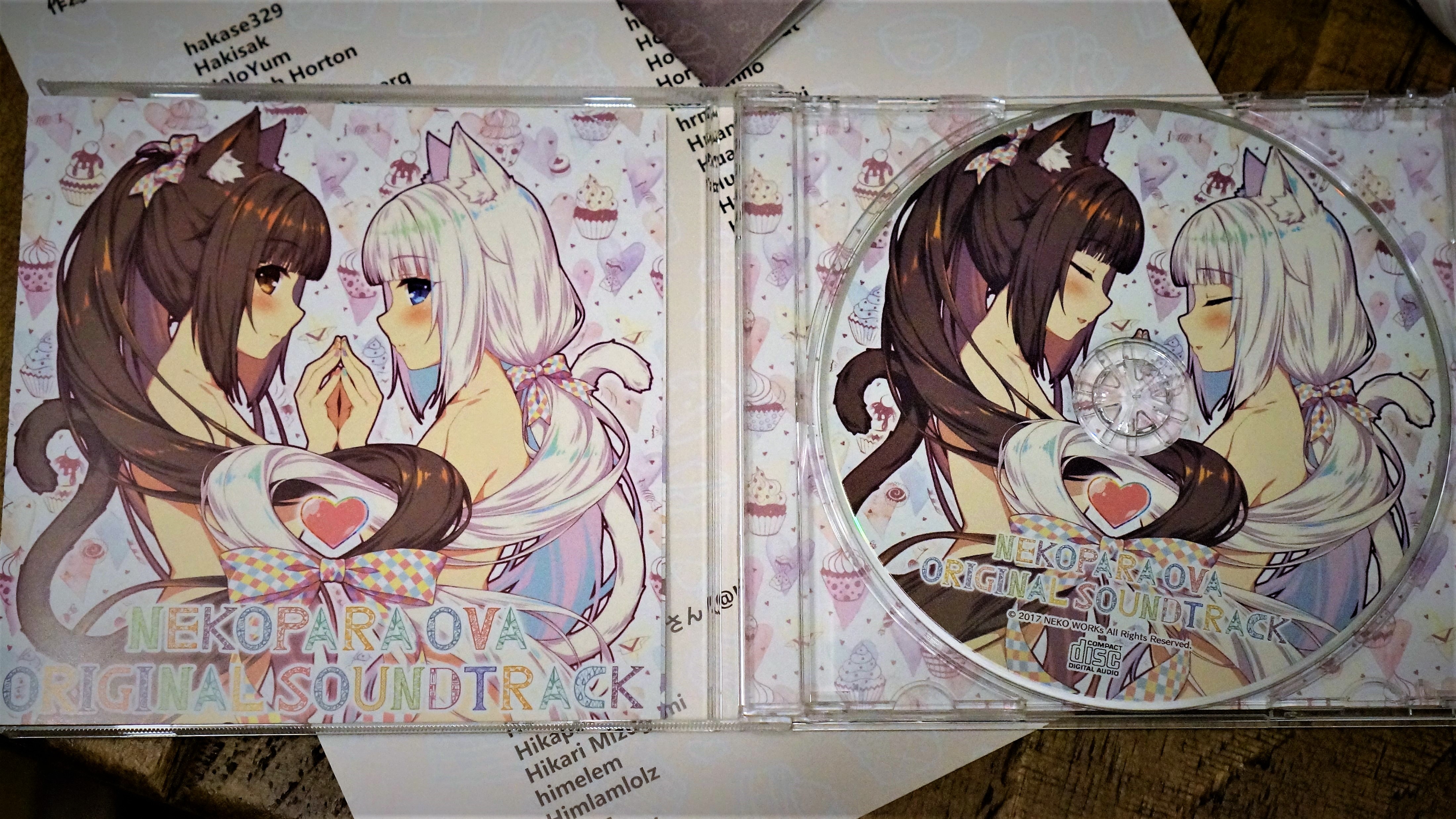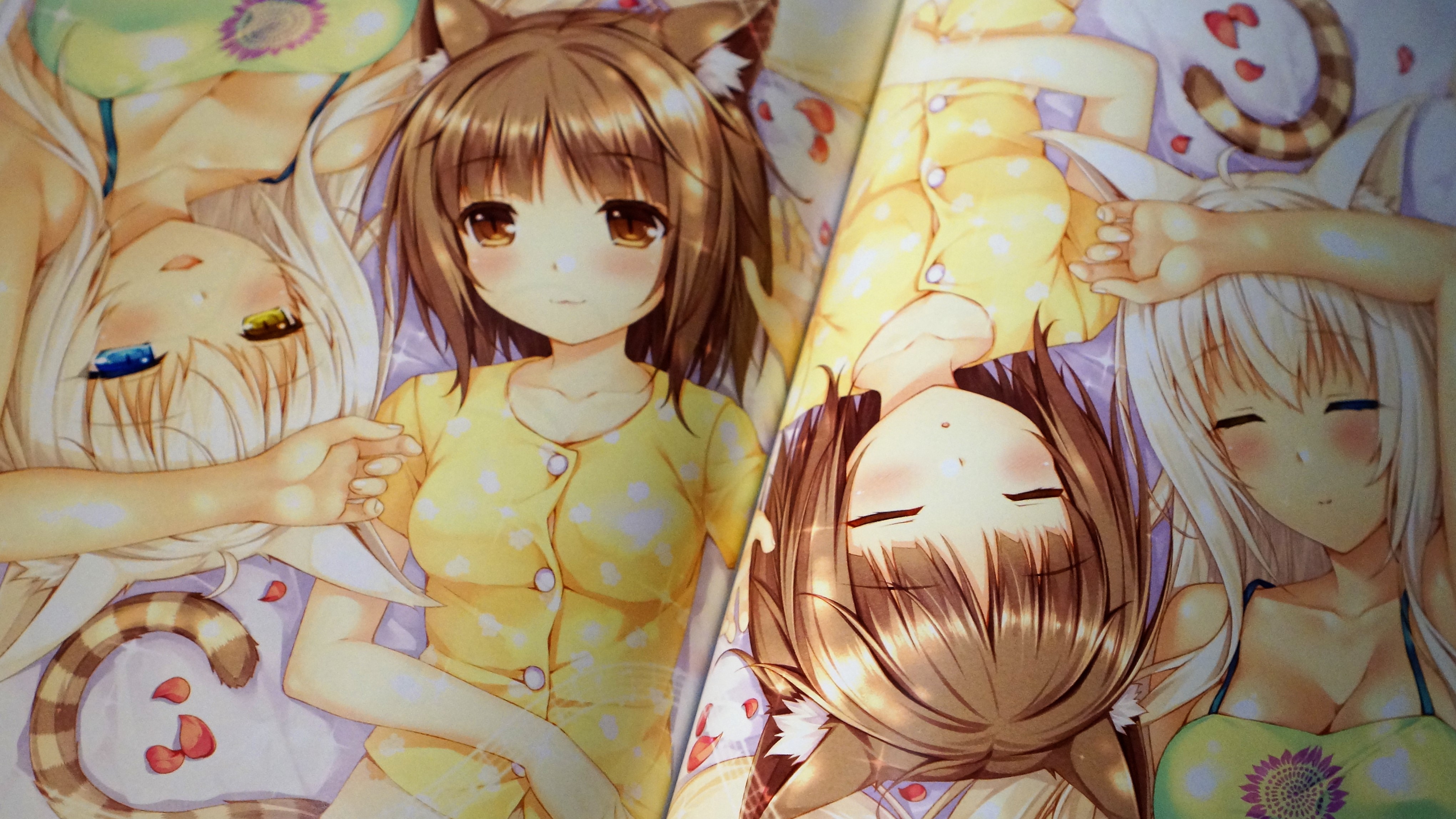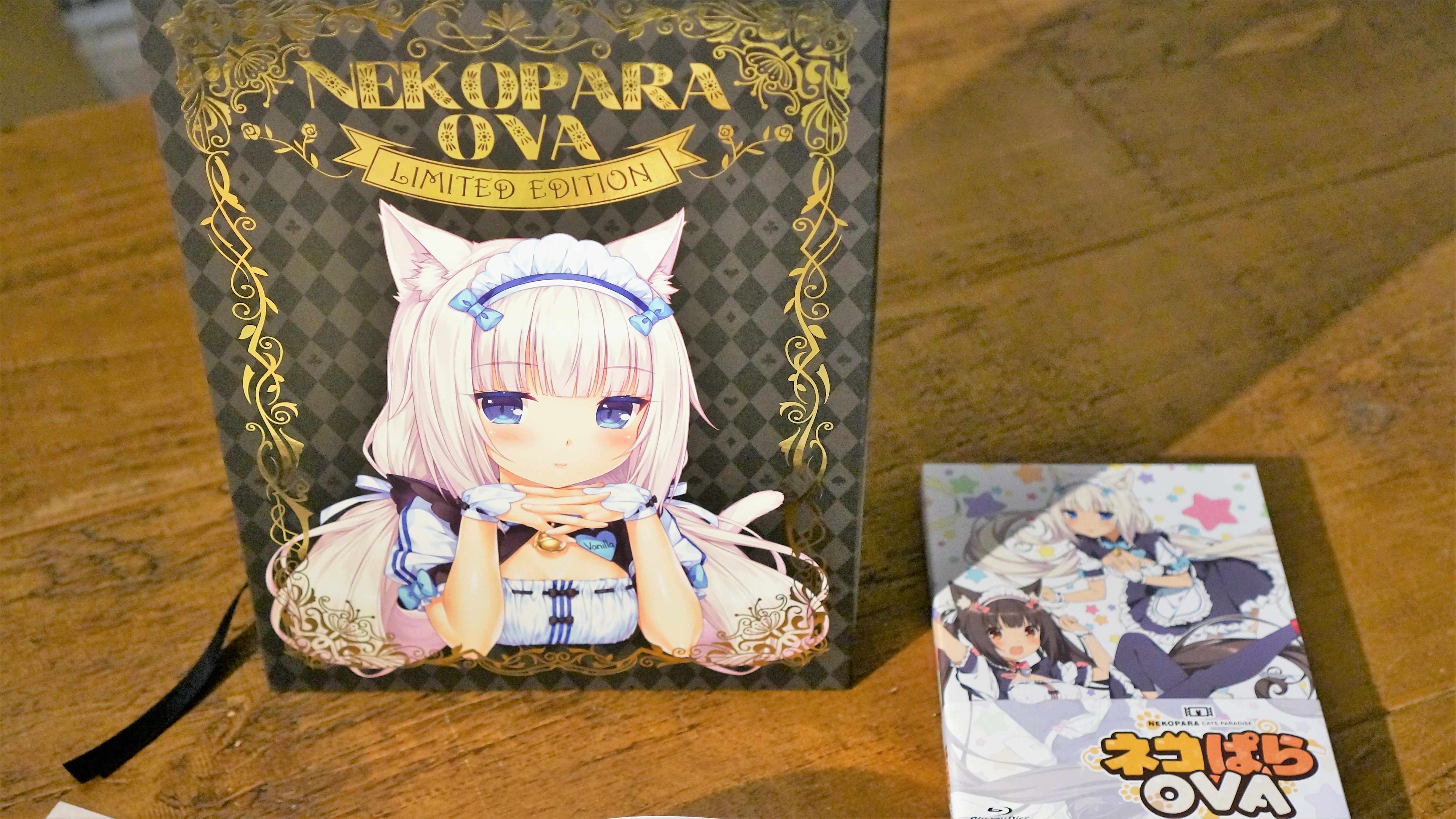 Other Stories: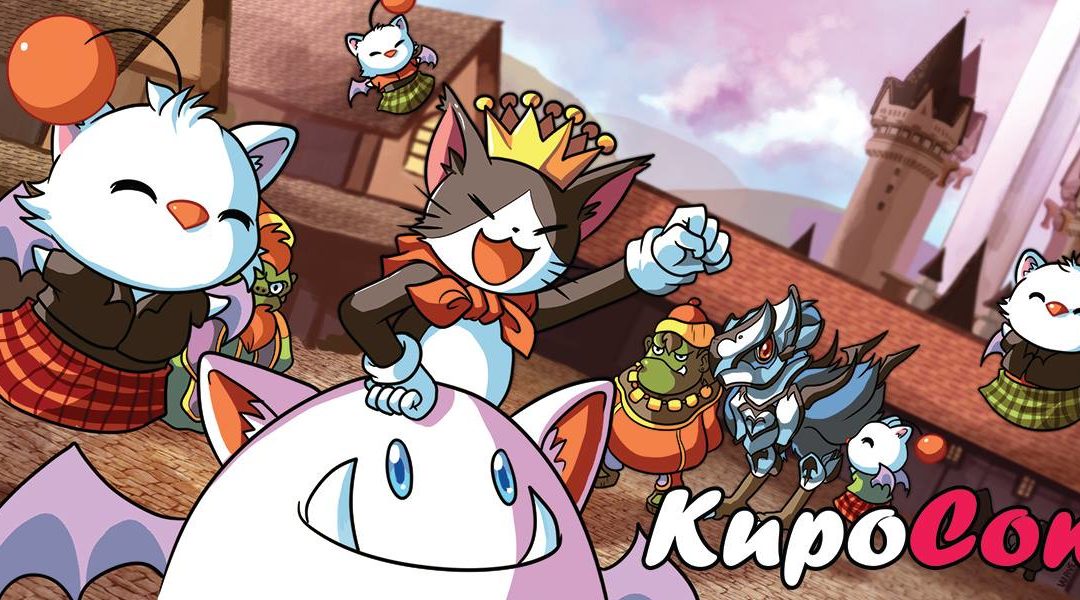 posted by Robert Mullarkey on 28 Jan 2019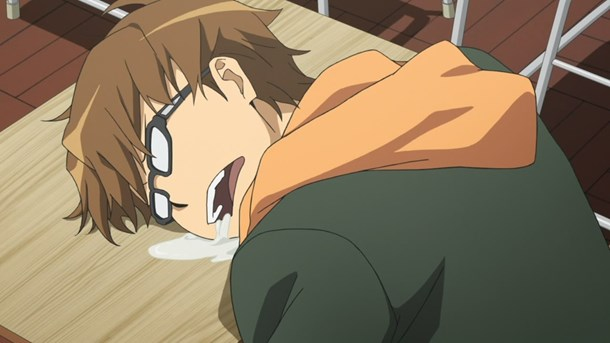 posted by Seb Reid on 23 Jan 2019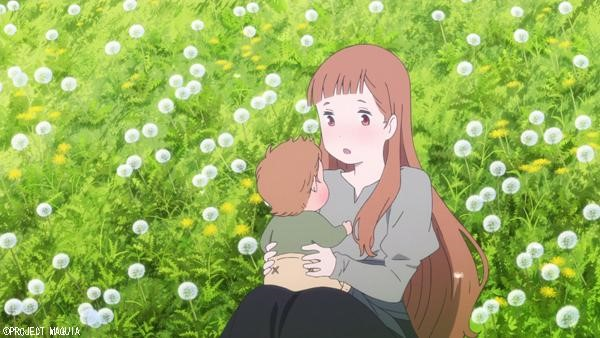 posted by Seb Reid on 30 Dec 2018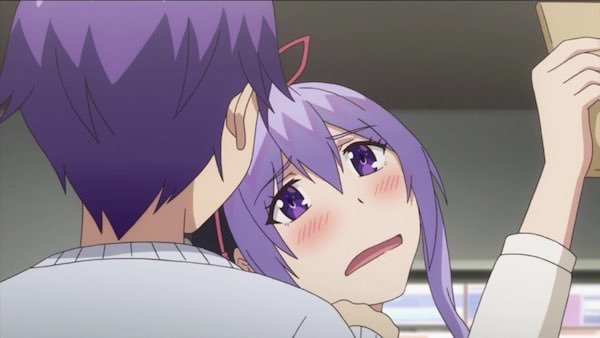 posted by Seb Reid on 29 Dec 2018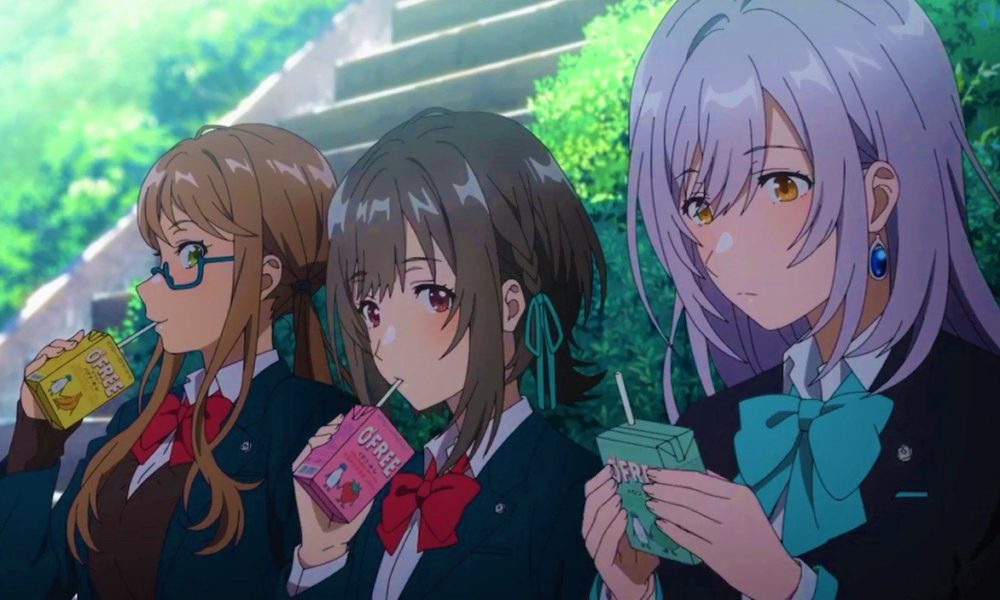 posted by Seb Reid on 28 Dec 2018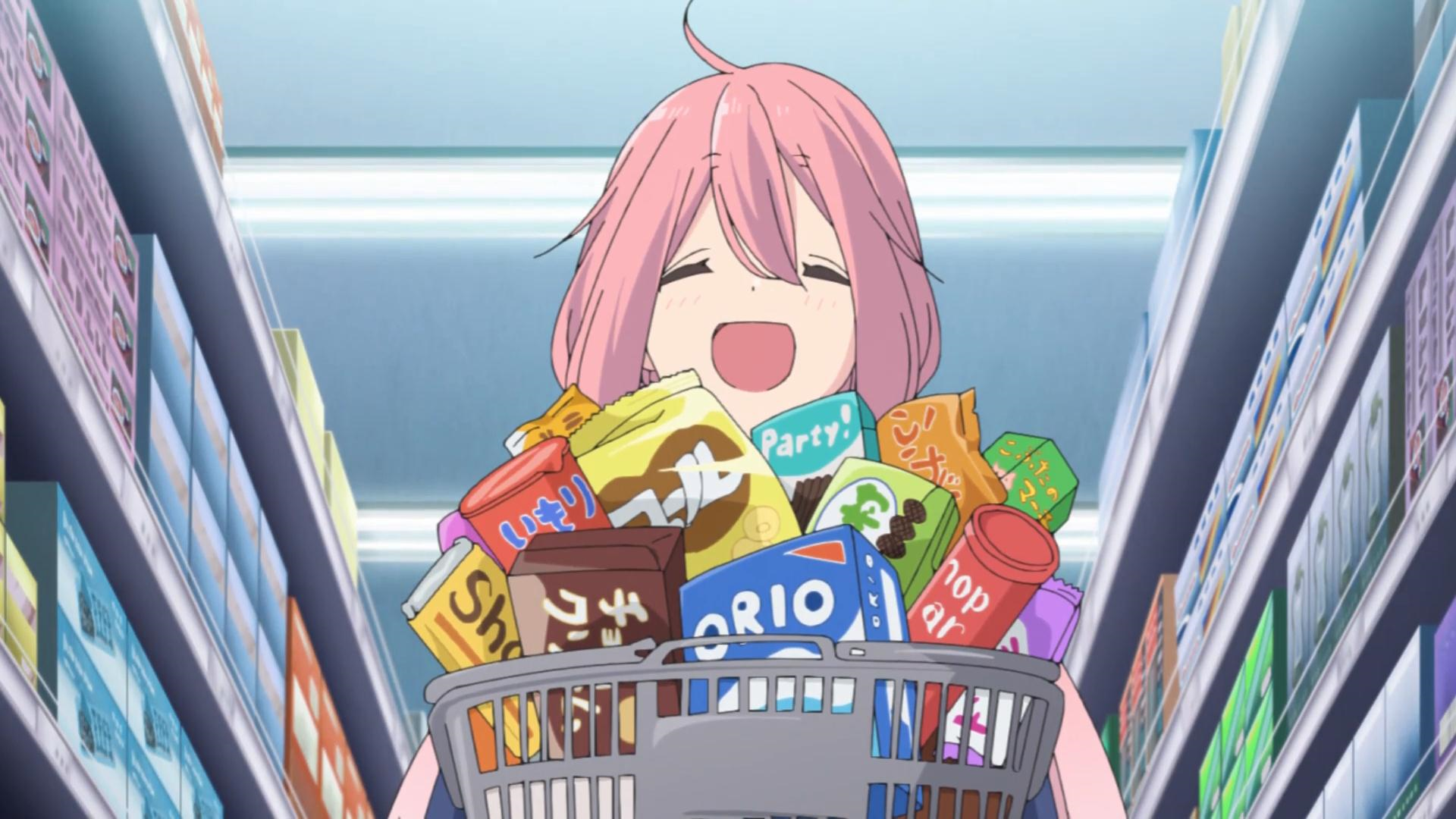 posted by Seb Reid on 27 Dec 2018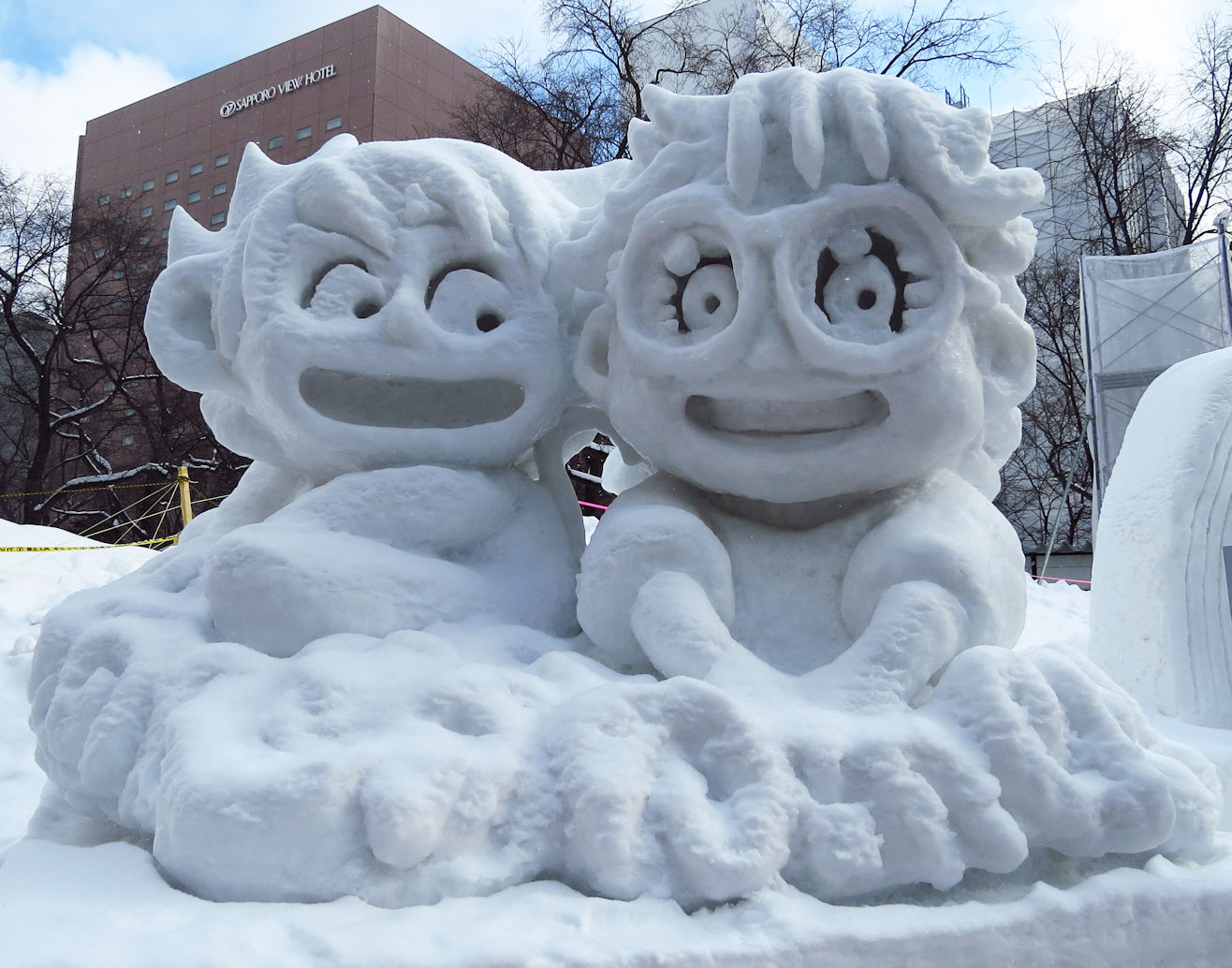 posted by Bryony Stibbons on 20 Dec 2018