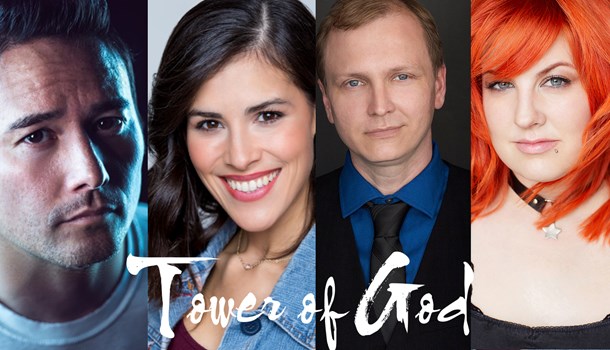 Tower of God Voice Actors Interview
Written by Ross Locksley on 08 Jun 2020
---
Our friends at Crunchyroll have been kind enough to hook us up with four or the English voice cast for the incredibly popular original series, Tower of God. Johnny Yong Bosh (JYB) plays the lead, Bam, a young man fighting to climb the tower to rescue the girl he loves. Aided (in a way) by the mysterious Ha-Yuri Jahad played by Kira Buckland (KB), Bam finds himself allying with the mysterious Khun Aguero Agnes, played by Chris Hackney (CH). Our final actor, Jeannie Tirado, plays Ha-Yuri's sister, Endorsi. At the time of writing, four episodes of the show have now been dubbed and are available via Crunchyroll's streaming service.
Forced to record from home due to the current pandemic, we're extremely grateful they gave us some time to talk about the show.
How are you coping with the current lockdown situation - have their been any challenges when recording from home?
JYB: After my first session we were put on stay-at-home order. My following sessions were all work-from-home. Fortunately for me I have a professional set up at home. Because of my band I've collected pieces of music gear for over 15 yrs. I've been fortunate enough to now have my own dedicated home studio with a professional set up. The biggest hurdle is the occasional lag in streaming picture to match lip movements.
JT: It's hard. A lot of us voice actors consider ourselves to be introverted. I have always said I am a cat - I live alone, with no pets or roommates. This pandemic has made me realize that I'm actually not like that! I'm a hugger! It's been rough in that way. May is mental health awareness month and, because of everything, getting to know yourself more is so important. Being a voice actor is important to me, but so are those relationships being a daughter or a sister. My agent has been reminding me it's OK to take the time for yourself, and reminding me to put myself first.
Tower of God has been very well received, did you have any inkling of how popular it would be when you read the scripts?
JYB: I had no idea, I still don't fully know because I haven't been to any conventions since the shut down.That's how I usually find out.
JT: "Tower of God" hadn't been dubbed yet and I know that sometimes the subtitled show can be popular when the dub doesn't get the same attention. However, when I saw the full cast, I knew it was going to be great! Crunchyroll really chose the heavy hitters for this show. When I got the role of Endorsi, I didn't know the whole voice acting cast. When I saw the full list I was so excited to be working with the other voice actors.
KB: There wasn't a whole lot of information on the anime yet at the time I auditioned, but it seemed that the Webtoon had a very devoted fanbase. More hype was starting to build for the series at the time we were recording, so I was a bit nervous hoping to do the character justice! I think that when reading something like a comic, it's very easy for people to imagine in their heads that a character sounds a certain way, and people can have strong opinions. But I'm really proud of the work all of us did, and I hope everyone watching likes it too.
CH: We really don't get scripts beforehand so I didn't know a whole lot about the show at the beginning. Once I saw the first trailer though, I thought it was gonna be awesome. It's got action, beautiful animation, and a rich world filled with unique characters. I was hyped.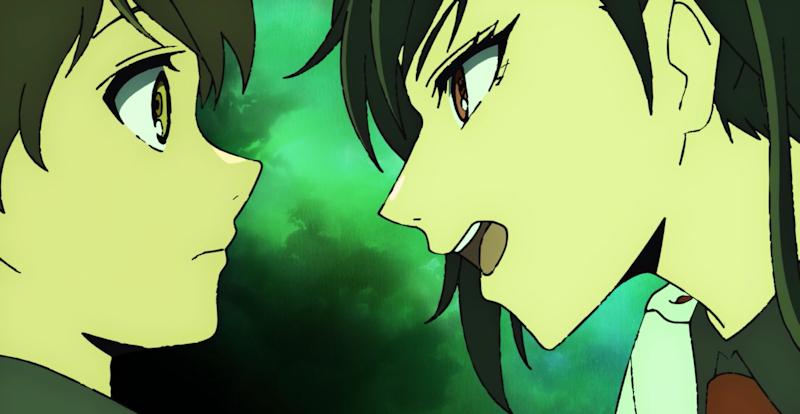 Johnny Yong Bosh plays Bam, left, while Kira Buckland plays Ha-Yuri Jahad (right)
Is there anything about the character you play that you identify with personally? Or were they completely alien to you?
JYB: It actually felt a little alien to me but I'm not sure if that was simply because of all that was going on with Covid.
KB: I like the way she (Yuri) is confident and speaks her mind. In real life I am the type of person who wants everyone to like me. But some days I feel like being more like Yuri!
CH: At first glance Khun's a scheming, cold but cool character so...pretty much the exact opposite of me. As the show goes on, you see more of what's really in his heart so I can definitely see more in common with him. Also, we're both super sassy.
Are there any particular scenes in the show that you especially enjoyed acting out?
JYB: There's a moment at the end of the batch we just recorded but I don't want to spoil it for anyone. Sorry. Keep watching and you'll know when it gets there.
JT: There's a great scene with both Endorsi and Anaak later in the season - I won't spoil it but their dynamic in this particular fight was a lot of fun.
KB: I had a lot of fun with the scene where Yuri meets Bam for the first time.
CH: No spoilers, but there so much that happens and just being a part of it unfolding was amazing.
Which role have you played that's had the biggest effect on you, either through the experience, critical reaction or something completely unexpected?
CH: At this point, I think most people know me as Dimitri from Fire Emblem: Three Houses. The game came out about a year ago and since then I've had so many amazing interactions with fans who love the game and my character. I hope I can make people feel that way about Khun and every other character I'm allowed to play.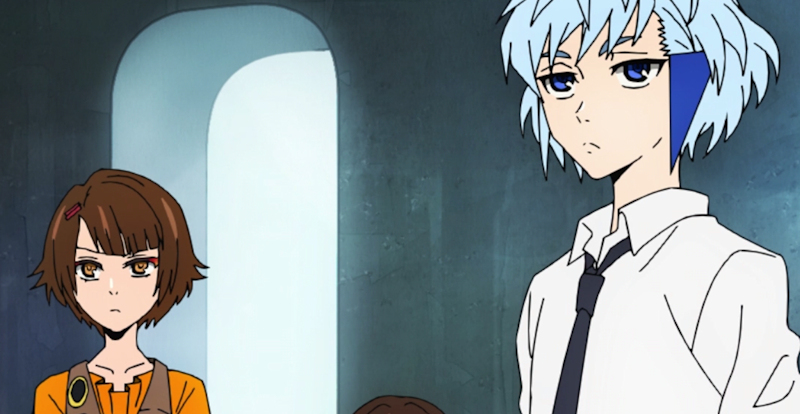 Chris Hackney plays Khun Aguero Agnes (right) and Jeannie Tirado plays Endorsi Jahad (left)
Do you have a message for your fans during this difficult time?
JYB: I wouldn't dare tell anyone what to do or think or feel but I hope everyone is safe and I hope to see them at a con again.
JT: You can't pour into someone else's life until you pour into yourself. You need to be a little selfish but take care of yourself.
KB: The world is a scary place right now for many reasons. I hope to see everyone come together to give each other love and support.
CH: Thanks for letting me talk to y'all, and I hope you enjoy the show!
We'd like to thank the actors for taking the time to chat with us - Tower of God is streaming weekly on Crunchyroll. Special thanks to Sally Brockway for her help putting everyone together!

About Ross Locksley
---
Ross founded the UK Anime Network waaay back in 1995 and works in and around the anime world in his spare time.
---