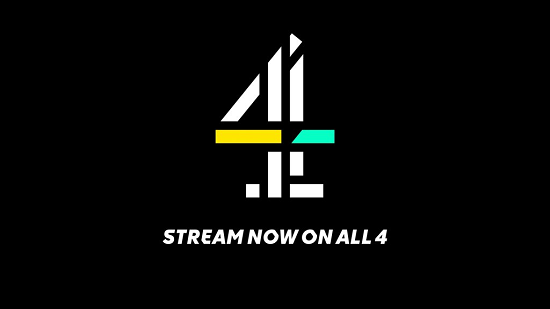 Free Anime 4 All
Written by Robert Frazer on 10 Sep 2020
---
If you're feeling bereft after the shutting down of Kissanime and are at a loss for where you are to turn next for your anime fix… you can toddle on down to HMV, chum.
Oh, alright – if you genuinely can't stretch to a DVD, there are alternatives. Oh, you're unwilling to watch Crunchyroll's free anime on their non-premium accounts because 260p is for the cavemen savages of 2010? Well then, there's still something for you too. Gather round and listen closely, because I'm going to let you in on a little secret – there is one place where everyone can watch anime, completely for free, and with no piracy to prick your conscience either. Excited? Well, the passcode comes down to just two words…
Terrestrial television.
Now, you young'uns might need some 'splainin. You know, that big black rectangle on the wall in the sitting room? Time was, you could just turn it on and watch TV. No hooking up TiVos or Sky Boxes, no scrolling through endless menus where half the channels are locked off behind subscription paywalls, just flick the switch and away you went. Amazing, I know! Now, admittedly the state-subsidised television of grey damp Blighty might not seem like the most with-it corner for enjoying the coolest cutting-edge anime hot off the airwaves from bright booming Japan, but for those anime fans of a certain vintage we fondly remember Channel 4.
Ever since Channel 4 first started broadcasting in the Eighties it has invested a lot of stock in being the 'countercultural' network, but there's more to that reputation than just trotting out the Alternative Queen's Speech on Christmas Day. When anime first exploded onto the scene around the turn of the Nineties, Channel 4 embraced anime's early rebellious punk attitude and staying up past our bedtimes for surreptitious viewings of Akira, Genocyber, Armitage III and more besides was a baptism of fire for many of us.
That was all some time ago and fires have cooled down since then, but even though things are a lot calmer these days Channel 4 has kept up its support of anime and there is a range of anime available to view for free on the "All 4" streaming app, with a selection provided from the catalogues of our friends over at Anime Ltd. The All 4 app is usually pre-loaded onto most modern televisions but it can also be viewed from a browser or downloaded onto tablets and smartphones. The anime selection is not so obvious because you can't just look up 'anime' – instead you have to search for "Animation", which brings up anime as one of a number of sub-categories such as Adult Swim cartoons; a little awkward but not too troublesome. Titles can either be streamed on the app or downloaded onto your device for later viewing. Anime are only available in English-dubbed format, but while there may only be a dozen titles available it's a well-curated selection which covers a range of genres and includes titles both new and old for family-friendly and more mature audiences alike. Moreover, this offering is still genuinely free – while UK residents need to pay for a TV License to view the BBC iPlayer, at present other channels are still excepted so provided that you are not watching streams of live broadcasts (which won't apply to the anime collection anyway) you can register with a simple email and enjoy all that's on offer with no fear of charges or having you collar felt, and you'll be helping to support the UK anime industry at the same time.
All in all, it's a well-presented offering and thanks to Channel 4 and for Anime Ltd. for offering it to us. To help you plan your viewing, listed below is a quick summary of each of the lucky baker's dozen of titles on offer and links for how to enjoy them more.
Cardcaptor Sakura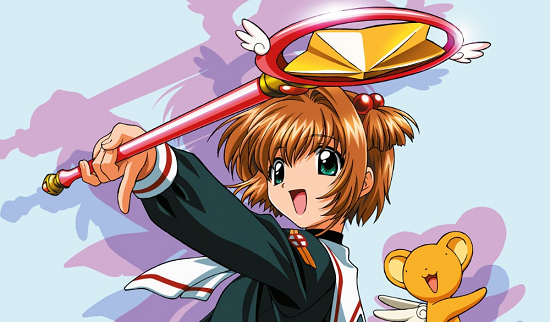 One of the classic and definitive Magical Girl series, designed by the famous and influential manga collective Clamp, where a young girl saves the world from evil with friendship and frilly dresses. The original English broadcast version of this anime by Nelvana was heavily edited but this version is based off of Anime Ltd's clean and uncut Blu-Ray edition, although only the first half is on All 4.
Rating: All-ages
Episodes Available: 35
Watch it if you liked: Sailor Moon, Princess Tutu, Glitter Force (AKA Precure)
Read our review of the sequel series, Clear Card!
Charlotte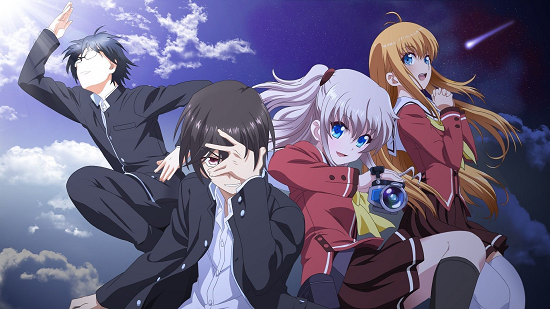 Charlotte is set in a world where certain children acquire superpowers at puberty – so far, so X-Men, but stick with it as Charlotte proves to be an unpredictable show that cleverly subverts both the tropes of superheroes and of moé anime. The full television series is available on All 4 but the extra OVA episode is not included.
Rating: 16+
Episodes Available: 13
Watch it if you liked: Angel Beats!
Cowboy Bebop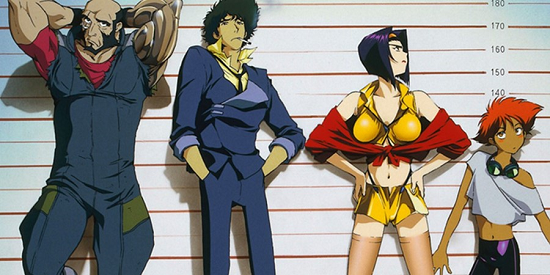 What more is there to be said about Cowboy Bebop? The slick, smart and effortlessly cool tale of bounty hunters catching crooks all over the Solar System has been an abiding anime classic for decades, and now you get to enjoy it again.
Rating: 16+
Episodes Available: 26
Watch it if you liked: Samurai Champloo, Outlaw Star, Trigun
Durarara!!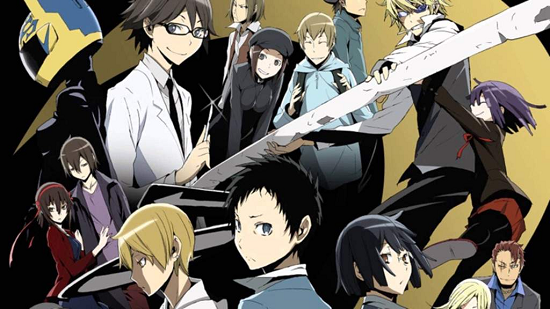 An explosion of graffiti cool, swinging from lamppost to telegraph pole in the concrete jungle, a lively tale of new urban tribes and the old supernatural beings which crash together in the weird and wonderful mixture that is modern city life.
Rating: 16+
Episodes Available: 24
Watch it if you liked: Baccano!
Gurren Lagann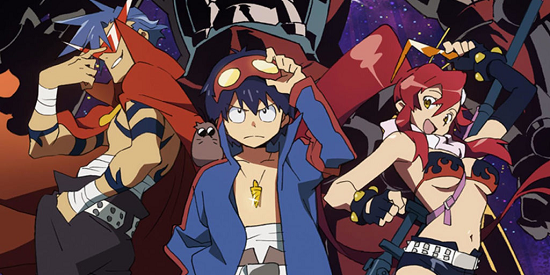 The crowning achievement of "Super Robot" anime, Studio Gainax made a complete break from Neon Genesis Evangelion here with an original show that was boisterous, cartoony, wild and energetic. "Piercing the heavens with your drill" was called out across anime conventions the world over, and it cut its groove with this zany anime.
Rating: 16+
Episodes Available: 27
Watch it if you liked: Eureka Seven, Diebuster
Kill la Kill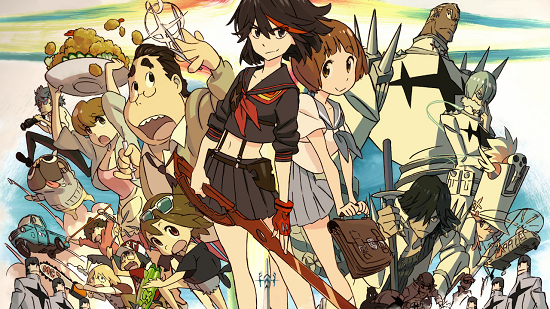 The debut television series of Studio Trigger, with a production team who were also the brains behind Gurren Lagann, telling a tale where the student body goes to war against fashion itself when their school uniforms bestow super-powers. Bold, colourful, and with heaps of distinctive personality – as well as being not a little risqué! – this was an anime original that earned it with distinction. All 4's selection has the complete TV series but is missing the 25th OVA epilogue episode.
Rating: 18+
Episodes Available: 24
Watch it if you liked: Little Witch Academia, Space Patrol Luluco, Promare
Megalo Box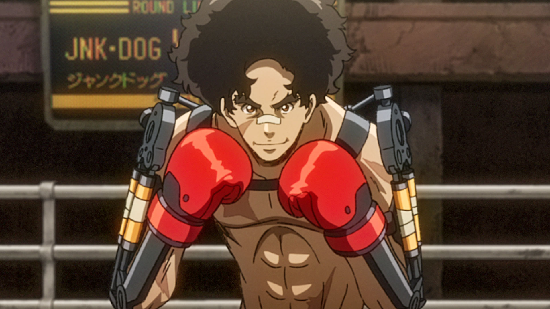 Boxing with a hard-hitting, cybernetically-enhanced impact, this sci-fi series shows what a hard road it is to the top when boxing is assisted by hydraulic cyborg arms and armour. Can someone right at the bottom still make his mark when the barriers to entry are literally made of steel?
Rating: 16+
Episodes available: 13
Watch it if you liked: Levius, Baki
We've not reviewed Megalo Box yet – join the forums and let us know your own thoughts!
Mobile Suit Gundam: The Origin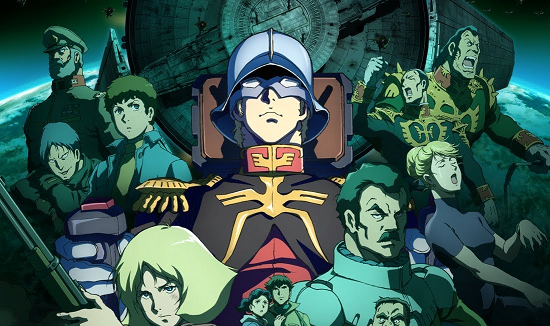 The classic mecha series Mobile Suit Gundam is one of the evergreen anime franchises and has been a staple of the industry since its first debut in the Seventies, with dozens of sequels and spin-offs over the decades and even massive statues raised up to it in Tokyo. This modern retelling of the background to the Gundam setting seeks to create a sophisticated atmosphere of drama, politics, ideology, nationhood, and giant robots.
Rating: 16+
Episodes Available: 5
Watch it if you liked: Legend of the Galactic Heroes
Persona 5: The Animation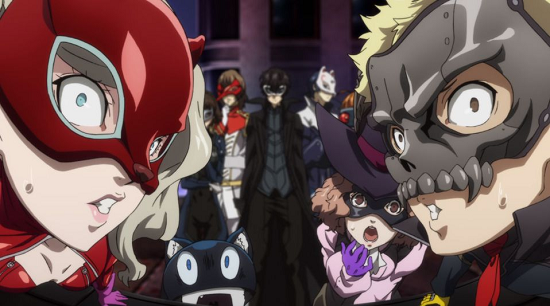 This anime is an adaptation of the story of the award-winning Persona 5 role-playing videogame developed by Atlus and published by Sega. It tells the story of a group of high-schoolers who lead a secret double-nightlife as "The Phantom Thieves" - but what they steal is not jewels but nightmares as they dive into villains' minds to save the day by stealing their dark thoughts. This release includes the original twenty-six broadcast episodes plus the special prologue "The Day Breakers", but does not include the two additional "SP" epilogues or the two OVAs. Note that unlike the other titles on All 4, "The Day Breakers" episode is in Japanese with subtitles, although other episodes are English-dubbed.
Rating: 16+
Episodes Available: 27
Watch it if you liked: Persona 3, Persona 4, Devil Summoners (AKA Shin Megami Tensei)
We've not reviewed Persona 5: The Animation yet – join the forums and let us know your own thoughts!
Sword Art Online: Alicization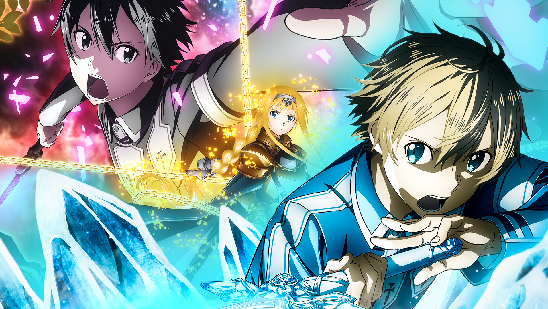 Sword Art Online popularised the isekai genre and so has been an anime touchstone for the past decade – and the franchise juggernaut shows no sign of slowing down. A sequel to the movie Ordinal Scale, in Alicization the hero Kritio returns to virtual reality – but this time it's quite unlike the game worlds from which he previously escaped.
Rating: 16+
Episodes Available: 24
Watch it if you liked: .hack, Asterisk War, Log Horizon
We've not reviewed Sword Art Online: Alicization yet – join the forums and let us know your own thoughts!
The Dragon Dentist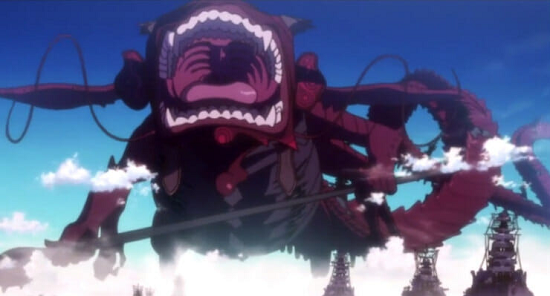 A miniseries created to follow-up on a short film produced as part of the Japan Animator Expo series, which was sponsored by Hideki Anno's Studio Khara. Written by the award-winning novelist Otaro Maijo, it refreshes fantasy tropes with a novel approach: a mighty ancient dragon defends the nation during war, but a big toothy beast still needs its pearly-whites scrubbed if it's to remain able to bite battleships in half! All 4 provides the two main episodes but is missing the original short film.
Rating: 16+
Episodes Available: 2
Watch it if you liked: Drifting Dragons, Last Exile
The Vision of Escaflowne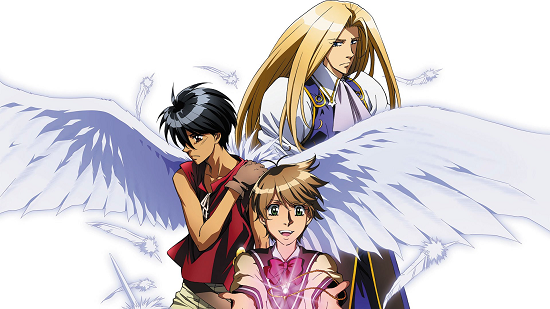 A mecha show with a shoujo twist, taking the hulking oily robots and replacing them with giant magical knights in a dreamlike dimension-hopping tale as a schoolgirl is transported to an alternate realm born out of the dying wishes of Atlantis and is embroiled in romance and war between its denizens.
Rating: 16+
Episodes Available: 26
Watch it if you liked: Aquarion, Broken Blade
Tokyo Ghoul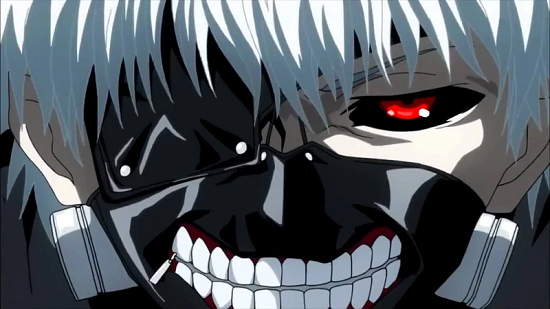 A gritty tale of urban fantasy and horror, an unassuming teenage boy survives a vicious cannibalistic attack from his would-be date – but that is only the beginning of his troubles as he is marked for descent into the hidden world of corpse-devouring, blood-hungry monsters who stalk the dark alleyways of the city and their secret war for survival.
Rating: 18+
Episodes Available: 24
Watch it if you liked: Another, Parasyte: The Maxim.

About Robert Frazer
---
Robert's life is one regularly on the move, but be it up hill or down dale giant robots and cute girls are a constant comfort - limited only by how many manga you can stuff into a bursting rucksack.
---