It's Cotton's 30th birthday, and to celebrate this event, two more Cotton games are getting physical special edition releass courtesy of Strictly Limited Games. The title will retail for 69.99 Euro and is limited to 2,500 copies for Nintendo Switch, and 1,000 copies for PS4.
The new release, Cotton Gaurdian Force Tribute, comes with Cotton 2, Cotton Boomerang, and a guest shmup, Guardian Force. Because why not?
Cotton Boomerang & Cotton 2
Take on the mantle of Cotton or her rival Appli in Cotton Boomerang and Cotton 2, and fight through increasingly difficult stages in the dream-like world to retrieve the missing "Bluewater Willow" candy to Pumpkin Kingdom. Team up with your companions, Silk the fairy and Needle the hat, to fight against monsters and go on a challenging adventure.
Guardian Force
After the guardian dictators get invaded by evil forces, a pilot for the Battle Tanks is needed to destroy the forces and fight off enemies. Take over as a pilot and muddle through masses of enemies, hard bosses and tricky stages in Guardian Force. The fast-paced side-scrolling shooter is as intoxicating as ever, impressing with its timeless aesthetics and catchy gameplay, even 23 years after its initial release.
What's in the box?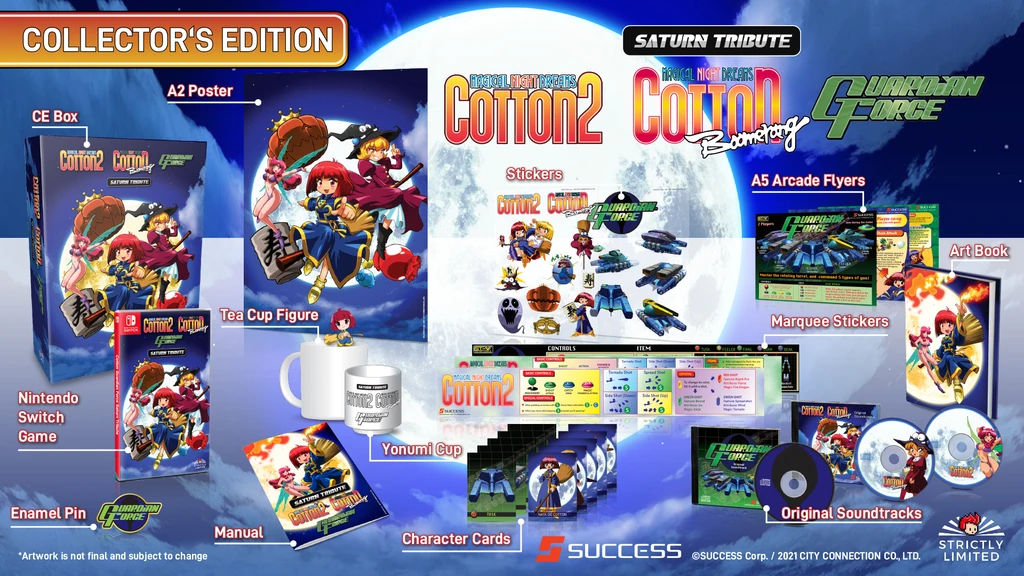 Game for Nintendo Switch or PlayStation 4
Collector's Edition Box with magnetic latch
Colourful Game Manual
Hardcover Art Book (A5)
Reversible Large Poster (A2)
3x Arcade Flyers (A5)
All 3 Original Soundtracks
Exclusive Yunomi Cup
Cotton Tea Cup Figure
10x Character Cards
Guardian Force Enamel Pin
3x Marquee Stickers
Large sticker set
And if you're a Cotton fan, rest assured that Cotton 100% and Panorama Cottton will be getting the special edition treatment in future too!
Check out the pre-order at Strictly Limited Games