At the Tokyo Game Show presentation for Persona 5, there was a special announcement at the end of the "ATLUS PRESENTS PERSONA SPECIAL STAGE" event.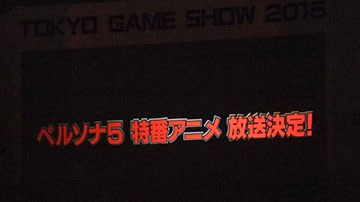 For those not fully versed in the Nihongos, that translates to "Persona 5 Special Anime Broadcast confirmed!"
Whether or not this means a series in the vein of the Persona 4 Golden Anime, or feature length style outings a la Persona 3 The Movie is yet to be announced, but either way, which ever one I'm sure we're set to enjoy discovering the Tokyo of Persona 5 with it's intriguing cast and premise.
A youtuber in Japan has graciously uploaded the opening theme from the Persona 5 game as it is being sung by the artist, so until we have content from the Anime, we'll have to make do with bits here and there to satisfy the Persona 5 hunger. Enjoy!